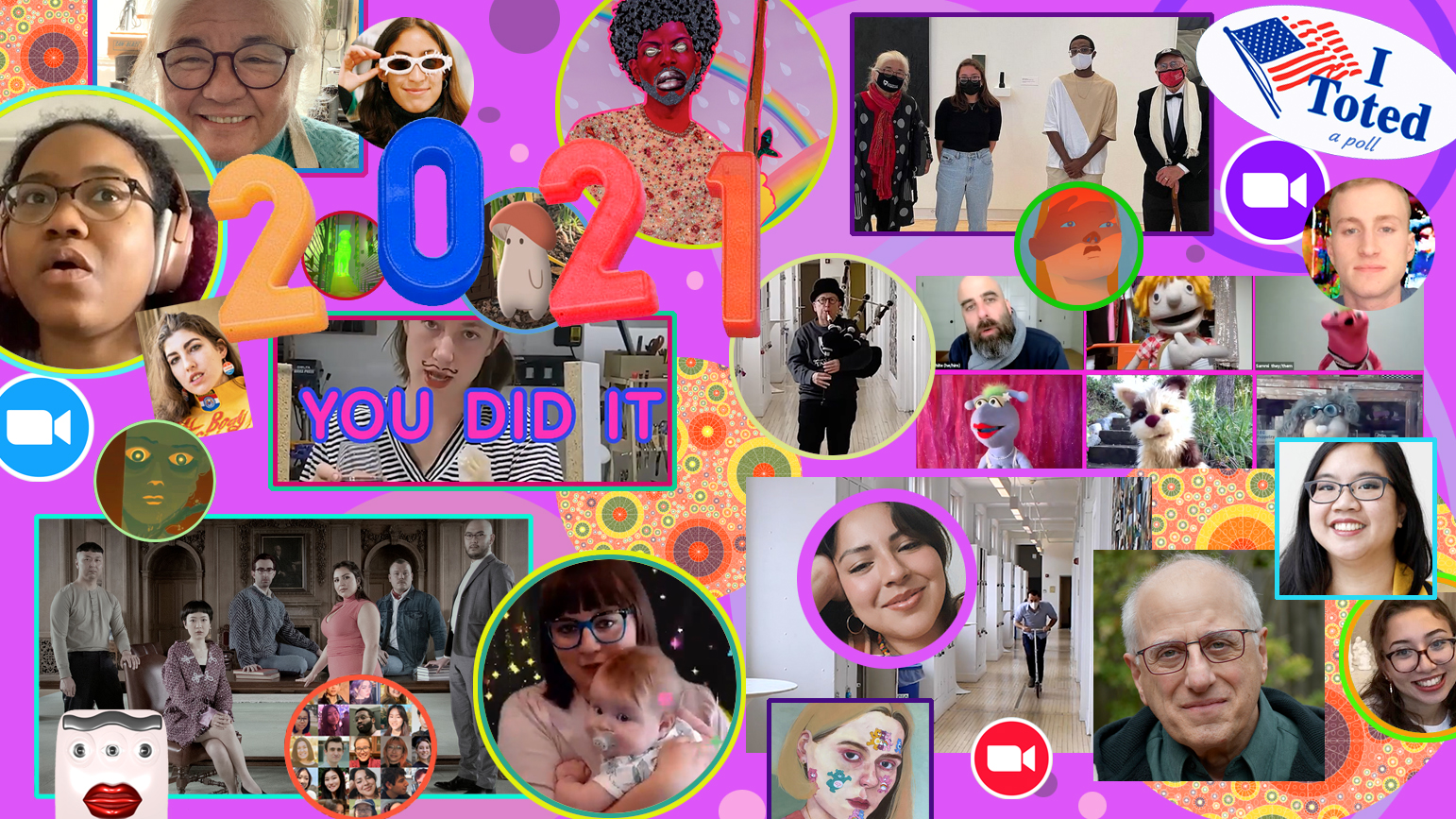 Dear School of Art Community,
I want to once again congratulate the 2021 graduates! This spectacular group of artists and thinkers not only persevered through an incredibly difficult year and a half; they also seized the challenges of the moment to make work that confronts injustice, examines personal and societal transformation, and imagines a better future for a post-pandemic world.
Before we look ahead to the future, I would like to take a moment to highlight just a few of the outstanding achievements of the past semester. Despite the complexities of COVID-19 restrictions, our graduating MFA students and our BFA and BXA students mounted impressive final exhibitions at the Miller ICA, both of which are accompanied by robust online presentations (view the MFA show here and the senior show here). Several of our undergraduate students, including Kristine Kim, Kathy Zhang, Khushi Nandgaonkar, and Jessa Westheimer, presented their work in a virtual edition of one of CMU's most popular spring events, the Lunar Gala, and Steven Montinar's and Shori Sims' work was featured in two exhibitions in Pittsburgh. Among our graduate students, Lena Chen and Petra Floyd presented new works as part of their Kelly Strayhorn Theater residencies, and Marianne Hoffmeister Castro's work was acquired by Chile's national public art collection.
Within our faculty, the Whitney Museum acquired 14 works by Assistant Professor Katherine Hubbard, and Associate Professor Angela Washko's full-length documentary Workhorse Queen premiered at the Slamdance Film Festival, followed by festival appearances across the country. Professor Golan Levin and Tega Brain published Code as Creative Medium, an indispensable and first-of-its-kind guide for teachers of creative coding, and Professor Suzie Silver and Hilary Harp's work was screened by the Walker Art Center. This semester, we're also saying goodbye to two pillars of the School of Art community, Professors Joe Mannino and Carol Kumata, as they retire. Both of these incredible artists and teachers combine a profound respect and knowledge of time-honored materials with a deep appreciation for their contemporary power. Together, they have shaped generations of artists.
With the arrival of vaccines and the decline of COVID-19 in the US, we look forward to a fall semester when we can all be together once again in the school's studios, workshops, and hallways. At the same time, we are committed to not going back to "business as usual."
Nearly one year ago, we gathered virtually for a series of listening sessions with our students who held us accountable for the ways our curriculum and culture did not reflect our values of diversity, equity, inclusion, and justice. Since then, our faculty and staff have worked with an outside consultant, Cecile Shellman, to confront our individual and institutional biases and to lay the groundwork for meaningful and lasting changes. We also formed new committees, and augmented the mission of existing committees, to address specific issues in the admissions process, our curriculum, and our relationship to Pittsburgh communities. Our Diversity, Equity, Inclusion, and Justice committee, along with new hires at the university and college level, helps oversee this work.
Through this work, we have made several immediate changes. This spring, we welcomed a senior admissions officer, Sheika Lugtu, to help us recruit and welcome students from a broader variety of backgrounds. In the classroom, all faculty re-examined their syllabi to make the history and practices of BIPOC artists, theorists, and writers working across time, regions, subject matter, and production methods foundational to their courses. In addition, we welcomed over 150 visiting artists, curators, and scholars into our classrooms to provide a greater diversity of experience and thought. We also instituted a new monthly career panel, which helps connect students to internships and jobs in emerging technology, innovative art spaces, and other creative fields.
While we are excited by the changes we have made thus far, these initiatives are just the beginning, and we look forward to future endeavors. In closing, I would like to thank all of our faculty, staff, and students for their tremendous dedication and endless hard work over the last year. I am immensely proud to be part of this community, and I hope each and every one of you is proud of all you've done over the past year. I wish you all a peaceful and restful summer!
Warmly,
Charlie White
Regina and Marlin Miller Head of School
School of Art
Professor of Art
Carnegie Mellon University