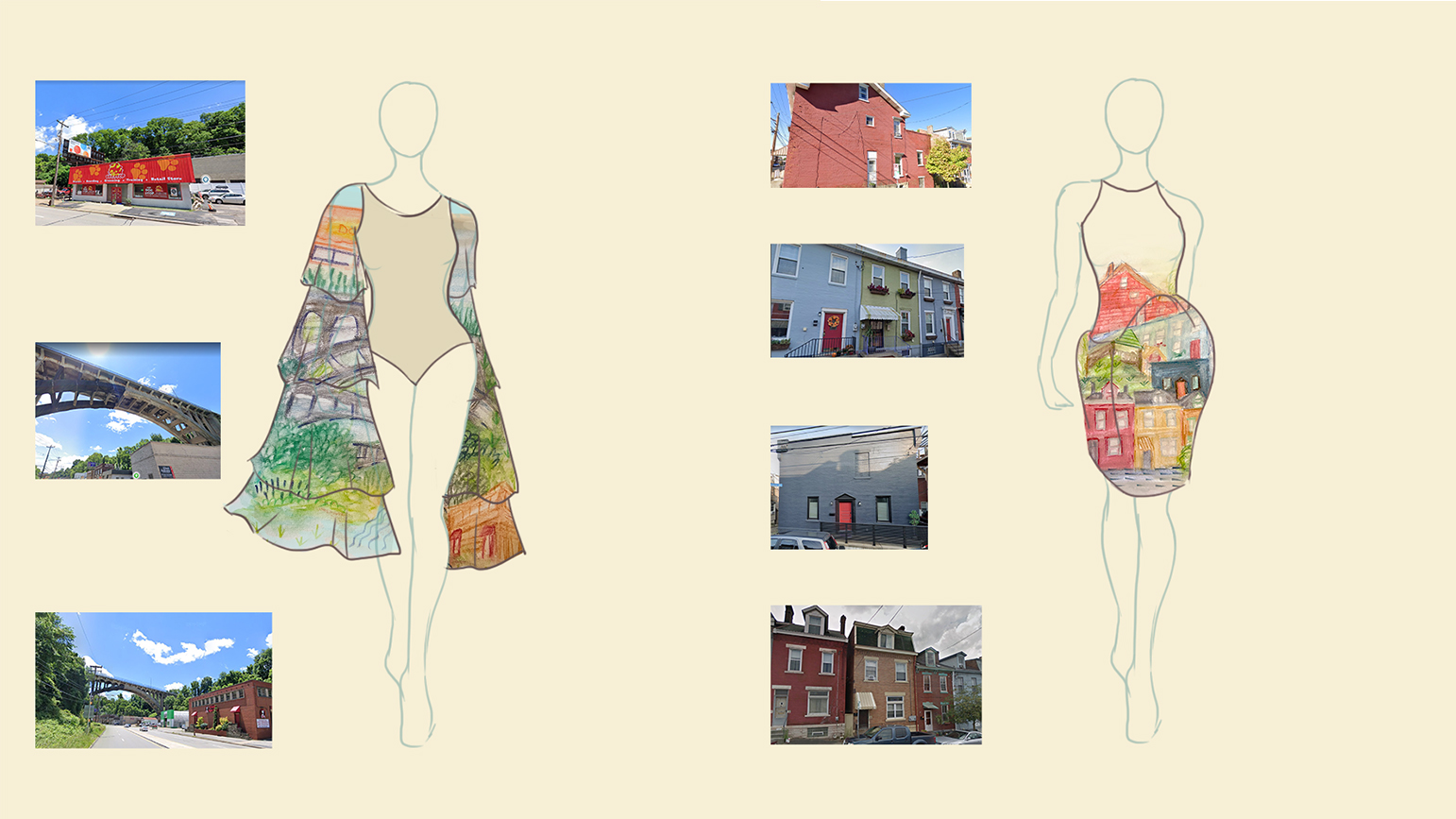 How does one of CMU's most popular spring events carry on despite a global pandemic? With creativity and ingenuity, CMU students have reimagined the Lunar Gala — a fashion show that typically draws more than 1,000 spectators — as an online event.
Now in its 25th year, the Lunar Gala is an entirely student-run production that was inspired by the tradition of wearing new clothes during the Lunar New Year. The event invites participants from all disciplines and backgrounds across CMU to create clothing lines related to the year's theme. In a time of social distancing, this year's theme, "Collectiva," encourages designers to examine their role in an interdependent society. Lunar Gala 2021 premiers April 10 on YouTube.
School of Art junior Kristine Kim is part of the team transforming this year's Lunar Gala into a virtual event as a member of the cinematography team and as one of the show's four editors.
"Collectiva" was filmed over three days with a green screen, lights, and sound system set up in the Cohon University Center, says Kim. To ensure proper social distancing, models were split up over the three days and filmed one at a time. The entire show, which also includes four dance routines and motion graphics, is slated to run around an hour and a half.
As one of four editors, Kim says she was initially worried about how she would be able to work remotely with three other people to put the production together, but the use of online technology has made this teamwork possible. "We're using this program called Frame.io, which is a collaborative video editing program where we can upload our edits and see each other's edits."
School of Art senior Kathy Zhang and junior Khushi Nandgaonkar say they were drawn to participate in this year's production with a clothing line, titled "Mirror," that delivers an important message to the CMU community.
"I have been thinking about how a lot of students are encased in a 'CMU bubble,' and there tends to be a negative opinion about the rest of Pittsburgh," says Zhang. "We wanted to create this line to increase appreciation for this city."
Nandgaonkar and Zhang created a grid of the city to randomly pick eight locations, each of which inspired a unique design for their line. Within each area, they found Google photos that they used as source materials for their designs. These images were then translated into fabric through creating a patchwork of recycled fabrics from the Pittsburgh Center for Creative Reuse.
"We drew out the images, matched the fabric, and cut out the shapes that were in the picture," Nandgaonkar explains. The patchwork designs don't exactly replicate the images, but give an "impression of the photograph," she says.
Creating this clothing line was the first time both Nandgaonkar and Zhang used a sewing machine, which was complicated by the fact that all measurements and fittings had to be done remotely. Models measured themselves over Zoom with instructions from designers. Once designers finished their pieces, they were able to drop them off for models to try on, and any alterations had to be figured out over Zoom.
School of Art senior Jessa Westheimer, who created the clothing line "Somatic" agrees that making sure things fit properly was challenging. Jessa wasn't in Pittsburgh leading up to the show, so she had to learn to draft patterns and construct clothes so they would fit without alterations.
Westheimer's clothing line was inspired by vintage anatomy she studied in a class. She said she was drawn to the beauty of these drawings, but translating the anatomy to garments gave her the opportunity to subvert the Vitruvian Man ideals presented in the vintage images. Westheimer said she appreciates how each design changes depending on who is wearing it. Though we all share anatomy, her designs demonstrate that there is not one ideal.
Westheimer created her clothing line—comprised of six garments constructed from muslin and black thread—through an unconventional sewing technique. "I did free hand embroidery using the sewing machine as a drawing tool over top of the garments," she said. The result is intricate designs, which often took days to complete.
Westheimer, who also participated in Lunar Gala as a model her first year and as a designer her sophomore year, says that the event "opened a door for me where I have these skills in pattern drafting and garment construction that I might leverage into a career."
Watch Lunar Gala 2021 "Collectiva" on April 10 at 8:30 PM EST here.