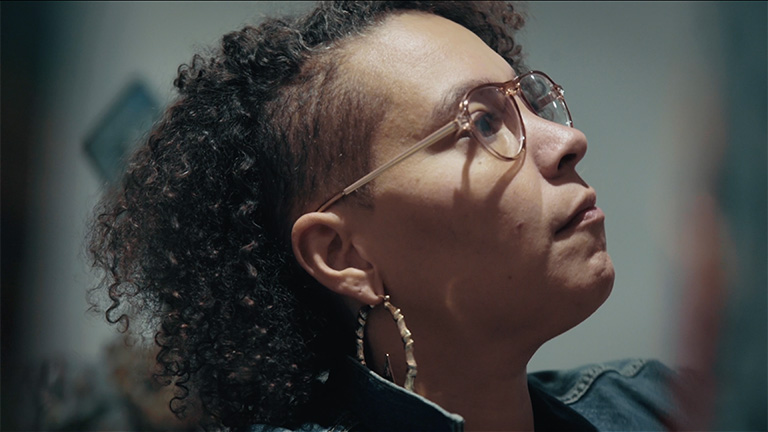 The School of Art is pleased to announce the appointment of Alisha B. Wormsley as Assistant Professor of Art in the area of Social Practice. Wormsley was previously a Presidential Postdoctoral Scholar, Visiting MFA Core Faculty, and Adjunct Professor of Art at CMU. She will begin her new position in Fall 2024.
Across her work in many mediums — including print, film, digital media, sculpture, sound, social practice, and cultural production — Wormsley imagines the future of arts, science, and technology through the Black matriarchal lens, challenging contemporary views of modern American life. Her work extends beyond museums and galleries by supporting marginalized communities in telling their own stories in locations both within and outside of the traditional arts ecosystem.
Wormsley is the recipient of some of the most prestigious awards for contemporary art in the U.S. including a Guggenheim Fellowship and Creative Time open call. She recent won an Anonymous Was A Woman Environmental Art Grant for her upcoming film "Children of NAN: a Survival Guide." Wormsley holds an MFA in Film and Video from Bard College.
In 2018, her text "There Are Black People in the Future" ignited a Pittsburgh-wide discussion on gentrification and the role of public art when the landlord removed the phrase from The Last Billboard, a project founded and curated by Professor Jon Rubin. Since then, iterations of the work have been presented in locations across the country and around the world including on a billboard in downtown Detroit, in Times Square, and in exhibitions at the Speed Museum of Art in Louisville, the Oakland Museum, at VCUArts Qatar, and Southbank Arts London, among many others. In addition, the work spurred a series of mini-grants to open up discourse around displacement and gentrification funded through a fellowship with Monument Lab and through the Office of Public Art in Pittsburgh.
In 2020, Wormsley founded Sibyls Shrine, a network and residency for Black artists who M/other. Recognizing the unique intersecting challenges of Black women creatives, the program provides opportunities for self-care, childcare, space and support so they can further develop their craft and create a sustainable arts practice. School of Art alum Jessica Gaynelle Moss is the organization's Administrative Director while MFA student Naomi Chambers is the Community Liaison.
"Alisha has been an integral and essential part of our community for the last several years and I'm thrilled to have her join us in a full-time capacity," said Head of School Charlie White. "Alisha's work is international in scope while never losing sight of the local communities and the importance of individual stories. Her work challenges us to deeply examine the present in order to imagine and work toward a more just future. As a teacher, she's pushed students to move beyond the confines of the university to create art in non-traditional ways and locations, expanding the notion of what it means to be an artist today."