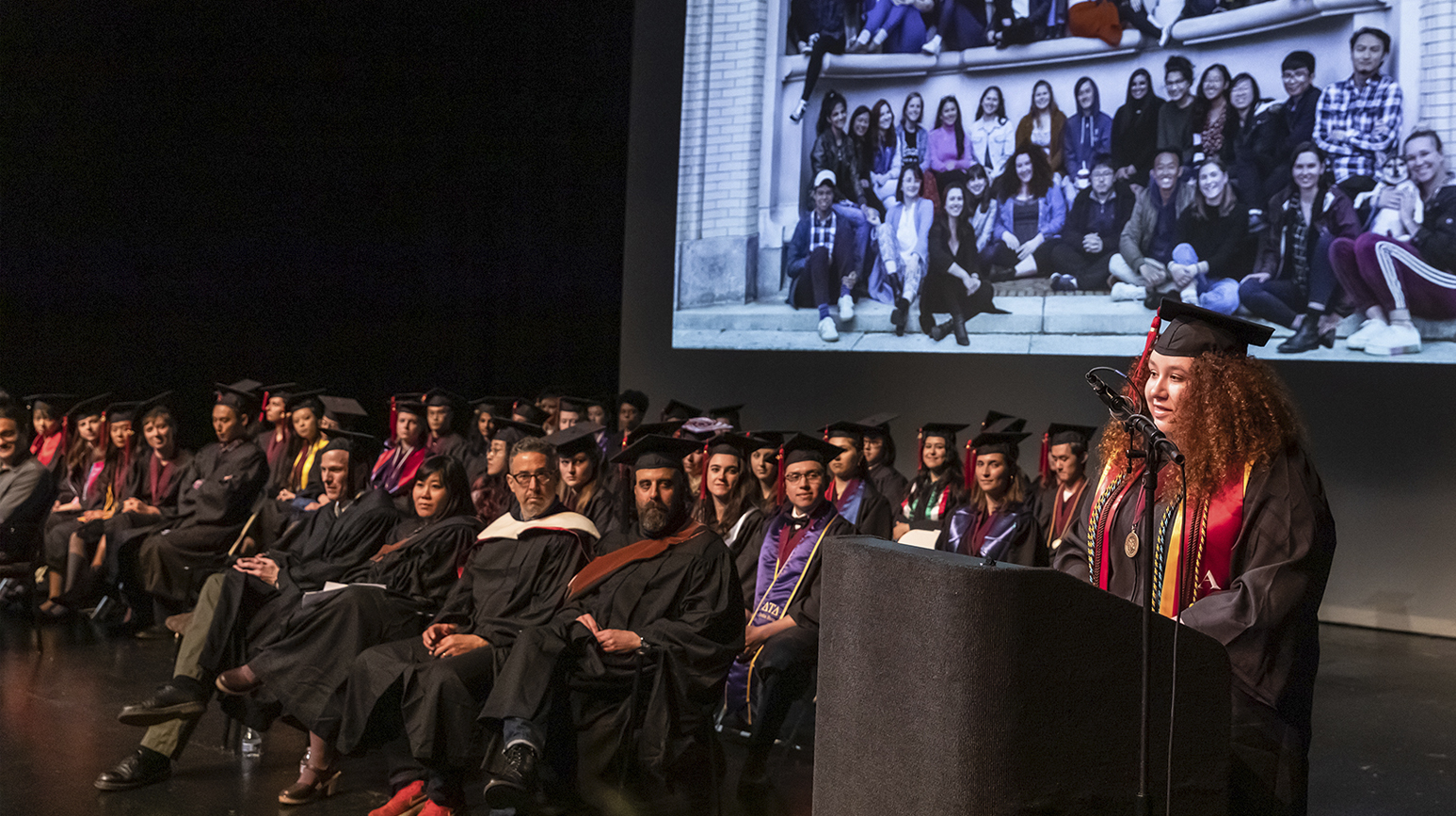 Dear School of Art Community,
It was an incredible honor to speak to the class of 2019 at the School of Art's Diploma Ceremony on Saturday. It was especially wonderful to meet so many families and friends connected to this group of exceptionally bright and talented artists who have spent the last four years studying, researching, building, performing, programming, animating, and creating new approaches to artistic innovation, thought, and practice. The School of Art class of 2019 gives me hope for the future. It is filled with visionary thinkers and creators who are more open, more advanced in cultural awareness, more tolerant in their relations to one another, more evolved in their identities, and more aware of the planet's needs than any generation prior.
Although this year has posed many challenges for all of us, it has also been an exciting year for our school, and I want to take this opportunity to highlight some of our accomplishments. This past year, we teamed up with the Carnegie Museum of Art to present a lecture series comprised of artists exhibiting in the Carnegie International. In our best-attended lecture series to date, students and the public heard from such cultural visionaries such as Zoe Leonard, Alex Da Corte, Jeremy Deller, and Beverly Semmes.
Our students' accomplishments from the past year reached across academic disciplines to apply art and creative thinking in innovative contexts. During commencement week, Daniel See—who has used his artistic practice to confront homelessness in Pittsburgh—was honored by the CMU Alumni Association with the Student Engagement Award. This past fall, Miranda Miller and Lumi Baron installed their work "Light Showers" at the Children's Museum of Art, following their "Tough Art" residency there. Finally, Anne Crumley, Chloé Desaulles, Grace Tegan Huddleston, Bo Kim, Christine Phang, and Daniel See—all of whom combined their passion for art with the humanities—were inducted into Phi Beta Kappa, the nation's oldest and most prestigious honors society. These accomplishments, among many others, provide a lens into the breadth and variety of talent and rigor within our community.
Our faculty continue to flourish, both in and outside the classroom. In October, Professor Angela Washko's project "The Game: The Game" won the Impact Award from IndieCade, the leading international event dedicated to independent gaming. Also this fall, Professor Jon Rubin, in collaboration with Lenka Clayton, created a project for the Carnegie International that let thousands of visitors take a piece of the exhibition's history home with them, while Professor Devan Shimoyama's solo exhibition at the Andy Warhol Museum was acclaimed by The New York Times, Artforum, and The Burlington Magazine, among others. In February, Professor Susanne Slavick received the Distinguished Teaching of Art Award from the College Art Association, the preeminent organization for professionals in the visual arts. From a new generation of emerging artists taking on the world to nationally and internationally recognized leaders, our faculty offers unparalleled scope and depth for our community.
Finally, our alumni have continued to shape our cultural, social, and political discourse. Rob Rogers (MFA '80), who was fired from the Pittsburgh Post-Gazette this winter for his cartoons critical of Donald Trump, was a finalist for a Pulitzer Prize and published a collection of his works spiked by the paper. In New York, Joyce Kozloff (BFA '64) unveiled a new public art commission for the 86th Street subway station, and Deborah Kass' (BFA '74) iconic sculpture "OY/YO" began a one-year placement in front of the Brooklyn Museum. Among our younger alumni, Luca Damasco (BCSA '17) and Zachary Rispoli (BFA '18) won at $79,000 grant from Mozilla for Wick, a free and open-source tool for creating games, animation, and interactive media that they started as students. It is so exciting to witness the cultural impact of our alumni community; from political impact to cultural conversations, and from iconic minds to new technologies, our community helps to shape the larger dialogs across art, culture, and technology.
Looking forward to the fall, we will be opening our new graduate facility, providing eighteen individual studios, expansive common areas, a study space, administrative offices, and a nearly thirteen hundred square-foot flexible-use space. The move will also allow for a much-needed expansion of our undergraduate facilities in areas currently occupied by the graduate program. In addition, we are looking forward to welcoming two new faculty members, Katherine Hubbard in Photography and Isla Hansen in Sculpture. Finally, we are excited to have Alisha Wormsley as a two-year Presidential Postdoctoral Fellow and Everest Pipkin as a Visiting Assistant Professor of Art this fall. Next year is going to be truly exciting, and the momentum is born from our community, because Carnegie Mellon University's School of Art is truly a place like no other.
In closing, I would like to thank the entire School community—our students, faculty, staff, alumni, and supporters. I am always reminded at this time of year of what an honor and great responsibility it is to lead the School of Art at Carnegie Mellon University. Please join me in congratulating the class of 2019, and in welcoming the class of 2023 this fall!
Thank you,
Charlie White
Regina and Marlin Miller Head of School
School of Art
Carnegie Mellon University