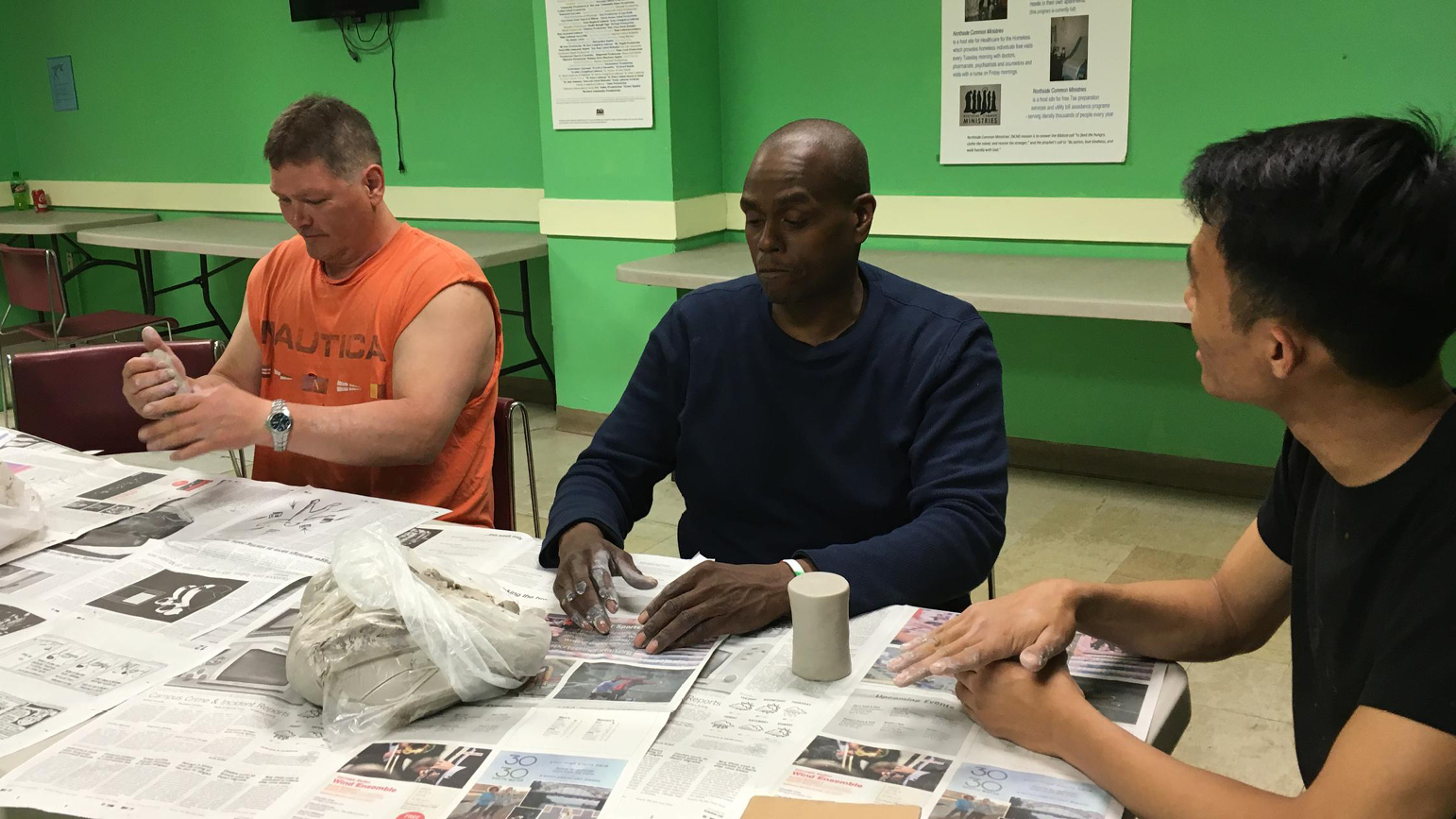 Throughout his time at Carnegie Mellon University, graduating Decision Sciences and Art student Daniel See has used his artistic practice as a tool to foster connections and to serve the community. Now, he will be honored for his work with the CMU Alumni Association's Student Engagement Award, which will be presented at a luncheon on May 17.
With a desire to proactively respond to the issue of homelessness in Pittsburgh, Daniel See founded Art to Connect, an art therapy group situated within a homeless shelter. Working with a group of men at the shelter, he created a series of cups molded with the handprints of individuals experiencing homelessness, sales of which have raised over $1,500. More than just a fundraiser, these cups combat the dehumanizing stigma of being homeless by creating human connection between the hand of the creator and the hand of the person using the cup. As part of this work, Daniel also curated the exhibition "Walk on By" at Future Tenant in downtown Pittsburgh, as well as media campaigns to showcase the program's participants and their work. For his efforts working with the homeless, Daniel won an Outstanding Young Volunteer Award from Northside Common Ministries.
Daniel's passion for service has extended into his three recent internships. As a research intern at the CMU Center for Machine Learning and Health, Daniel worked with the community to create a machine learning algorithm that fairly distributes food donations to needy organizations. For the Ministry of Education in Singapore, he helped design a launch event to promote a new art curriculum to school leaders. Finally, he worked with the Whitley Secondary School in Singapore to address student competency gaps in art examinations.
Daniel also uses his art and keen organizational skills on campus to foster a strong sense of community and pride. Taking initiative from day one, he co-curated our first ever first-year art exhibition, filling the entire third floor of the College of Fine Arts. During his time at CMU, he has also been active in multiple campus groups, taking on leadership roles in the Lunar Gala, a yearly fashion show that showcases the talents of Carnegie Mellon designers, and CMU Street Styles, an inclusive all-skill-levels urban dance group on campus. He was also a member of the University Leadership Student Advisory Council. Finally, he is the recipient of two Small Undergraduate Research Grants, a CFA Interdisciplinary Grant, three School of Art Awards, and received first place in the social category of Impact CMU.
"Daniel See's talent, service, and leadership is extraordinary," said Professor Susanne Slavick, who nominated Daniel for the award. "Daniel's activities elegantly blend altruism and concern for others with entertainment and fun. He is the kind of student that gives me faith in the future."