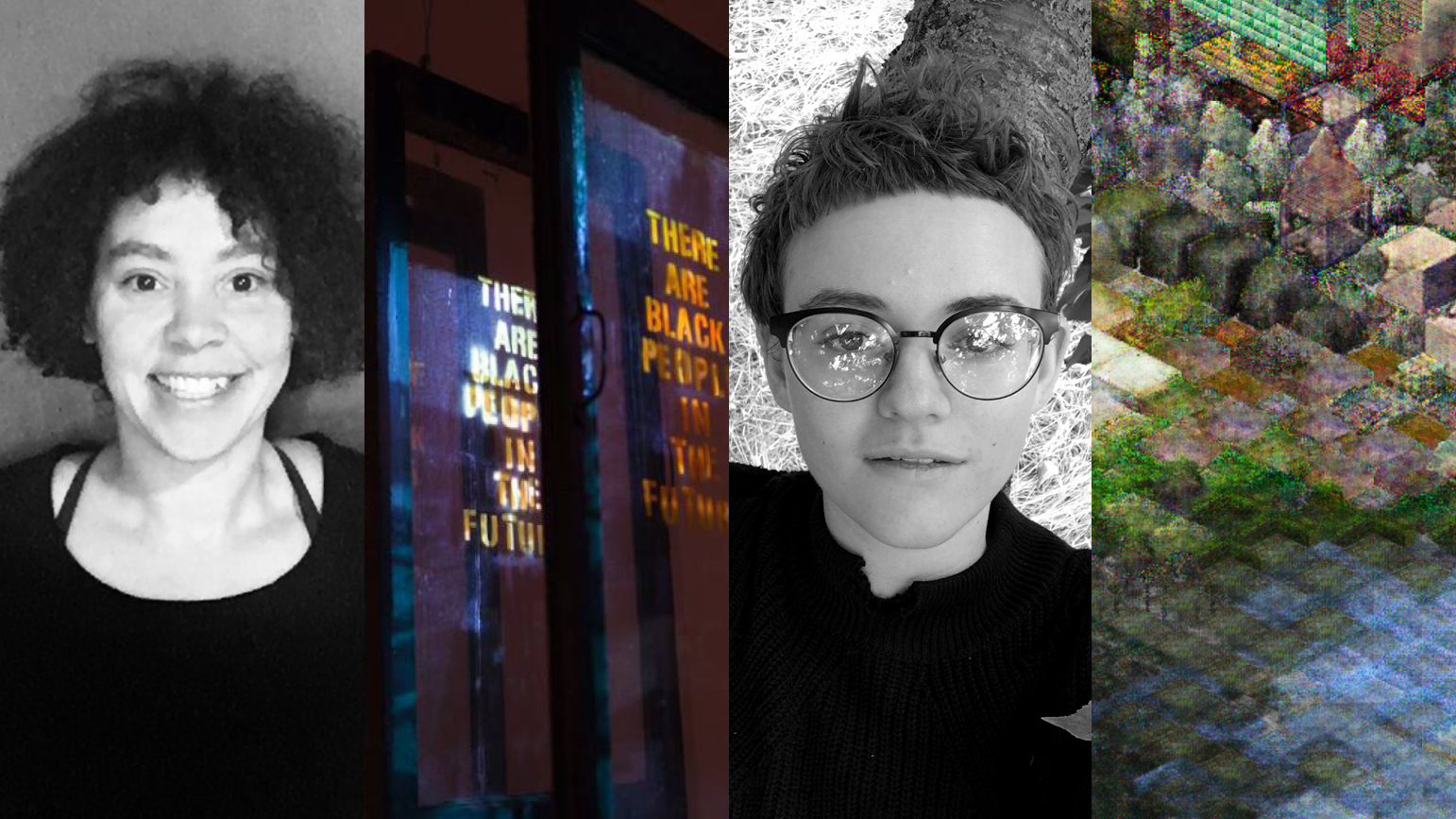 The School of Art is pleased to announce that Carnegie Mellon University has awarded Alisha B. Wormsley a Presidential Postdoctoral Fellowship. She will join the faculty for the 2019-20 and 2020-21 academic years. For the 2019-20 academic year, the School of Art will also welcome Everest Pipkin as a visiting assistant professor of art in the area of electronic and time-based media.
Across her work in many mediums — including print, film, digital media, sculpture, sound, social practice, and cultural production — Alisha Wormsley investigates collective memory and the synchronicity of time, specifically through the stories of women of color. Working with communities around the world, she fosters artistic engagement and celebrates identities. She has organized several public art initiatives for national and international audiences.
In 2018, her text "There Are Black People in the Future" ignited a Pittsburgh-wide discussion on gentrification and the role of public art when the landlord removed the phrase from The Last Billboard, a project founded and curated by Professor Jon Rubin. The text, part of an ongoing project, most recently has been transformed into an "artwork-in-residence" grant program run by Wormsley.
Wormsley's projects and works have been exhibited widely including at The Andy Warhol Museum, Carnegie Museum of Art, and the Mattress Factory in Pittsburgh; the Houston Art League and Project Row Houses in Houston; the Charles H. Wright Museum of African American History in Detroit; the Octavia Butler Conference at Spelman University in Atlanta; Studio XX in Montreal; and the Rush Arts Gallery in New York City. She holds an MFA in Film and Video from Bard College. She has also taught courses in an adjunct capacity in the School of Art since 2015.
Carnegie Mellon University began awarding Presidential Postdoctoral Fellowships in 2017. The program aims to engage individuals who contribute to diversity and equal opportunity in higher education, especially through an understanding of the experiences of groups historically underrepresented in higher education.
"Alisha Wormsley's work challenges us to consider the stories, histories, and realities of marginalized voices, igniting critical public discourse and sparking a reimagining of what the future could be," said Head of School Charlie White. "Her work with communities from around the world and in our own backyard will help to break down the barriers between the university and those who have traditionally been excluded. Already in her role as an adjunct professor, she has challenged students to consider alternative perspectives in art history and contemporary art practice, pushing students outside the confines of the university to more deeply consider the world around them and their role in it as an artist."
Everest Pipkin is a drawing and software artist who produces intimate work with large data sets. Through the use of online archives, big data repositories, and other resources for digital information, they aim to reclaim the corporate internet as a space that can be gentle, ecological, and personal. Pipkin also studies how physical space is used to hold up the internet. By following landscape as complicated by digital imaging, as well as data center construction, fiber-optic cabling, and power usage, they refuse an internet that ignorant of its own ecological cost.
Pipkin has shown nationally and internationally at The Design Museum of London, The Texas Biennial, The XXI Triennale of Milan, Minneapolis College of Art and Design, and others. They have completed residencies at Center for Land Use Interpretation, Signal Culture, The Media Archeology Lab, and PLAYA Sumer Lake, and teach and speak regularly, including at Eyeo, School for Poetic Computation, The Victoria & Albert Museum, and Feral Vector. Pipkin received their MFA from CMU's School of Art in 2018.
"Everest Pipkin's work challenges the prevailing cultural discourse of technology as pure social progress by examining and subverting the systems that govern the internet, both in digital and physical space," said White. "Pipkin will spur students to use the materials of the digital world for a creative practice that both embraces and is critical of the possibilities of technology."
Rated the No. 6 art school in the United States, and No. 1 in the area of time-based and new media by U.S. News and World Report, CMU's School of Art stands among the world's leading programs. Housed within one of the most respected research universities in the United States, the School offers an unparalleled convergence of contemporary art, technology, and critical discourse with distinguished alumni including Andy Warhol, Mel Bochner, Joyce Kozloff, Philip Pearlstein, Deborah Kass, and John Currin.