Scott Andrew
Adjunct Professor of Art
Scott Andrew is a multimedia queer-oriented video, installation, and performance artist. He creates speculative fantasies that peer into otherworldly portals and voids. He has exhibited at MoMA's PopRally Performance Series (NYC), Ballroom Marfa (Marfa, TX), the Hammer Museum (LA), and the J. Paul Getty Museum (LA), among others. Recently, Andrew has worked as a media designer and producer for collaborative stage performances with dance artist Jesse Factor, and drag performer Veronica Bleaus.
Scott is an educator, advising and teaching animation, video, concept, and performance courses as an Adjunct Assistant Professor in the School of Art at Carnegie Mellon University, as a Visiting Lecturer of Digital Imaging in the Studio Arts program at the University of Pittsburgh, and with the CMU Pre-college program. Scott has taught at Youngstown State University, Seaton Hill University, The Lincoln Park Performing Arts Charter School, and has conducted workshops at the Andy Warhol Museum, Mattress Factory, and Children's Museum of Pittsburgh.
Scott co-curates TQ Live!, a yearly LGBTQ+ variety series that has been presented at the Andy Warhol Museum and will transition to the Carnegie Museum of Art later this summer. Along with Angela Washko and Jesse Stiles, Scott organizes a National Endowment for the Arts funded performance series called Fail-Safe, which seeks to provide a supportive space for the presentation and potential failure of performative works-in-progress. Other previous curatorial projects include the drift and the Institute for New Feeling's Felt Book.
Image below: I Am A Haunted House featuring Jesse Factor, photo by Beth Barbis (left), TQ Live! Promo poster, design by sarah huny young (center), I Am A Haunted House featuring Jesse Factor, photo by Beth Barbis (right)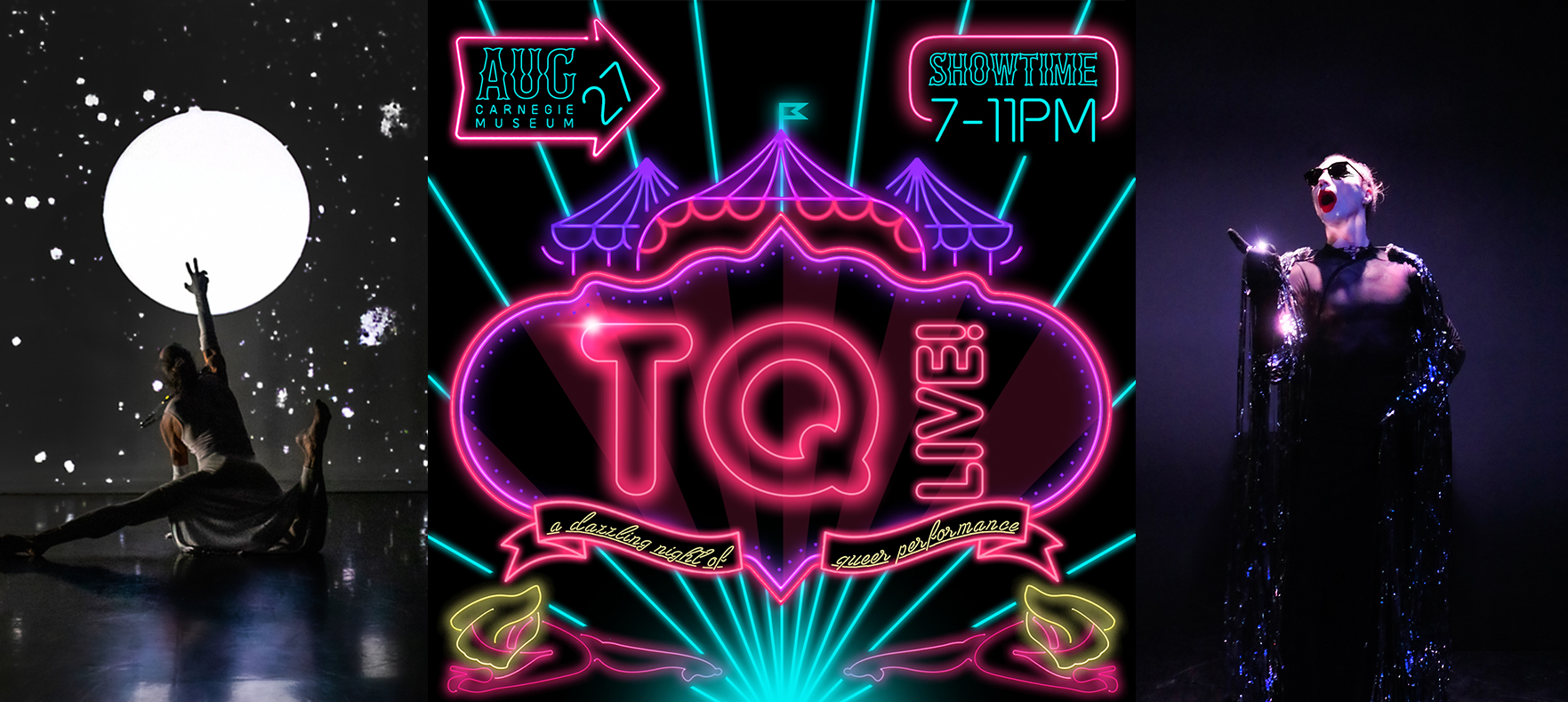 Back to Faculty