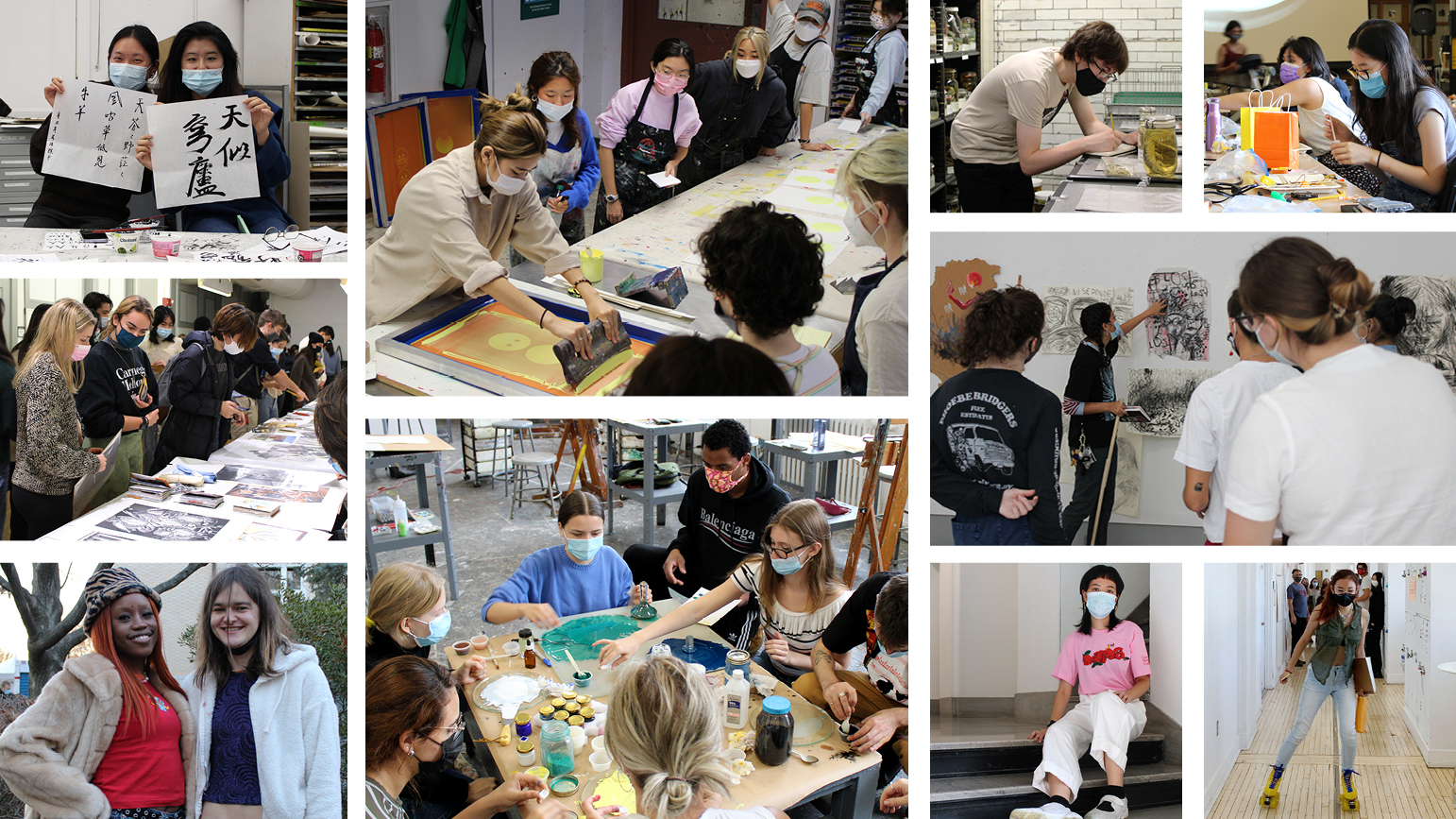 Dear School of Art Community,

As I reach out across our school and beyond to our alumni, friends, and colleagues, I am struck by what an incredible joy it has been to be back together on campus this semester! Seeing our students filling classrooms, studios, workshops, and corridors has reaffirmed my sense of gratitude for this amazing creative community. This semester would not have been possible without the cooperation of our students, faculty, and staff in following COVID-19 safety protocols, including helping us to achieve a university vaccination rate of ninety-eight percent. Thank you all for taking care of yourselves and one another throughout this term!
A lot has happened across the school since we all arrived in late August, and I'd like to take a moment to highlight some of the most inspiring moments. This semester, we were delighted not only to build on initiatives that we started during our year of remote learning, but to bring back School of Art traditions that were put on hold due to the pandemic. A fantastic student team, led by Iz Horgan and Moxie Duncan-Tessmer, restarted exhibitions at CMU's Frame Gallery amidst ongoing renovations to the space. It has been wonderful to see juniors and seniors once again in their studios, with seniors now working toward next semester's final exhibition. To share a glimpse of their creative energy, we checked in with two of these seniors, Beatriz Echeverria and Khushi Nandgaonkar, in two-minute video studio visits; be on the lookout for more videos next term. We also continued our broadly inclusive program of visiting lecturers, started in 2020, by welcoming more than seventy artists, curators, and scholars into our studios and classrooms this fall. Finally, as the term came to a close and studios filled with work, we were thrilled to welcome our community and the public back to campus for our annual Open Studios event!

While the school has been buzzing to life, our faculty have continued to show their dedication to making lasting impacts at CMU. Within the school, Imin Yeh was named the inaugural Director of Foundational Studies and has begun undertaking a broad review of the undergraduate core curriculum. Katherine Hubbard was named the next MFA Program Director, and she will start this new role in the fall of 2022. Looking outside the school, Johannes DeYoung has teamed up with the Department of Modern Languages to develop projects for a new Immersive Cultural Innovation Fund, which will take a multimedia approach toward creating deeper intercultural connections across the university.

In addition to their incredible work at the university, our faculty have continued to earn recognition at renowned institutions in the U.S. and abroad. Angela Washko's documentary Workhorse Queen won several awards, including Grand Prize for Best Documentary at the Buffalo Film Festival, the Grand Jury Prize for the Best Feature at the San Francisco Documentary Festival, and the Best Documentary Prize at the American Film Festival in Poland. Alisha Wormsley's work "There Are Black People in the Future" continues to spark critical dialogue across the country and recently appeared at the Oakland Museum in California and at Artpace in San Antonio, Texas. Last month, Devan Shimoyama premiered a new installation at the Smithsonian's Arts & Industries building, commissioned as part of the reopening exhibition "Futures."

In addition to these laurels, the School of Art was particularly proud when CMU honored alumna Deborah Kass BFA '74 with the CMU Alumni Achievement Award. Faced with egregious gender imbalances within the art world and society at large, Kass' essential art practice asserts that women deserve a prominent place in our shared cultural history. We are honored to count her among our illustrious alumni. We also caught up with three other School of Art graduates to learn more about their exciting careers: painter Dana Lok BFA '11, installation artist Jeffrey Augustine Songco BFA '05, and kinetic artist and researcher Semi Ryu MFA '02.
All of these accomplishments and more have reaffirmed my gratitude for our amazing creative community of artists and thinkers. None of this could have happened without a school-wide commitment to kindness and a combined effort to support each other, and as we move forward I will remain focused on everyone's welfare, looking at how we do what we do and get where we want to be in this new and ever-shifting now.
Also foremost on my mind is how the forms of art and ideas in which we are invested relate to a future that is rapidly changing and a society that is more delicate than we may have understood it to be only a few years ago. While our community is very aware that all is not rainbows, I have also seen us embrace the joy that we can each create, including the unique bonds, connections, and support forged through our shared ambitions toward a better tomorrow, both individual and collective.
In closing, I would once again like to thank our entire community for making this semester a resounding success! While being back on campus in person has certainly been a delight, I would be remiss if I did not also acknowledge the mental and emotional energy required for our community to reacclimate to being together. I hope this winter break gives each of you the time and space for restorative rest.

My best wishes to all for a happy and healthy holiday season!

Charlie
Charlie White
Regina and Marlin Miller Head of School
School of Art
Professor of Art
Carnegie Mellon University