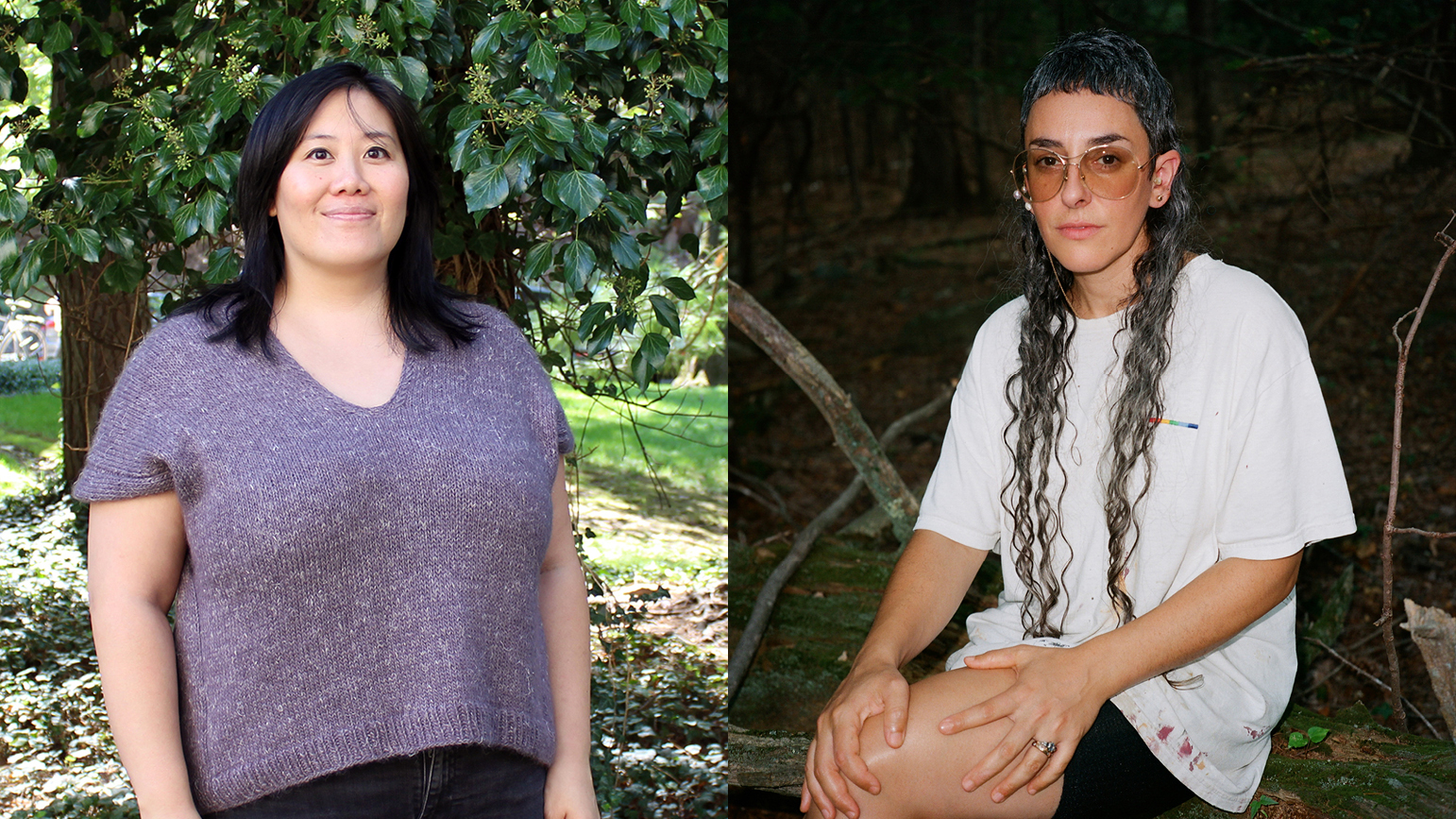 The School of Art is pleased to announce Assistant Professor Imin Yeh as the inaugural Director of Foundational Studies and Assistant Professor Katherine Hubbard as the next MFA Program Director. Both of these artist-educators will lead the continued transformation of the undergraduate and graduate curricula to meet our students' ever-evolving needs and aspirations.
Inaugural Director of Foundational Studies
The CMU School of Art undergraduate curriculum has long held a unique place among art schools in its early commitment to providing true interdisciplinary education. This approach has embraced new technologies and emphasized conceptual thinking in order to challenge students to work across mediums, address a broad range of ideas, and consider how their work fits into broader social and cultural contexts.
A signature component of foundation studies is the Transdisciplinary Research Studios (previously called Concept Studios), which underscore the importance of artistic research and experimentation. Other hallmarks of the foundation curriculum include a rapid succession of medium-specific courses that span the school's four studio areas, and a progression of four Critical Studies courses over the first two years. This expansive introductory platform then leads to a formal review in the sophomore year, and a year-long senior capstone course, Senior Studio, which culminates in a final exhibition at the Miller Institute for Contemporary Art.
In the newly created role, Imin Yeh will fully assess the many moving parts of the school's foundational requirements, engaging with faculty, students, and our admissions team to better understand the aspirations of incoming students and the efficacy of current courses. Overall, the position affords a level of attention towards a critical aspect of the school's curricular requirements, ensuring that all courses work harmoniously and that coursework continues to evolve to meet the needs of our student body.
Yeh's wide-ranging practice, primarily in paper, represents a perfect mix of technical skill, experimentation, conceptual rigor, and humor. She brings these same traits to her teaching. Beloved among students for her excitement and dedication to making, Yeh inspires students to take a hands-on approach to art practice, as she knows that true learning through artmaking can only be achieved through experimentation and an eagerness to try new processes, materials, and ideas—an ethos that is a cornerstone of our Foundation curriculum. Yeh's projects are exhibited in museums and galleries across the country and are available through downloadable projects you can make at your kitchen table. In her pedagogy, Yeh takes a similar approach, encouraging students to think about how their work exists in larger cultural, societal, and political contexts—another key component of the School of Art's educational philosophy.
"The School's foundational curriculum represents the best of our varied faculty coming together to provide meaningful university-level art education, but we've never had one person dedicated to taking a holistic view of this crucial set of courses," said Head of School Charlie White. "Imin Yeh is the ideal person to take on this important task. Her profound commitment to our undergraduate community, together with her deep appreciation for and understanding of contemporary pedagogical challenges, will help ensure that our curriculum provides the right tools for our students to make meaningful artwork at this cultural moment."
Incoming MFA Program Director, Fall 2022
Katherine Hubbard will succeed Jon Rubin, who has served as the inaugural MFA Program Director since the fall of 2017 and who will be returning to the full faculty. Under Rubin's leadership, CMU's MFA program reconfigured its curriculum; established core faculty to provide consistent support, mentorship, and feedback to the cohort; moved into a new MFA facility; hosted a greater number and more diverse pool of visiting artists, curators, and scholars; and dramatically increased the number of applicants to the program, among other accomplishments. Hubbard is uniquely situated to build upon these successes. To ensure a smooth transition, she will work with Rubin during this academic year and assume the MFA Directorship beginning in fall 2022.
Hubbard has extensive experience teaching and mentoring MFA students. At CMU, she has served as a member of the MFA core faculty since fall 2020. Prior to CMU, she held faculty appointments in the Bard MFA program and at Columbia University and served as Program Mentor for the School of the Art Institute of Chicago's low-residency MFA program, among other appointments.
An accomplished artist, Hubbard works in photography, writing, and performance, connecting images and processes to investigations of social politics, history, and narrative. In both her artistic practice and her teaching, Hubbard is a deep and careful thinker, attuned to the ability of art to probe important ideas and beliefs in ways that other disciplines cannot. As MFA students grow their practices over the course of the three-year program, Hubbard's approach and mentorship will challenge them to expand their thinking about the role of art in contemporary society.
Hubbard's knowledge of navigating the art world, gained through her own practice, is also critical when mentoring emerging professional artists. In the nonprofit and museum arenas, Hubbard has presented photography and performances at the Brooklyn Museum; the Institute of Contemporary Art, Boston; and The Kitchen, New York; among many others. Hubbard also brings experience in the commercial art realm and is represented by the esteemed gallery Company. Through Company, the Whitney Museum of American Art recently acquired 14 of Hubbard's photographs.
"I am so proud of everything we've accomplished in the MFA program under the attentive leadership of Jon Rubin over the last five years," said Charlie White. "I am thrilled that Katherine Hubbard will be taking over this key position within our school. Her generous and thoughtful approach will help ensure our program continues to foster the important next generation of artists who will help shape our society and culture."
Photo of Katherine Hubbard by Christian DeFonte