Erin Mallea: Maintaining Utopia
February 2, 2018 @ 7:00 pm

-

February 9, 2018 @ 6:00 pm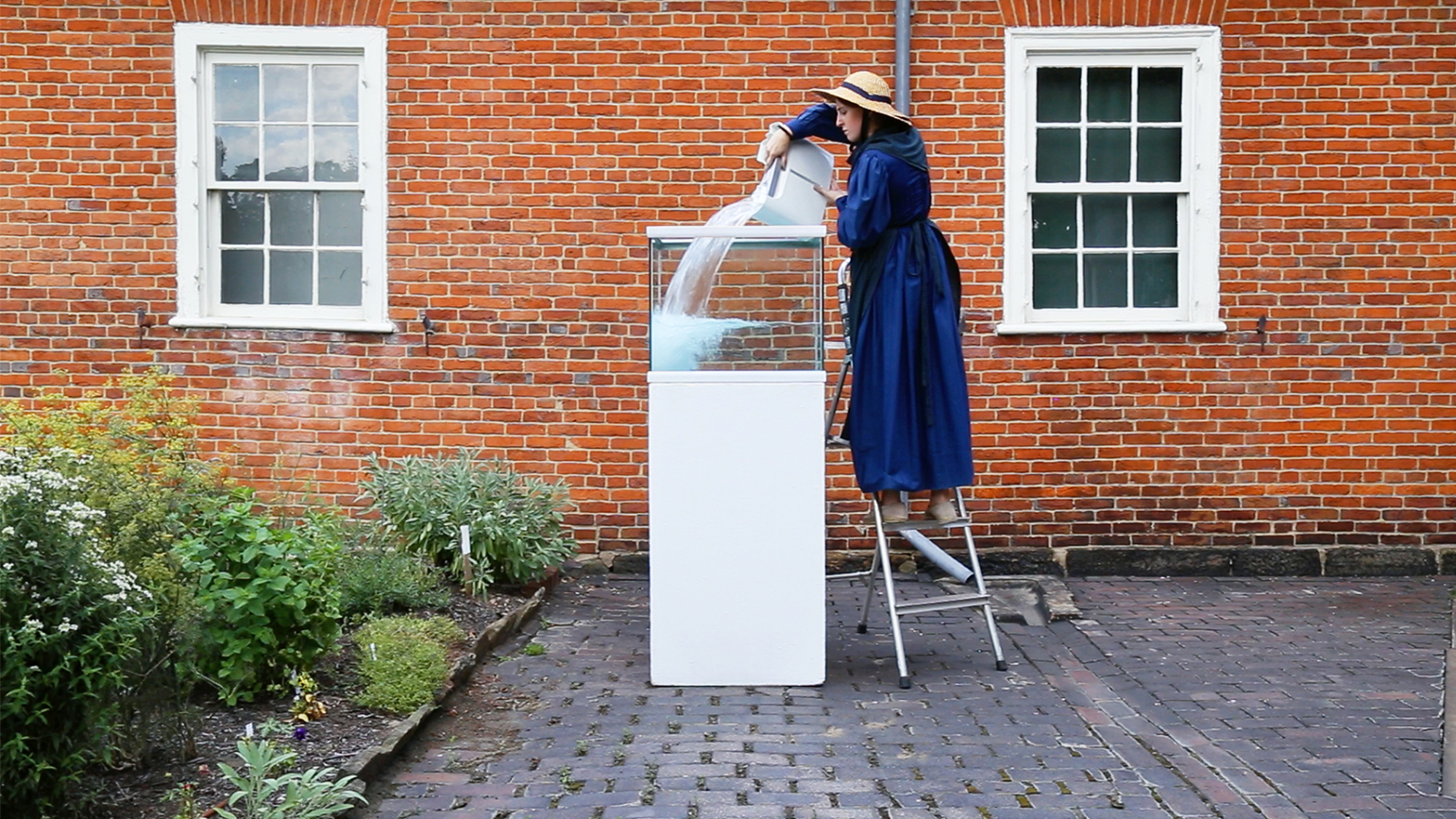 February 2–9, 2018
Opening Friday, February 2nd, 7–10pm
Public hours and ongoing performance Sat + Sun, Feb 3rd + 4th, 3–6pm
Also available to view by appointment
All bureaucracies are to a certain degree utopian, in the sense that they propose an abstract ideal that real human beings can never live up to.
– David Graeber, "The Utopia of Rules"
Museum and archival maintenance standards often point to their own unsustainability and eventual demise. Idealized "environmental conditioning" specifications fantasize an impossible reality: a world without dust, decay, bias, human error, or budget cuts. When does care for a specific memory, ghost, or object fade and become overtaken by a commitment to protocol, systematic procedure, and data points? Environmental and ideological conditioning often collapse and enmesh within practices of preservation. National mythology naturalized and propped up by places demarcated as worth the labor of remembering.
In 2017, Erin Mallea spent three months at Old Economy Village (OEV) a regional museum and historic site to learn more about the living history of historic maintenance. Located along the Ohio River 18 miles northwest of Pittsburgh, OEV "preserves and presents the life, thought, and material culture of the Harmony Society," a religious, utopian, and socialist seppartist community that settled in Pennsylvania in 1805. Old Economy administers six acres of land including 17 original buildings and recreated orchards and gardens. The collection is home to roughly 16,000 objects ranging from original furniture and paintings to mail correspondence, an unfinished replica of the Harmonists' public natural history museum, and the coded traces of practicing alchemists.
As a living history museum, the lines between historic and non historic object are continually blurred. The entire site and grounds become an historic object – living plants are part of the collection, an accessioned stand-in and replica of what no longer exists. The staff works to recreate life in the 19th century to the best of their ability with consistently declining financial resources, volunteers, and staff. Educators focus on the tasks that were required to maintain the original utopian project. They reenact outmoded forms of craft and labor for school children while enacting contemporary labor in the hopes of maintaining a more recent humanist project threatened by unsustainability: the museum itself.
"Maintaining Utopia" examines the ritualized behaviors of care surrounding historic maintenance and the codification of history and knowledge. Developed from the artist's fieldwork at Old Economy Village, the exhibition combines video, photography, and sculpture to generate a new museum collection that highlights human actors, loss and fragility, the common reality of operating without enough information, and the skewed and incomplete nature of knowledge production – flawed and inscribed by the tools and biases at hand.
"Maintaining Utopia" was made possible with the support of the Carnegie Mellon Graduate Education GuSH Research Fund and the generosity of the staff and volunteers at Old Economy Village.