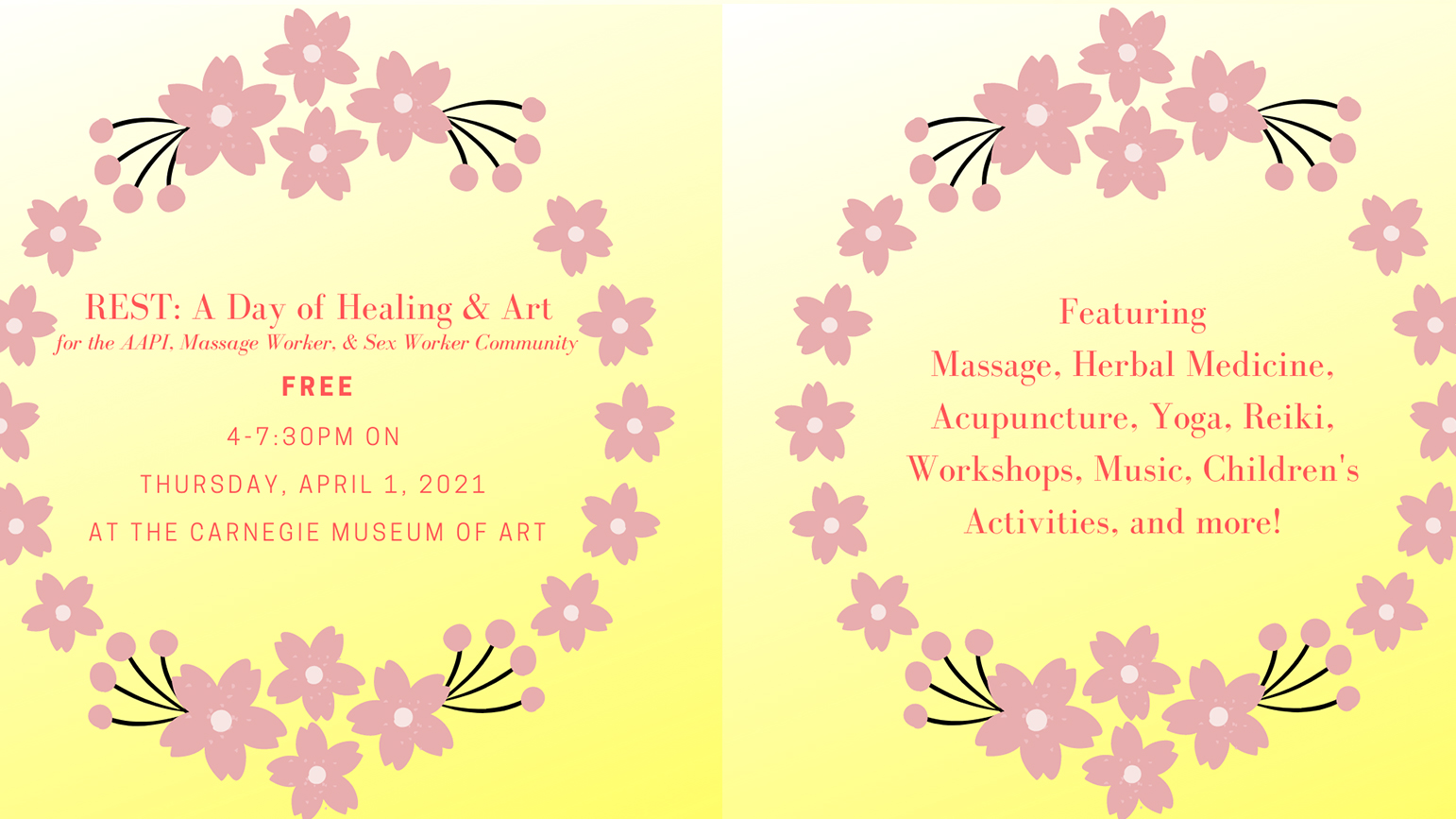 Sex Workers Outreach Project (SWOP) Pittsburgh and a group of Asian American Pacific Islander women artists are organizing REST: A Day of Healing and Art taking place on Thursday, April 1st at the Carnegie Museum of Art. The event will feature free healing and wellness services and collect donations for care packages to be distriibuted to the local AAPI, massage worker, and sex worker community. Organizers include Anny Chen, Caroline Yoo (MFA '23), Ermina Lee (B.S. Biological Sciences '20), and Lena Chen (MFA '22), who is on the SWOP Pittsburgh steering committee.
According to the organizers, "The shootings in Atlanta have had a traumatic impact that has mobilized many into action, but sustainable change also requires that we give ourselves space to process emotions and address bodily manifestations of trauma. Let us take this time to rest and reflect, to hold and be held, and to grieve and rejoice in honor of those whose lives were unjustly cut short and whose dedication to healing and caring will not be forgotten."
Asian Americans are the ethnic group least likely to seek mental health support, due to stigma and shame. Sex workers, too, often encounter ignorance and blame in therapy and healthcare interactions. Meanwhile, many immigrants – like the victims in Atlanta – are care workers in professions that are often undercompensated but deeply essential.
The event is being produced with support from the Office of Public Art, Intersectional Health Collaboration Summit, and Heal Her.
Details:
Thursday, April 1, 4:00 – 7:30 PM
Carnegie Museum of Art
Free Event
Check-In at Sculpture Courtyard (parking lot entrance)
Masks & Social Distancing Required
Event link
Image Credit: Julie Lee '22