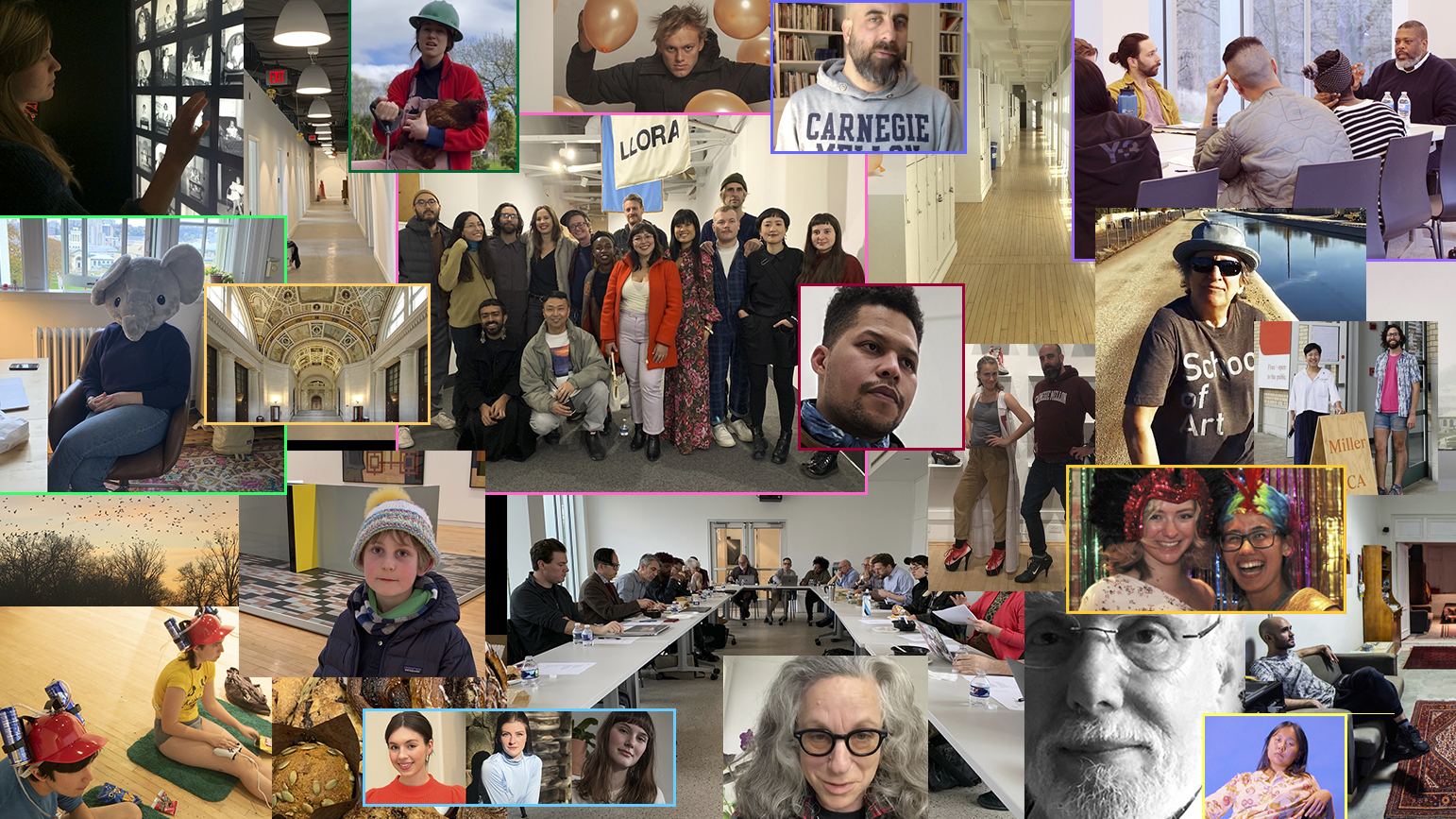 Dear School of Art Students, Faculty, Staff, and Friends,
As we look back at this academic year, it's difficult to remember a time before mid-March, before remote instruction, before the cancellation of end-of-year exhibitions, and before we fully understood the gravity of the global pandemic. Indeed, this year has been like no other before, and for many reasons let us hope that there will be no other like it again. But, for the School of Art, it has also been a year of incredible achievements, filled with creativity, perseverance, and ingenuity. And, for me, this year was uniquely special because I began my own time at CMU alongside this year's graduating class, just four years ago. This was a class of whom I had grown very fond, and their graduation year felt rich in meaning and layered in all that they—and I—had learned.
The exigencies of the past several weeks cannot obscure the many highlights of a bright and inspiring year for our students. First, after years of development following the award of an NEH grant, the student-designed interface exploring the Teenie Harris archives was permanently installed at Carnegie Museum of Art. Undergraduates Shori Sims and Steven Montinar opened exhibits at Museum Lab. And, thanks to the work of seniors Coco Allred and Zachary Rapaport, The Frame, CMU's student-run gallery, received $42,000 to allow for transformative renovations.
After transitioning to remote instruction, our students continued to excel, quickly transitioning to new modes of learning and creating in ways that only artists can. The School's new online galleries showcase the wide variety of student artistic practices that reflect contemporary realities and imagine new futures. For our graduating class, the senior exhibition No Tutorial brings together projects by 41 graduating students, drawing distinct parallels between seemingly divergent bodies of work in a way that is not limited by physical gallery walls.
For our exceptional faculty, this year also brought many accomplishments to celebrate. Professor Jon Rubin's exhibition with Tehran-based artist Sohrab Kashani at the Mattress Factory, which opened in September, demonstrates how art can be a powerful tool to collaborate across seemingly impenetrable borders. Professor Alisha Wormsley's collective project Sibyl's Shrine, a residency for black mothers who identify as artists, was recognized with a $150,000 award through The Heinz Endowments' new Just Arts program. And Professor Angela Washko received a 2020 Creative Capital Award for her experimental narrative video game. Furthermore, there were many accomplishments within the university, including Professor Susanne Slavick being appointed University Professor, the highest distinction a faculty member can achieve at CMU.
On campus, we finally moved our entire graduate program into its new 10,000-square-foot studio facility. This long-awaited move permanently transformed the School of Art, expanding the spaces for both our undergraduate and graduate students and buttressing one of the leading MFA programs in the nation with its own incredible studio complex.
This year, we also bid a final farewell to our beloved former Dean of CFA and Professor Emeritus Lowry Burgess, and to the much-esteemed former head of the CMU Art Department Orville Winsand. As we grieve those who have passed, we also greet the future for which past efforts laid the groundwork, welcoming our newest faculty member, Lyndon Barrois Jr., who will join our painting program next fall.
In many ways, this was a banner year, and perhaps it was that energy that helped our community and culture thrive in the face of the losses and departures we experienced this spring. It goes without saying that what has occurred will mark an important period in the history of our school, as it has tested who we are as a group as well as what we stand for as individuals.
Nevertheless, as we arrive at the close of the school year, into a moment that will bear the mark of history, I can say that I am prouder than I ever could have imagined to be part of our school—a space of warmth, creative strength, and honesty. I thank all of you for holding on and finding new ways to move forward; your efforts and energies have kept me going, and they will fuel our emergence to a more normal time. However, this spring will be remembered for all of our lives, because we experienced and rose to its demands together.
Congratulations to the Class of 2020, and here's looking to the future!
CW
Charlie White
Regina and Marlin Miller Head of School
School of Art
Professor of Art
Carnegie Mellon University