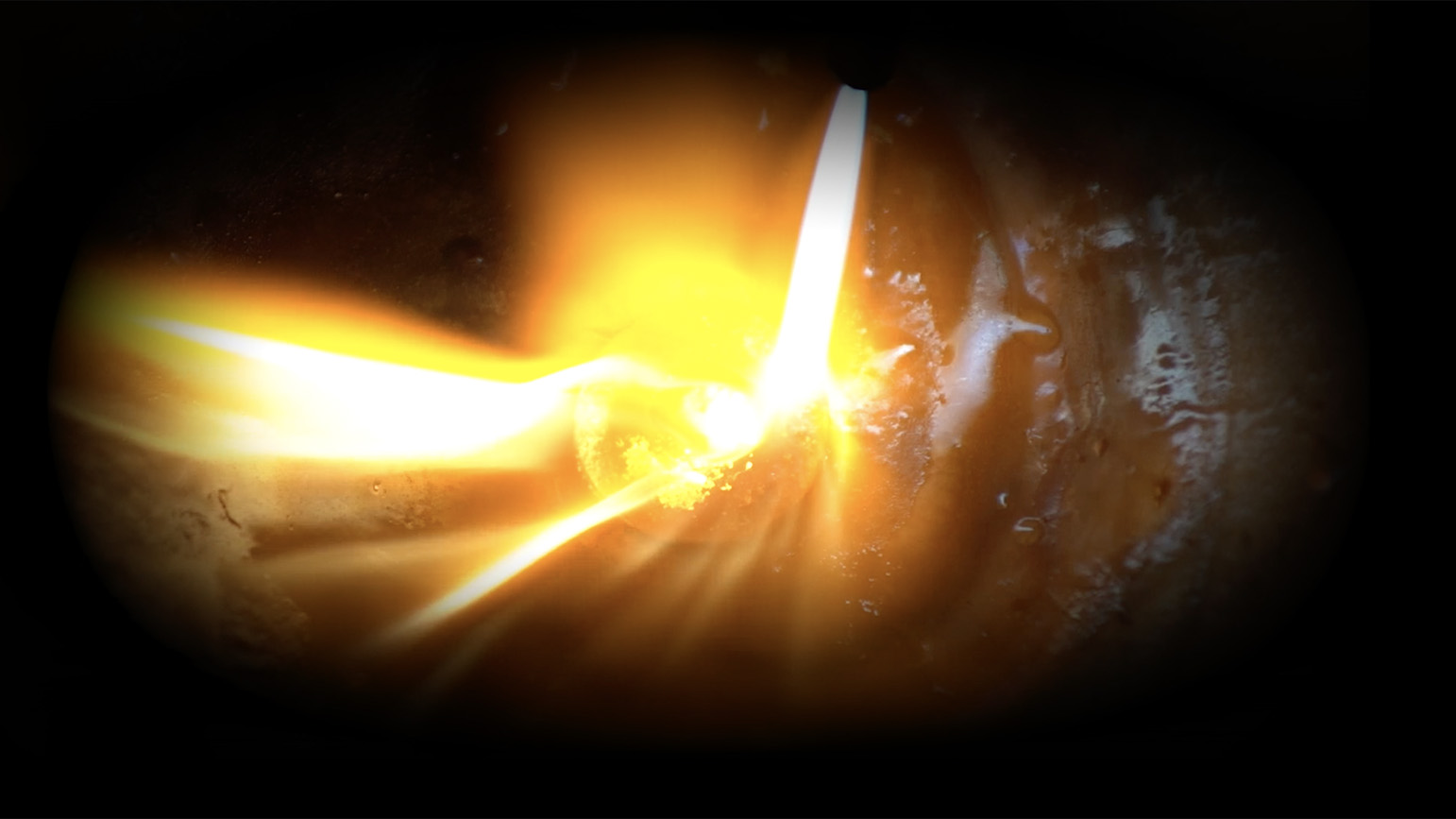 As an extension of the exhibition "Everything Once Arranged Has Become Scattered," Rebecca Shapass MFA '23 presented her "film nickel for a silver screen" (2022) and gave an artist lecture titled "no more room in hell: zombie possibilities and haunted desires." The screening and talk was followed by a screening of George A. Romero's "Night of the Living" Dead on February 22 in Richmond, VA's historic Byrd Theatre.
About the film
"nickel for a silver screen" (2022)
In 1905, the world's first 'Nickelodeon' – or nickel theater – opened in a Downtown Pittsburgh storefront. Though other theaters had shown films, Nickelodeons set the precedent for the modern cinematic experience. Shapass' installation, intended for presentation in a cinema space, presents footage of a nickel being transformed into a cosmic image of decay as the metal melts, bubbles, and pops like a star transforming into a black hole. The work is accompanied by a unique soundscape of foley noises mixed for an immersive, surround sound experience.
About the lecture
"no more room in hell: zombie possibilities and haunted desires" is an ongoing research project and in-progress experimental film that began with inquiries conducted at the archive of horror director George A. Romero (dir. "Night of the Living Dead") housed at the University of Pittsburgh. The multimedia artist talk/lecture combines Shapass' research with audio-visual elements from her in-progress cinematic work to explore the zombie as a posthuman species. It follows threads from Romero's archive through Pittsburgh's shifting industry sectors, with a particular interest in autonomous vehicle development and contemporary data collection practices in the region. Shapass' spin presents Romero's zombie as an embodiment of apocalyptic futurity, representing the ways in which our fears of the future are often shaped by the ghosts of the past.