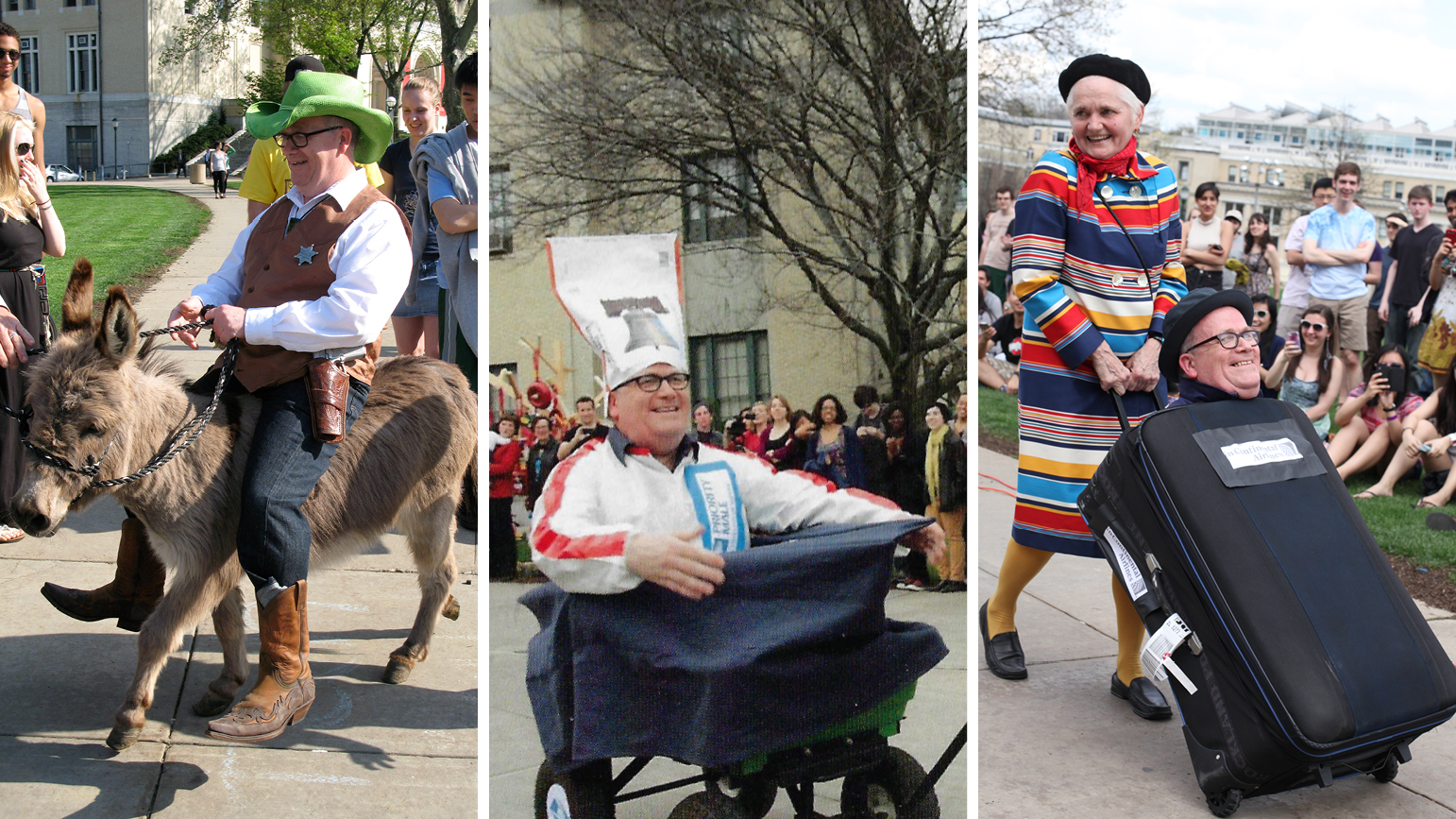 After 31 years of service to art education—the last 16 at Carnegie Mellon University—John Carson is retiring at the end of this semester. His tenure at CMU, as both a prior Head of School and as a faculty member, is marked by an excitement for creative risk-taking and new ideas, a passion for collaboration and broadening contemporary art audiences, and a firm defense of art as an essential mode of free expression.
After 15 years at Central Saint Martins College of Art & Design in London, where he was Course Director for the B.A. in Fine Art Program, John came to CMU in 2006 as Head of School, a role he held until 2016. Drawn to CMU's promise of interdisciplinarity and technological advancement, John's leadership helped grow the School of Art's commitment to experimentation. Key investments in facilities, such as a major overhaul of the printmaking area to reorganize spaces for traditional printmaking and to add a digital print lab, as well as investment in digital fabrication and digital video technology, ensured that students had the resources to experiment across both traditional and new media. New faculty hires, including Rich Pell, Paolo Pedercini, Angela Washko, Imin Yeh, and Devan Shimoyama, ensured that the School remained at the forefront of innovation in artistic expression. Other initiatives included instituting the annual Open Studios event and transforming the senior capstone into a year-long class titled Senior Studio, ensuring students have the time and space to leave college with a developed body of work and clear personal artistic vision.
John's time as Head of School is also characterized by a "say yes" attitude to faculty and student ideas, especially those that engaged with communities outside of the university. His support as Head of School enabled initiatives such as Suzie Silver's TQ Live!, an annual performance event featuring students from CMU alongside LGBTQIA+ artists and performers from Pittsburgh and beyond, and Jon Rubin's Conflict Kitchen, a restaurant that served cuisine from countries with which the United States is in conflict. Many also fondly remember the Downhill Derby, which ran for four years during CMU's annual Carnival. Devised and overseen by visiting artist Pat Oleszko, with the assistance of MFA students Oscar Peters and Jonathan Armistead, the event challenged students to design and build their own non-motorized vehicle, to roll, be pushed, or be dragged down the pathway from Doherty Hill to University Center. The resulting parade of outlandish and hilarious costumes and vehicles was not only great fun, but invited students to think creatively outside the pressures of a classroom setting.
"John takes the approach of saying 'yes' to the crazy art school stuff, so he is a wonderful facilitator of people's wacky and off-the-wall ideas," said Professor Clayton Merrell, who served as Associate Head for part of John's time as Head of School. "He is always a collaborator and always looking to work with other people. Everything he does is from the heart in a way that's wonderfully refreshing."
With supporting unconventional projects also came controversy and pressure for censorship, and John's tenure as Head of School is characterized by an unwavering support for the freedom of expression. When a student's risqué Downhill Derby performance angered the local Catholic Diocese, John defended that student's right to free expression, even when others in the university did not. Similarly, when Conflict Kitchen's Palestinian iteration solicited protest from some conservative Jewish organizations, John remained steadfast in his support of the project.
After John's tenure as Head of School ended, he began teaching fulltime and quickly became known for innovative classes like Art & Conflict, which examined 'The Troubles' in Northern Ireland through visual art literature, and drama. The class, which was taught with Jennifer Keating (a scholar and writer), and Illah Nourabaksh (a CMU Robotocs Professor) included a field-trip to Northern Ireland where students met artists, writers, dramatists, and ex-paramilitaries, working on post-conflict peace initiatives.
John received his Bachelor of Fine Art Degree from The University of Ulster in Belfast in 1976 and his Master of Fine Arts Degree from California Institute of the Arts in 1983. As an artist, John's work wittily explores the interface between high and low culture. Through various innovative strategies and media, his work reaches audiences typically excluded from contemporary art. Projects include live performances, soundworks, television and radio broadcasts, installations, drawing, photographs, prints, sculpture and more. Among more conventional art spaces, his work has been exhibited at The Douglas Hyde Gallery in Dublin, The ICA in London, the Perth Institute for Contemporary Art in Australia, and MoMA PS1 in New York City, among many others.
"John's incredible generosity, warmth, and care for others is evident in everything he does, including his time leading the School of Art, his current teaching, and his artistic practice," said Head of School Charlie White. "John's teaching and leadership demonstrate to students that art can be engaged with serious issues while still being humorous and accessible. We will miss John's kindness and selflessness, as well as the incredibly witty and heartful songs he has written and performed for various School of Art occasions and milestones."
Images: John Carson during the Downhill Derby (l to r): Head Honcho from 2012, US Male is from 2011, Head Case from 2013