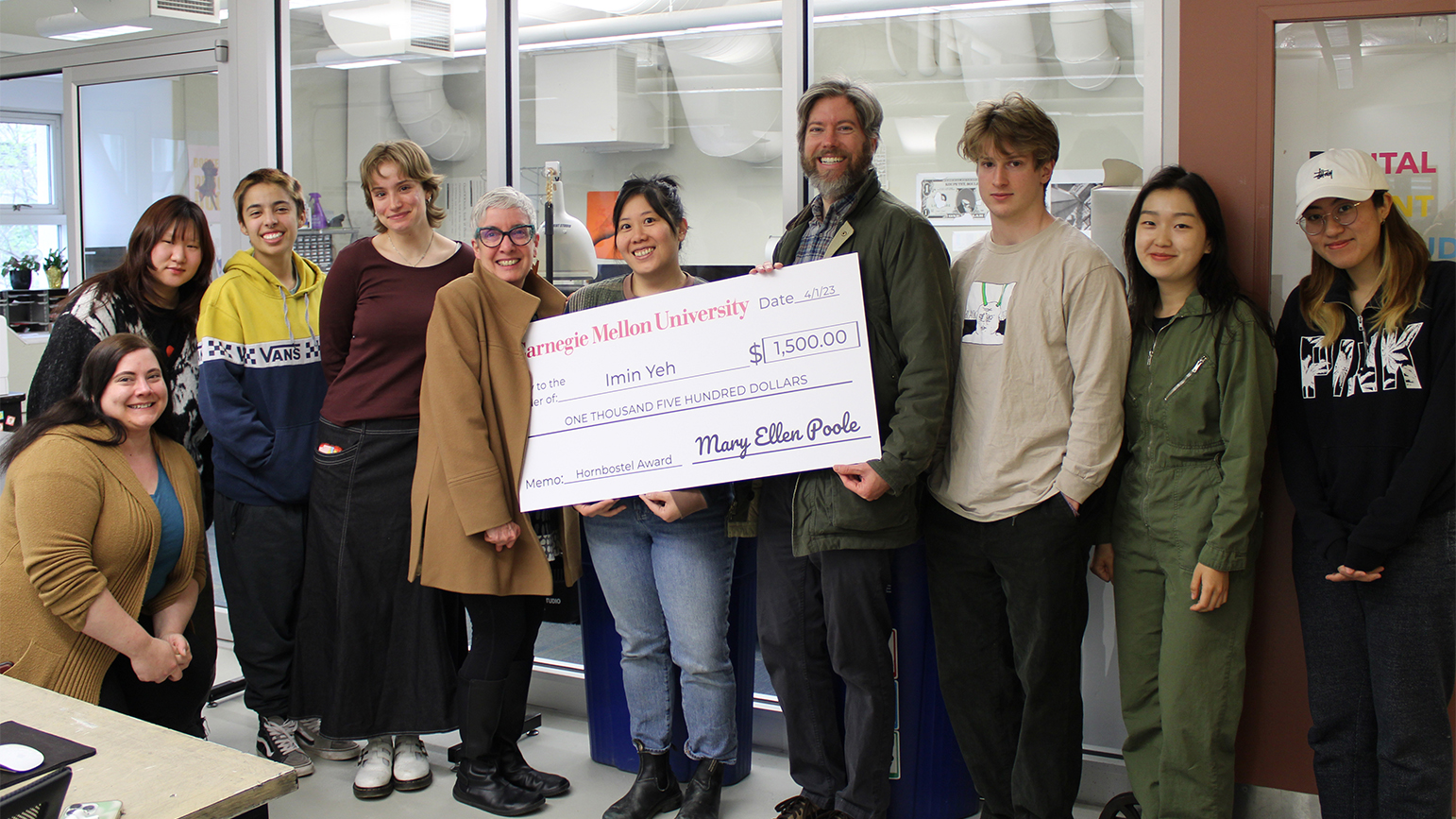 Professor Imin Yeh is the recipient of the College of Fine Arts' 2023 Henry Hornbostel Teaching Award, an honor given annually by the College of Fine Arts to one professor in recognition of teaching excellence.
The award is named after Henry Hornbostel, the first Dean of the College of Fine Arts and the architect of several Carnegie Mellon University buildings including the College of Fine Arts Building, Baker Hall, Doherty Hall, Hammerschlag Hall and Margaret Morrison Carnegie Hall. Yeh will be recognized at Carnegie Mellon's Celebration of Education Awards Ceremony on April 27.
Yeh is beloved by students for her enthusiasm and dedication to making, constantly encouraging students to blend experimentation, concept, and a dedication to craft in their projects. She consistently encourages students to take a hands-on approach to creating, challenging them to try new materials, processes, and ideas. Starting from a foundation of printmaking, her advanced courses branch out to encompass sculpture, installation, publishing, multiples in many mediums and more.
This past fall, Yeh was also appointed the Inaugural Director of Foundational Studies and has already restructured required undergraduate courses to better prepare incoming students for advanced study. The new First Year Seminar fosters a strong community of artist-peers and introduces students to CMU resources, while foundational and intermediate studio courses build a strong basis in technical skills. Throughout the curriculum, the School's strong conceptual focus remains at the center of instruction.
As an artist, Yeh's work in paper deftly and humorously explores the unseen labor and production that lies behind unconsidered everyday objects. Her projects are exhibited in museums and galleries across the country and are available through downloadable projects you can make at your kitchen table. She recently published a book on her project dreamcabin, a miniature paper cabin that is home to more than 100 artworks by artists across the United States and beyond. Begun during the early days of the COVID-19 pandemic, the project became a powerful way to create community during physical isolation.
"Since she arrived at the CMU School of Art in the fall of 2016, Imin Yeh has made a profound impact on the School's culture, pedagogy, and students," said Head of School Charlie White. "Yeh generously shares her dedication and passion for artmaking with our students, inspiring them to strengthen both their technical and conceptual skills. Like her own artistic practice, Yeh's teaching is ambitious, innovative, and fosters strong communities of creators."
Image: CFA Dean Mary Ellen Poole and CFA Senior Manager of Resource Operations Dan Barrett surprise Imin Yeh with the Henry Hornbostel Award during class.