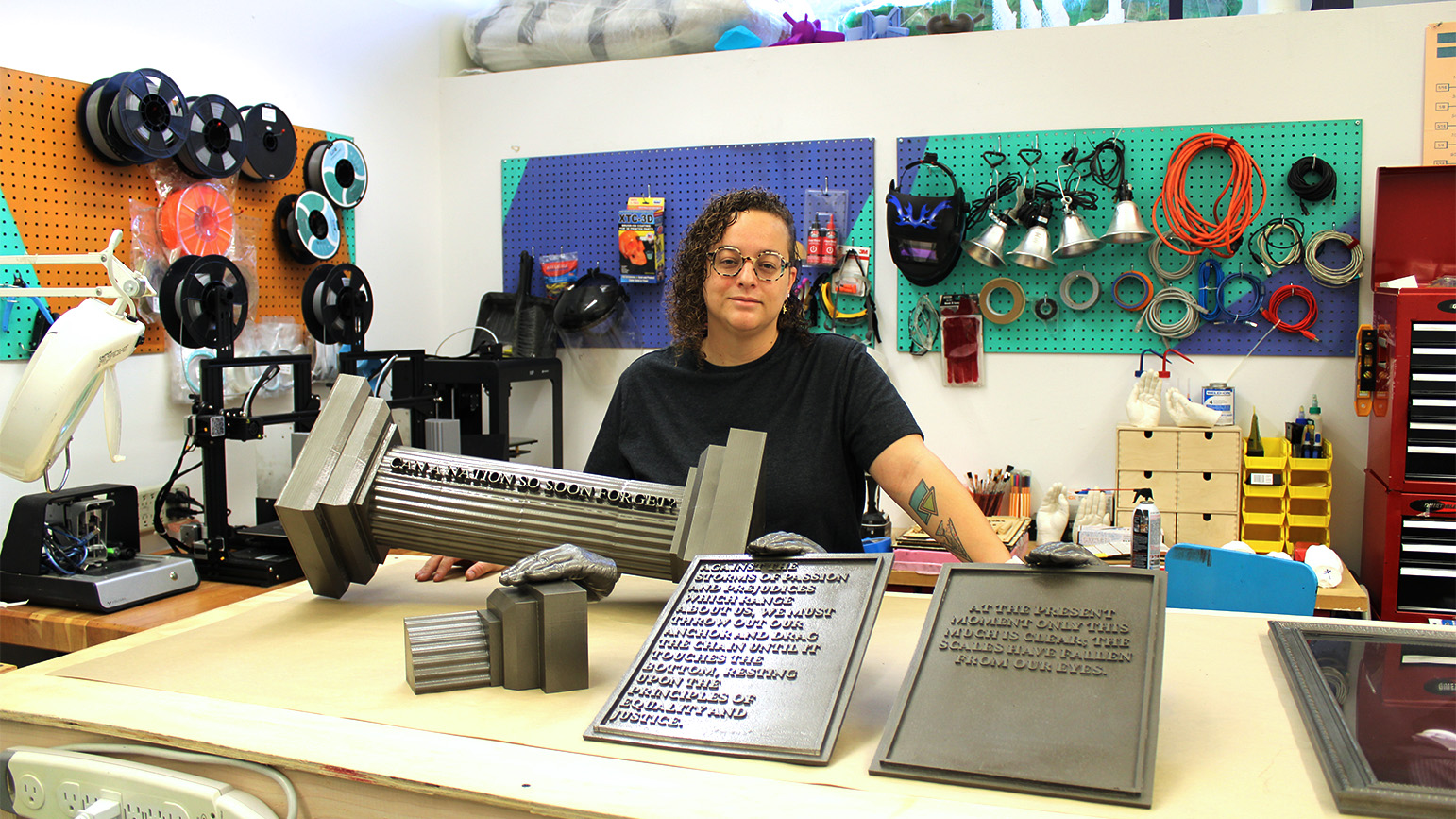 In 1906, Reverdy C. Ransom delivered a speech titled "The Spirit of John Brown's Body" at the second meeting of the Niagara Movement, a precursor to the NAACP. This meeting—and Ransom's speech—was a key catalyst in the early fight for Civil Rights in the United States. More than 100 years later, Professor Britt Ransom, who is Reverdy Ransom's great-great-granddaughter, is reexamining this history in a new exhibition at Pitzer College. The exhibition, titled "Arise and Seek," is on view January 28 through March 25.
The immersive installation contains several plaques of text from Reverdy Ransom's speeches that are held by casts of Professor Ransom's hands. In the center of the room are scale models of her great-great-grandparents house and John Brown's fort, which are installed to reflect a multigraph photo, an early photography technique that captures a sitter's image multiple times through the use of mirrors. Ransom created the elements of her installation through a combination of digital modeling, 3D printing, and casting, and the installation also includes historic photographs and a timeline.
By bringing together John Brown, a pre-Civil War abolitionist, Reverdy Ransom, and contemporary references to her own body, Ransom seeks to demonstrate that the fight for Civil Rights in the United States has a long trajectory and that the fight against racism continues today.
Though progress has been made, Ransom explains that we still have a long way to go. "When I read my great-great-grandfather's speeches, the language is so different in its vernacular, but at the same time, the content is so applicable to right now, it's actually alarming," she says.
Ransom uses her art practice to transform her research from a simple history lesson into a powerful experience for museum visitors that seeks to challenge them to think about the role they play within the continuing history of racism and inequality. "My goal as an artist is to reframe looking at something so that you think about how you yourself are situated within that cycle," she explains. Through learning about history and seeing the ties to the present day, Ransom explains, she hopes gallery visitors will be spurred to action.
This is the first time Ransom has made artwork about her family's history. She is also active in the renovation of her great-great grandparent's house in Wilberforce, Ohio, which recently received a major grant from the National Park Service. Ransom says she and her family aim to turn the house into a community space for research, activism, and art.