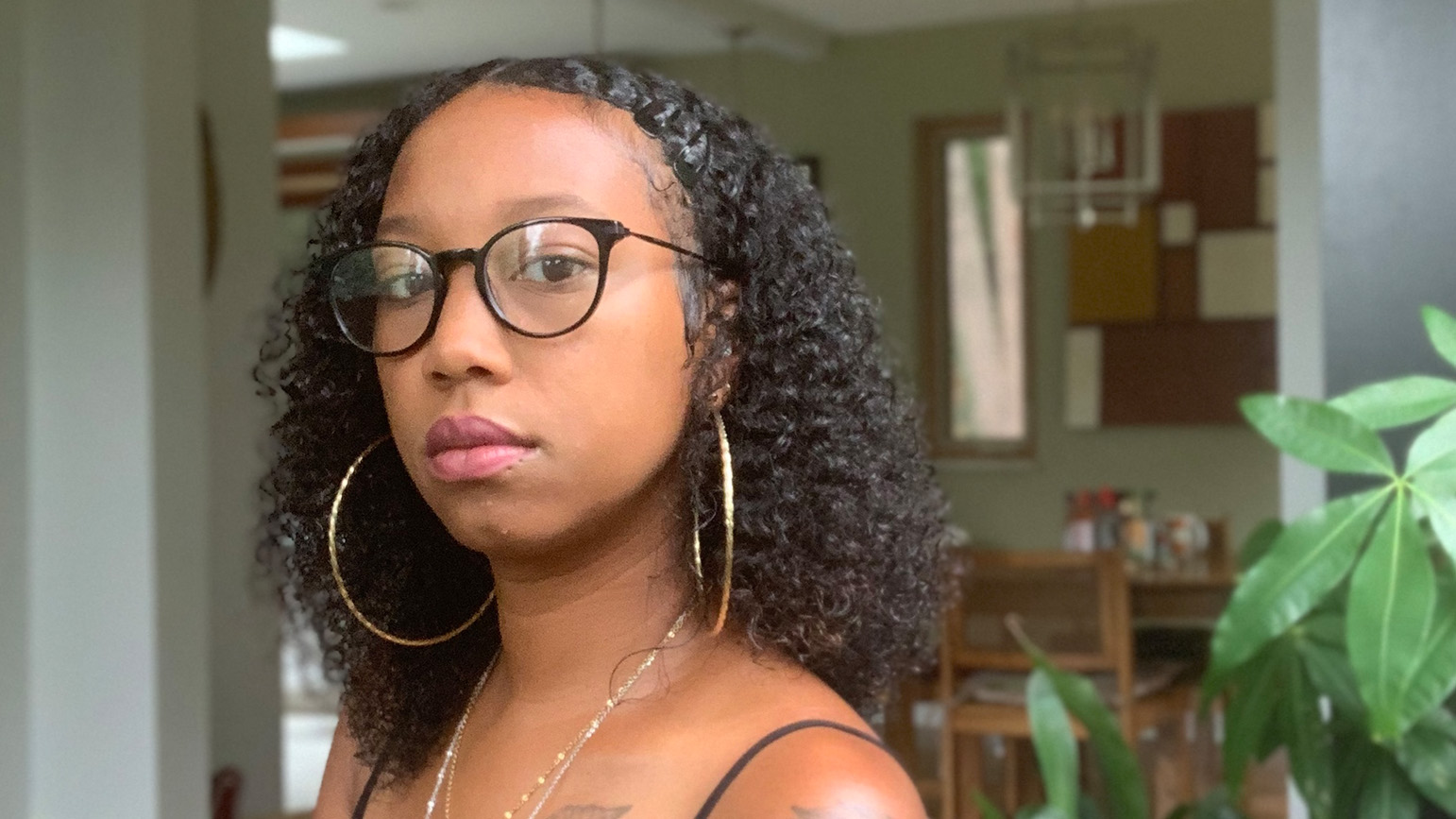 "5 Questions" is a series by the School of Art that asks alumni who are transforming art, culture, and technology about their current work and time at Carnegie Mellon.
Jessica Gaynelle Moss in an artist, independent curator, and arts worker focused on new frameworks and strategies to build, maintain, and sustain Black autonomous spaces. She is the Founder and Director of The Roll Up CLT Artist Residency in Charlotte, NC; the Administrative Director of Sibyls Shrine, an artist residency for Black creative mothers created by Professor Alisha Wormsley; and Philanthropy Fellow at The Pittsburgh Foundation and The Heinz Endowments. She has also worked with The Smithsonian National Portrait Gallery in Washington DC; Theaster Gates' Rebuild Foundation in Chicago, and The Harvey B. Gantt Center for African American Art + Culture in Charlotte, NC.
After receiving her BFA from CMU's School of Art in 2009, Jessica went on to earn her Master's in Arts Administration from the School of The Art Institute of Chicago in 2015 and her Master of Studies of Law in 2018 from The University of Pittsburgh School of Law.
Why did you decide to study law? How has your Master's in the Study of Law informed your arts work?
I took a Law and Art class during my time at the School of the Art Institute of Chicago that really opened my eyes to this intersection that I hadn't explored, that I didn't really even know existed. There were so many interesting cases that were at the intersection of fine art and law that I found myself so drawn to and curious about. After I graduated, in my professional world, I kept running into these walls, be it with artist contracts or with insurance where more information on how art and law intersect would make me stronger and give me another tool to advocate for artists.
I really appreciated finding the program at the University of Pittsburgh School of Law, because it allows students to do self-defined study. The work and teaching of Stephanie Dangel, who specializes in entertainment law, and Jerry Dickinson, who specializes in real estate law, really fit with my practice that is rooted in real estate and development and the fine arts. I think in any type of academic pursuit you might have, you should look at the faculty and think about how your work might benefit from the conversations and engagement you might have with them. Well beyond the end of your program, you will continue to have relationships with these people who will help you grow in your career.
My advice to students is if there's a curiosity in you that you can't explain, then pursue it!
A 2019 study showed that, on a variety of factors, Pittsburgh is the "worst place for Black women to live." Could you talk about how your work—in particular your collaborative project Sibyls Shrine with Professor Alisha Wormsley and Naomi Chambers—works to provide greater opportunity to Black women in Pittsburgh?
When that report came out, it left a lot of Black women in our city feeling like "yes, and…?" It didn't take a report to make us realize the inequities in our city. There are already a number of Black women artists who have been advocating for change, who have been advocating for spaces for us within our city, within our state, within our country, within our world. What that report did was illuminate for non-Black people and non-Black arts and culture organizations the Black women already doing this work. There's now an urgency for all hands on deck that there hasn't been before.
Sibyls Shrine specifically supports Pittsburgh-based Black creative mothers, as well as creates a community with many network opportunities between the moms. What we're doing is building our own economy, a self-sustaining economy that is built on Black women's resources and creativity. For so long we haven't needed anyone but ourselves to make these things happen for ourselves, and that "by us for us" model is incredibly important in this work.
I also work at The Pittsburgh Foundation and The Heinz Endowments and one of the grant initiatives I work on is the Advancing Black Arts in Pittsburgh program, which specifically supports Black artists in the region. This year we did something very radical: we were able to fund every artist who submitted a proposal for this year's slate of funding. Using philanthropy as a tool to support Black artists, to support Black people, to support Black women is something that I'm really grateful to be a part of.
On the Advancing Black Arts in Pittsburgh program, I work for two Black women, Shaunda McDill and Celeste Smith, and it's remarkable to be able to do that work with Black women for Black people. I realize that this is not a norm within philanthropy, and I hope this is seen as a model that other foundations can then emulate: Black program officers who are in leadership positions that support and uplift Black people. I think it's important at every stage for Black artists and Black people to be included, from the board room to visitor services. I think this is the least that can be done to start to repair the violence and the damage that has been placed on Black people in this country. I'm excited to see what actions are taken now from this point moving forward to support us in ways we have not been supported.
How has the model for the Sibyls Shrine residency, as well as the residency you run in Charlotte, changed since COVID-19?
For The Roll Up in Charlotte, instead of inviting an artist to come from outside the city to live in the residence, we supported two local artists with an honorarium, a supply and material budget, a food and meal stipend, and support for transportation—all the things we would have done for a visiting artist. Before the model was about how we could create reciprocal relationships where visiting artists share with the local community and vice versa. Instead, it's really been about focusing on what's happening from a local perspective and supporting the artists who are Charlotte-based and already doing the work.
Initially, Sibyls Shrine was modeled similarly to The Roll Up, but because of COVID, Alisha came up with the brilliant idea of hosting a network residency. In this virtual space, we are able to support even more moms, so we have cohorts of up to 30. We meet every Sunday, and we have curated programming based on the mothers' interests and practices. I think what ultimately came out of it was so many more opportunities for learning and growth than we could have anticipated and so much more support of local artists.
How do students make connections and introduce themselves to curators they may like or admire?
The internet has democratized things so that folks are so accessible on Instagram, Twitter or elsewhere on social media in a way that they've never been before. So, I could reach out and DM Thelma Golden [Director of the Studio Museum in Harlem] or [Pittsburgh-based independent curators] Tara Fay or Kilolo Luckett. Twenty years ago, you would have had to go to their place of work, try to arrange a meeting, and only have a certain window of time to explain your entire body of work. Now, you send a message to someone and they can see your portfolio on your social media or click your website to learn more.
The first step in contacting a curator is getting over the fear of "what happens if" and preparing yourself for "what happens if." Because our community is so small and our network is so connected—whether that's here in Pittsburgh or elsewhere in the art world—often if you are curious about having a conversation with a particular curator, you can see who you know that they might know and then rely on that person to connect you. This has happened to me so many times in my career.
Could you talk a bit about your time as an undergraduate at CMU's School of Art? Are there any experiences you had as a student that stand out?
I feel like my experience at Carnegie Mellon prepared for the path I ended up taking, and a lot of that I owe to different professors. One is Jon Rubin who hosted a class that took place in a physical storefront on the Southside. This was a great way to think about other perspectives and other sites beyond the CMU campus. Ayanah Moor [who now is a professor at SAIC] was another professor who provided so much clarity and support for me in my work then and now. I encourage students to study with faculty who are doing the work they believe in.
During my time at CMU, one of the things I really appreciated was how interdisciplinary approaches were supported. So if you, as an art student, have an interest in biology, there are opportunities where you can think about how these two worlds relate and explore that in your craft. You just have to be able to articulate what your interests are, make an argument for why it's important for you and your work, and oftentimes you'll be uplifted with the freedom to do and learn about your unique interests.
Learn more about Jessica Gaynelle Moss on her website.