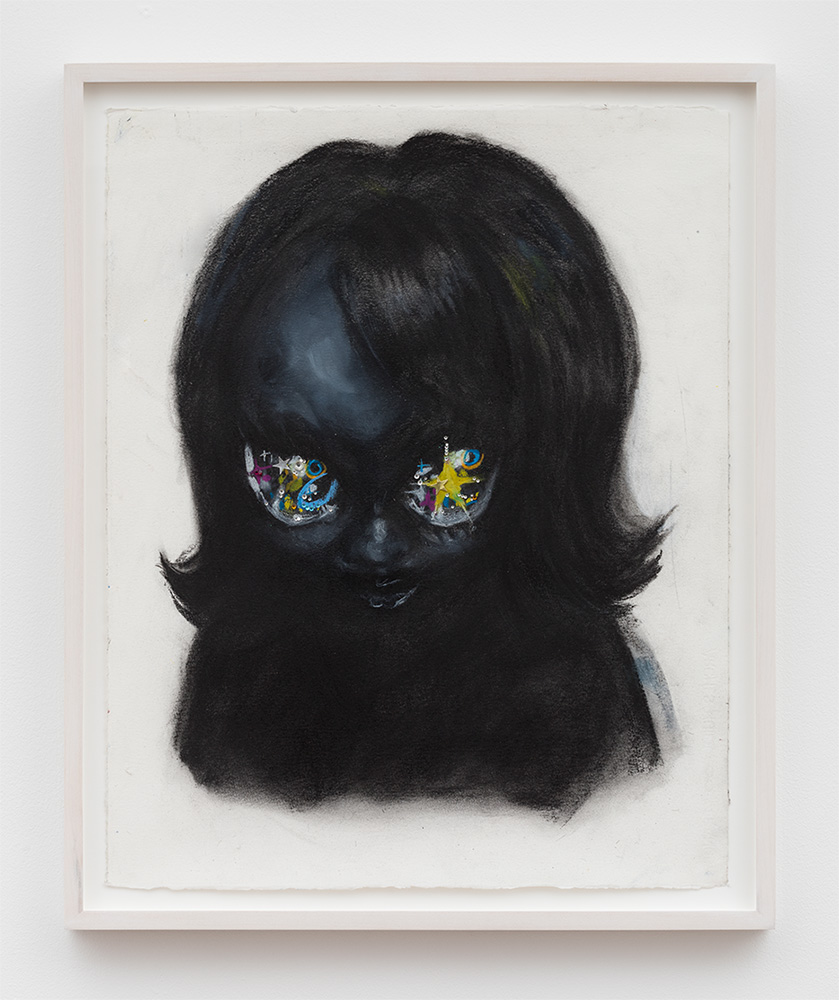 Shori Sims
A New Kind of Freedom
Charcoal, ink, oil paint, crayon, colored pencil, glitter, rhinestones, and paint pen on paper
My dad owns a barbershop in Dundalk, Baltimore and has since before I was born. As a kid, I would spend a lot of time there with my brother: sometimes in the barbershop portion, and later in the back where women would do hair (and get their hair done). I remember looking in awe at the women who came in, and at the posters that hung above displaying the hair styles that you could request. They were all hairstyles that my mom never would have allowed me to get, and I was stuck on them. Those sorts of images—of Black women, resplendent in their fancy new, mile-high hairdos—have never left my mind. I wanted to create my own take on the beauty-salon poster.
This is an image of a woman posed for the "camera", with the main points of visual interest being her eyes and her hair. The eyes are the most important part of all of my figures. The hardest part of this work was getting the eyes to do what I wanted them to do.
This piece began as a simple charcoal drawing and quickly evolved to include ink, oil-paint, crayon, colored pencil, glitter, rhinestones, paint pens: whatever I had that did the job. It took about a week and a lot of fixative spray. A lot of my work is about finding the intersection between 2D and 3D media—and about pushing the limits of certain materials.