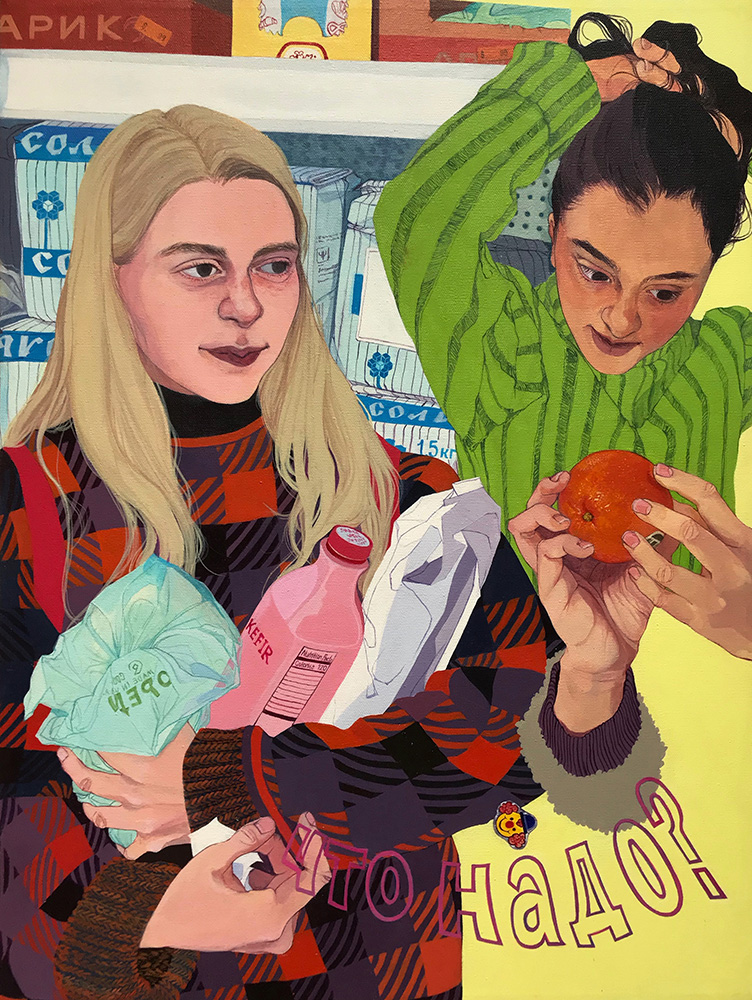 Ester Petukhova
Grocery shopping with my virtual roommates
18 x 24 inches
Acrylic on canvas
Bottom text of the painting reads "What do you need?".
My roommates and I had started to make plans for a very special "grocery trip" back in February when we signed for a new apartment. Those plans were severely put on hold when the virus broke out. To pay homage to the long anticipated house-warming shopping trip and welcome dinner, I sourced images taken pre-pandemic and fabricated this event virtually. Essentially a hybrid of images from different locations, the collaged images range from different time periods, geographical locations and personal relationships between figures.
The packaged salt in the background is from a Russian Grocery store back in Southeast Portland, taken six months prior to enrolling at Carnegie Mellon. Jennifer's hands holding a small orange (as she can always be spotted with one), was taken earlier in the 2020 school year. An image of Pria from our lunch on Craig Street. A small clown sticker that is located in the West Wing bathroom paper towel dispenser on campus. An image taken of me when picking up kefir and a loaf of bread in East Liberty back in February.
Although my roommates and I have been geographically displaced: Pittsburgh, Seoul, D.C., this work felt necessary in producing an emotional closure to a specific event, a sort of "coming of age" as first-year students. Our passage of connection has unfortunately become diluted to mostly virtual platforms, i.e. electronic languages, solely existing within a post-reality context to one another. All media, language, emotion is absorbed or produced virtually. It doesn't seem to matter that these collaged images existed months or even half a year apart in time. There is no linearity in fabricated experiences and events— and as a painter, I'm largely beginning to question the systems of measurement I use within my own practice to categorize the time and space I have access to or can draw from. I hope to see more conversations around the melancholic erasure of tangible spaces or memory in the midst of the pandemic, but for now I suppose I can only imagine or fabricate these events.