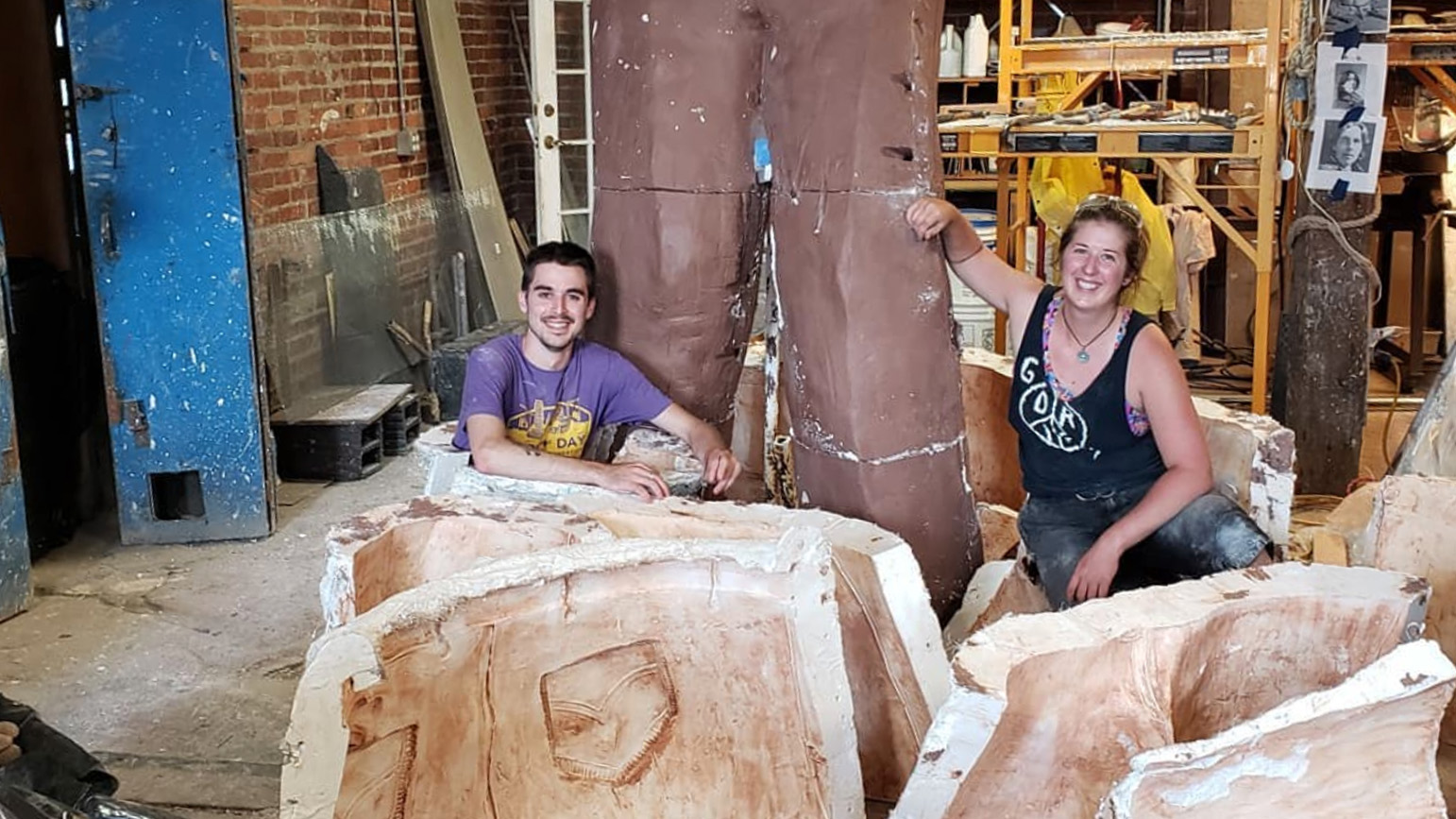 Image above: Jonas Petkus creating plaster casts in James Simon's studio this summer.
For many college students, the summer internship is a quintessential opportunity to apply what they have learned in the classroom to the "real world," try out possible career options, and begin building a professional network. We checked in with three School of Art students, who completed very different internships, to learn more about their summer experiences.
Jonas Petkus
James Simon Studio
During the summer, Jonas Petkus helped Pittsburgh-based sculptor James Simon construct a monumental public art commission that will be installed in Charleston, West Virginia. Simon and his team created the work—comprised of two 15-foot-tall Appalachian musicians and a dog—in pieces. First, they constructed an armature with wire mesh, which was then covered in thousands of pounds of clay and sculpted. From these sculptures, the team made a series of plaster casts, which will be used to pour the final work in concrete.
Working in an artist's studio was completely different from Petkus' past experiences making art, he said. "Coming from an academic studio atmosphere and going to his studio—which is a crazy little compound with a bamboo forest and chickens—is super chaotic, but it works. It was an unexpected but super fun way to make art."
Petkus said he was especially inspired by Simon's community-focused approach, and other local artists, community members, and even neighborhood kids were constantly streaming in and out of the studio. "You never know who's going to come through the door and who you're going to meet," he said. Given the size of Simon's work and the physical labor required to realize these projects, at any given time there may have been five or more people helping to construct the sculptures.
Petkus also said his experience working with Simon gave him a new perspective on how he wants make artwork after he graduates. Inspired by Simon's history of traveling the world and living in other countries, Petkus said he hopes to explore artmaking in places outside the United States through travel and residencies.
Rachel Lee
Amazon
Rachel Lee in Seattle
Rachel Lee moved to Seattle for the summer for a hybrid virtual/in-person internship in UX design with Amazon's F3 division, the company's grocery department. Lee, who has done additional virtual internships during the pandemic, said she was excited to be able to work in a physical office and meet employees and other interns face-to-face rather than over Zoom. At the beginning of her internship, Lee described the office environment as surreal because the huge building in which she worked was nearly empty. By the end of the summer, however, many workers began voluntarily coming back to the office.
During her internship, Lee conducted research and helped design new features for Amazon's mobile app. "Part of my internship entailed illustrating a lot of new icons," she said. Her knowledge of color theory and other technical and illustration skills were especially applicable in this role.
Beyond technical skills and knowledge, Lee said some of the soft skills she learned in the School of Art helped her succeed during her internship. In particular, her art classes taught her "how to listen to people and incorporate the critiques they give you into your work," she said.
Following graduation, Lee hopes to continue down this career path, and this internship gave her confidence she didn't have before. "One big takeaway from this summer for me was to be a lot more confident in both myself and the work I produce," she said. Working for a large company, where there's little room for error, you have to commit to your decisions and trust that your knowledge, research, and skillset lead you to the right choice, she explained.
Katie Frazee
François Ghebaly Gallery
Mural by Channa Horwitz on the exterior of François Ghebaly Gallery, which Katie Frazee helped coordinate during her internship.
Katie Frazee spent her summer gaining firsthand knowledge of the inner workings of the art world as an intern at François Ghebaly Gallery in Los Angeles.
"I learned a lot about how the art world actually works, which I had no idea of beforehand," Frazee said. During her internship, she met artists, witnessed how the gallery prepares for an exhibition, experienced the day-to-day affairs of the business, and learned about the many ways that galleries support their artists. "There are so many components of a gallery that I wouldn't have learned without experiencing them," she said.
Working with such a small team gave Frazee the opportunity to do tasks that interns in larger organizations would not do. For example, for a mural project at the gallery, Frazee got price quotes and even hired the contractor responsible for realizing Channa Horwitz's work "Language Series — 3 Circles and 2 Squares" on the exterior of the gallery.
After graduating, Frazee hopes to work as a studio artist and said this experience taught her important lessons about how artists navigate the gallery system. Importantly, the gallery also helped to build her network, something she said will help her during the rest of her time at CMU and after graduation.