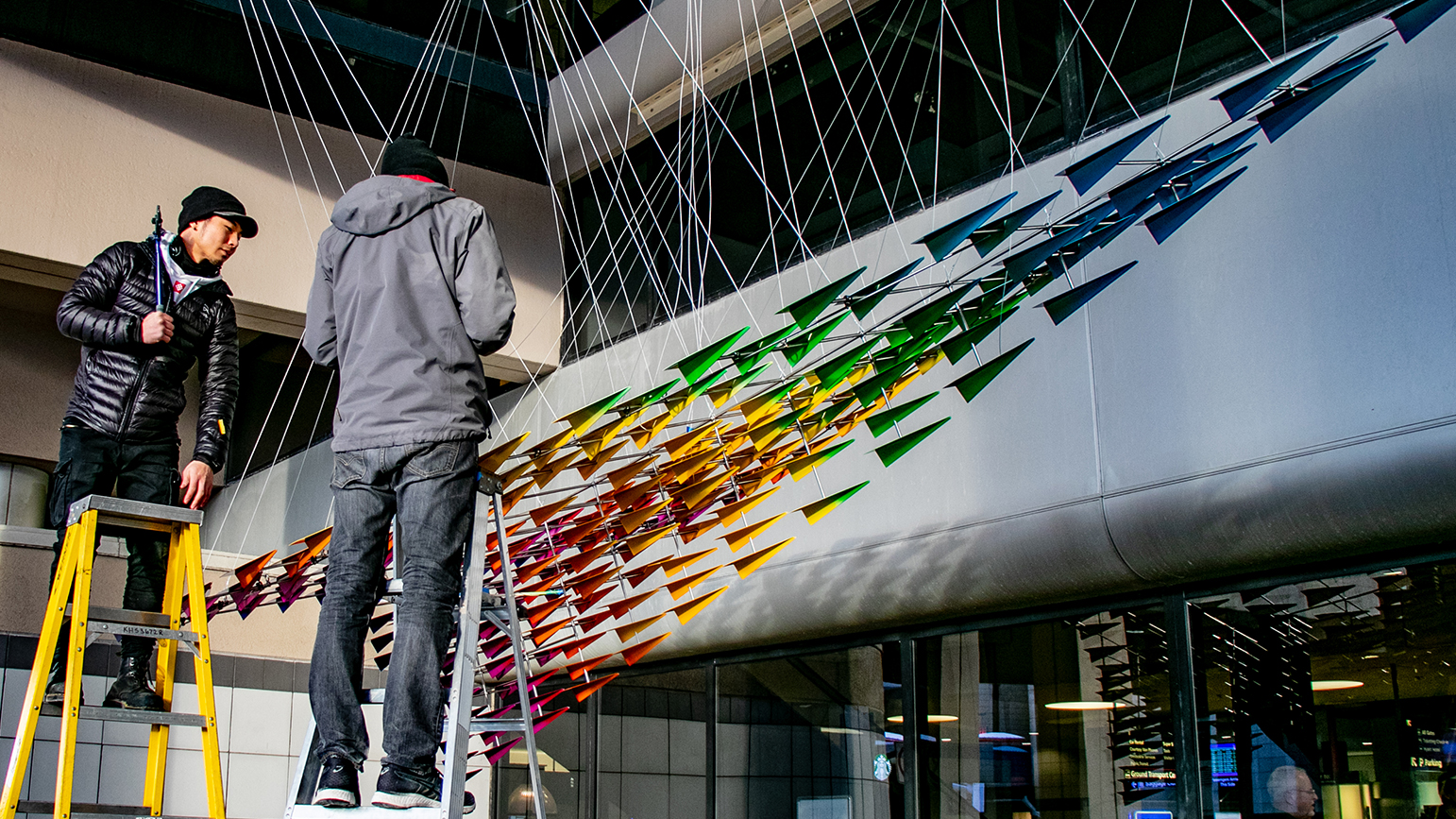 A rainbow-colored, 16-foot sculpture of a giant paper airplane now greets passengers arriving at Pittsburgh International Airport (PIT), thanks to the hard work and vision of Shohei Katayama and Michael Neumann, master of fine arts candidates in the School of Art.
Their sculpture, titled "Flight," was installed outside Door 3 late last month and marks the completion of the first phase of an outdoor baggage claim sculptural walk at the airport. PIT's Art Advisory Committee selected "Flight," along with three other projects, each receiving a $25,000 stipend and an agreement to loan the work to the airport for up to five years.
In conceiving the project, Katayama and Neumann said that they were thinking about how the space acts as a welcome mat to the city for weary travelers.
"The work creates a strong contrast with the blocky black, gray, and red aesthetics of the airport's architecture," Katayama said. "We wanted something that was vibrant and welcoming."

"Flight" is comprised of 225 individual aluminum, painted paper airplanes suspended from a stainless steel armature. To create the work, Katayama and Neumann enlisted the help of several local vendors. Especially instrumental was BASF, who donated $9,000 worth of paint primers, colors, and UV clear coats that are typically used on vehicles including Smart Cars, Nissans, and Subarus, as well as sculptures at Disney World.
For Neumann, who previously worked as a fabricator before enrolling in the MFA program, demonstrating the depth of talent in Pittsburgh was an essential part of the work.
"By working with local artisans and engineers, "Flight" demonstrates some of the best Pittsburgh has to offer," Neumann said. "Like the sculpture itself — which consists of many small airplanes coming together to create one unified whole — we relied on collaboration and the expertise of several people to help us realize our vision."
The aluminum paper planes and the armature were fabricated by Technique Architectural Products, and the individual components were painted by Bruce Harvey at Pro Comp Custom. In addition, Katayama and Neumann received guidance from School of Art professors Bob Bingham and Carol Kumata, along with Larry Hayhurst in the College of Engineering's Tech Spark facility.

"Mike and Shohei have worked to embody the spirit of an airport with this piece," PIT Arts & Culture Manager Rachel Rearick said. "They have captured a sense of movement that not only depicts flight, but also speaks to the forward trajectory of the arts program at PIT. I was impressed by the way that they approached a complex suspension design, and their attention to detail throughout the entire process has been impeccable."
The most challenging aspect of the project, Katayama and Neumann said, was balancing the rigorous demands of the MFA program with the labor of realizing a complex public artwork. Both agree the work paid off in the end.
"As 'Flight' was being installed, I saw the sun reflect a sheen of gold flakes off the work and was mesmerized and enchanted," Katayama said. "That was the moment I really felt 'wow, we did something.'"
Neumann said, "Seeing people pause for a minute after coming out of the airport to admire the airplane made me feel proud that we came through for the airport, for the people of Pittsburgh."
Images courtesy of Pittsburgh International Airport