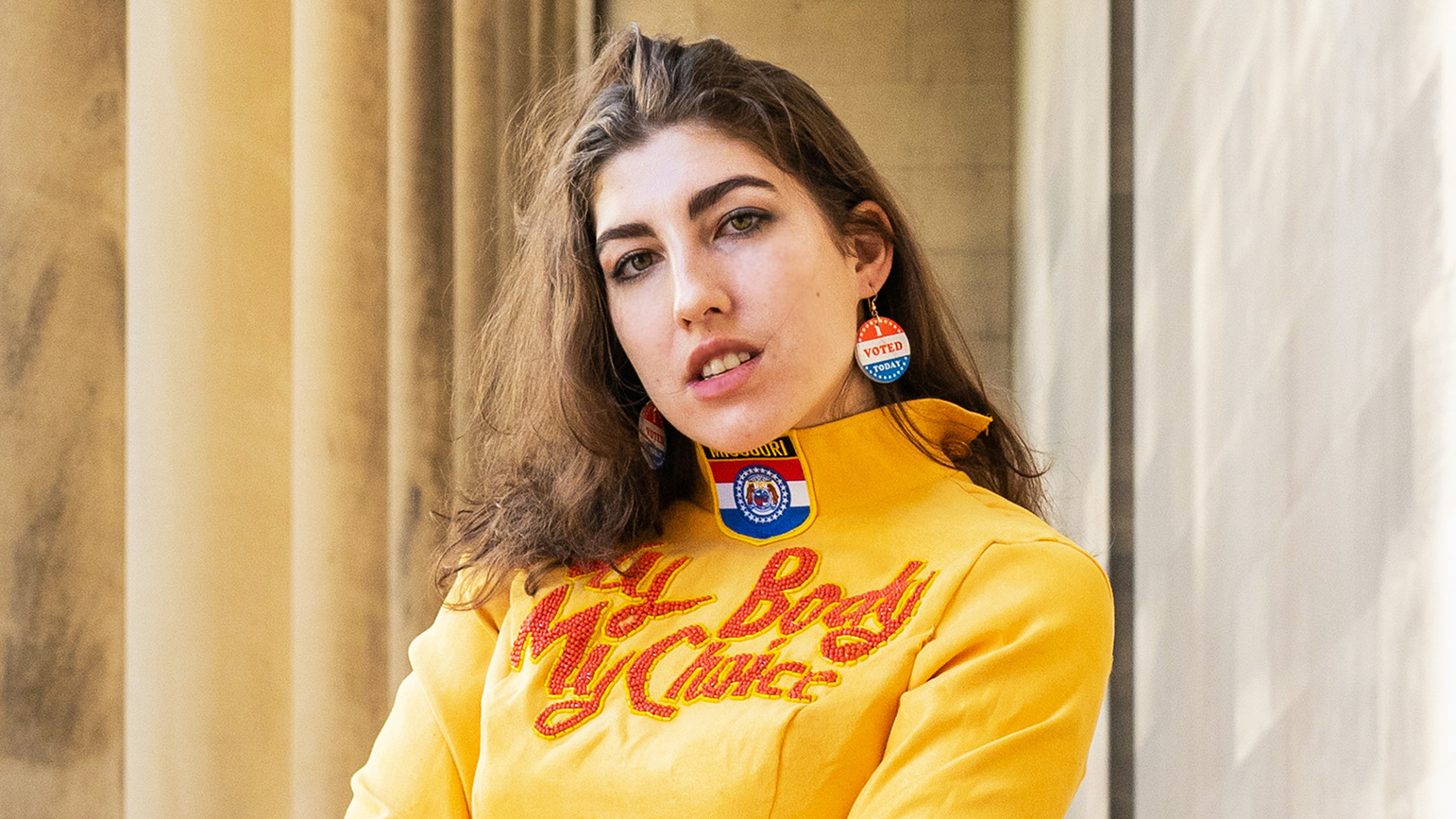 For Sanna Legan, there's no separating her artistic practice from her political activism: "One cannot live without the other," she says. Leading up to the 2020 election, Legan is focused on helping to drive youth turnout to the polls, both in her work for political action committees and in her artwork that engages with contentious political issues.
Though Legan's activism extends beyond voting, she says that voting is the crucial first step in enacting meaningful political, social, and economic changes. "The reason I vote is because my future is actively being shaped and molded by this election," she says. "It is so important for young people to vote; I cannot stress this enough."
Since February of 2019, Legan has been a Fellow for NextGen America, a group that focuses on engaging and mobilizing the youth vote. She began her fellowship by helping CMU students register to vote, a process that Legan says can be more difficult than might be expected. These last few weeks, she's focused her efforts on phone banking, which Legan says she's been doing for two or more hours every day.
Legan also serves as creative director at Amplify Her, an organization that focuses on getting progressive women elected in New York City. "As an artist, I create the visual components for Amplify Her," she says. Her artistic skills play a key role in the group, she explains, "because a super important part of political organizing is having engaging campaign materials, social media, and images for your candidates."
Legan says that her education at Carnegie Mellon, where she's working toward a BHA in Global Systems and Management and Art, has strengthened the ties between her artwork and activism. At CMU, she says, "I'm able to have an incredible art education and also take classes about women's health, about gender, and about politics. I use the knowledge from these classes in my art, as well as use my art in these classes."
Over the last couple of weeks, Legan presented her "Choose Choice" project to her more than 20,000 followers on Instagram, a series that she says was more than a year in the making. The project, which focuses on reproductive rights for people with uteruses, is a series of three straitjackets that she designed and fabricated herself.
Legan's study of women's history led her to the straitjacket as a powerful symbol of how women were sent to insane asylums for "hysteria," a once common medical diagnosis for anything from anxiety to sexual desire to irritability, which was supposedly linked to the uterus. She was also drawn to the metaphorical symbolism of the straitjacket, "the image of being bound, of not being able to control your own body," which she says remains relevant today.
Each straitjacket features a different design: one has the slogan "My Body, My Choice" along with a skirt embroidered with the seals of states that have passed abortion bans; another has the text of Missouri House Bill 126, which criminalizes abortion at eight weeks of pregnancy; and the last has the text "Never Again" with an image of a coat hanger. The jackets have a couture-look, which reflects how society often beautifies horrible things to make them easier to accept, Legan says.
For the project, Legan put out a call out to other CMU students to share their personal stories and to pose in photographs wearing the straitjackets. The experience of hearing others' stories inspired her next project in the series: a quilt with anonymous stories related to any aspect of reproductive rights. Though an independent study, Professor Alisha Wormsley is advising Legan on the project, which received funding from the Frank-Ratchye STUDIO for Creative Inquiry.
Legan says that with the current political situation and the isolation brought on by the COVID-19 pandemic, there have been times when she feels discouraged and even hopeless. But for her, being active in politics and creating artwork has kept her moving forward. "I've always used my art as a form of therapy," she says.