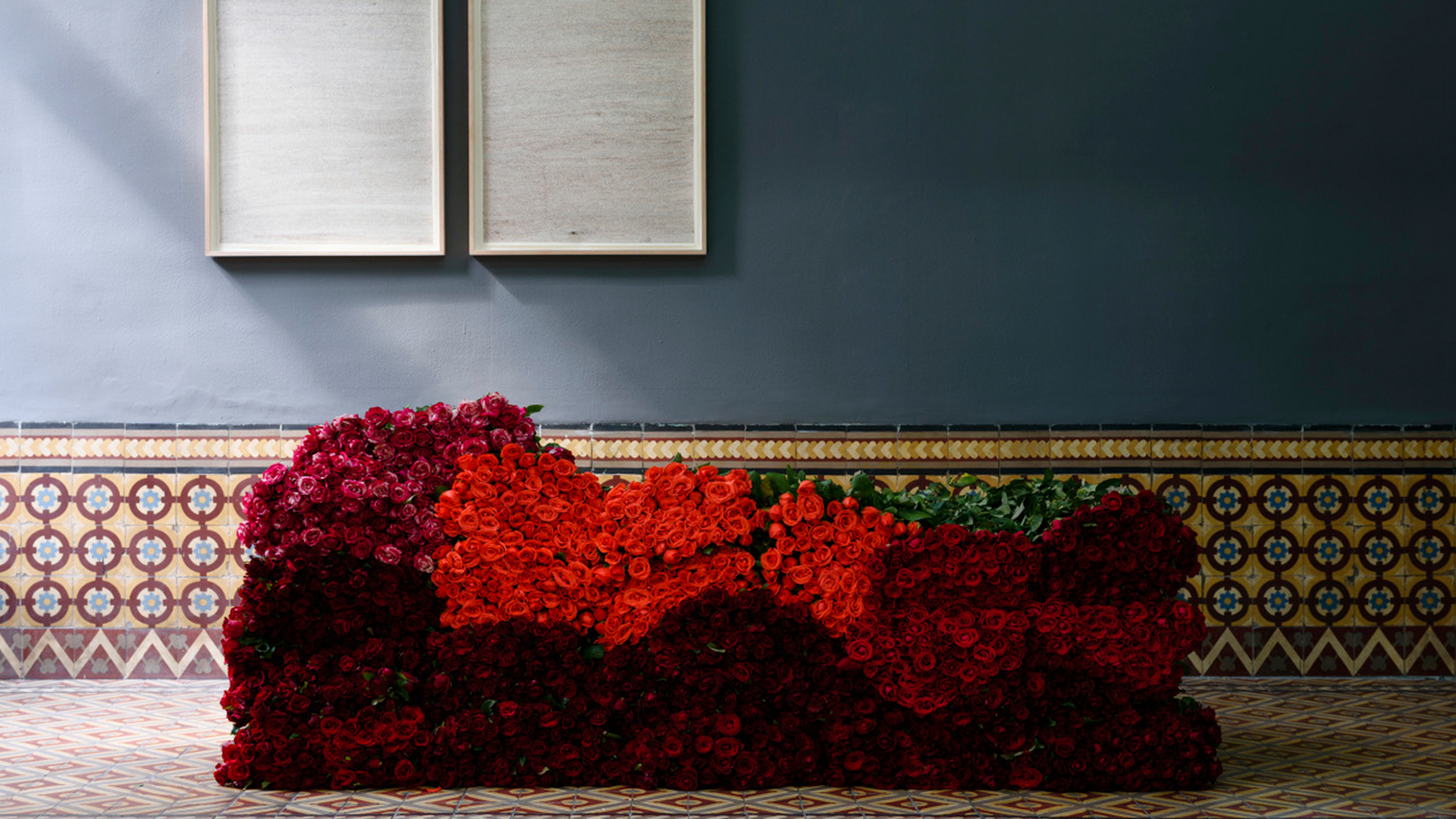 This installment of On The Ground comes from Adam Milner, a 2017 Masters of Fine Arts candidate creating and interrogating archives in search of moments of intimacy.
For three months I lived in Mexico City, in a little residential neighborhood called San Rafael, and created an exhibition called A History of Man at Casa Maauad. I like to say I lived there instead of visited because I think it gives me some credibility, like I wasn't a tourist; I was just living and working like any other artist there; I was part of the normal fabric of the neighborhood, buying bananas and making drawings and performances. Or so I like to tell myself.
Though I feel I'm not the right person to discuss the nuances of such a complex city as a foreigner, nor even its art scene, it is a city I have grown close to, like a friend. If you've known someone intimately for a few months maybe that means you're allowed to say a few things about them, even if a few months is not that long.
Mexico City is a difficult place for me to write about. Somehow, I knew I loved Mexico City before I ever went there, and those rose lenses never totally came off. And yet, it has to be acknowledged that some of what I love is unfortunately due to gross wealth disparity and injustice. (Obviously this problem is not limited to Mexico City.) Not to mention, the tumultuous political climate here in the US, the rampant racism and xenophobia built into our leading regime, which obviously impacts my relationship to this lively place. I find myself sitting down to write with thoughts of incredible art, gorgeous architecture, vibrant communities, delicious quesadillas and micheladas, and I always end up googling lists of the richest people in the world or reading stories about protests against the government. While in Mexico, I'd pass an occupy movement about the 43 missing students who vanished after protesting, and then I'd see an exhibition and have a Licor 43, a spanish liqueur flavored with citrus, vanilla, and 43 spices. These sort of pairings or echoes seem to reverberate throughout the city.
Maybe Mexico City is a place of contradictions: bustling and chill, extravagant and grimy, vast and insular, floral and sewage-y, lush and decaying, growing and yet literally sinking. Indeed, it's a city built on a lake, an actual lake formed inside a volcanic crater.
This seems important. When you visit Mexico City it's hard to notice this right away, but it is something people will show you: leaning buildings on sinking plots of land and sidewalks on firmer foundations that tower above the sunken entrances. You can count the different types of stone used over time to connect the street – the earth's surface – to the city's independence monument, El Ángel, as steps are added over time because the sidewalk sinks while the angel does not.
What is it about these cities on water? I think of precarious New Orleans or the watery maze of Venice. These are sites of immense energy, culture, and exchange, with complicated histories. They are resilient, diverse cities that people are drawn to. They are cities I also love. When Joan Didion describes New York City as a place only for the very young, I wonder what type of person Mexico City is "for"? Maybe a city on water welcomes those who don't mind risk or failure, those who can acknowledge that nothing is permanent. To live in a sinking city is to be inherently mired in conflict, to be part of resistance or movement. And certainly this energy of resistance is strong throughout the art scene and the city at large.
It seems necessary to make clear that the city is rich with art. Artist-run and independent project spaces are rapidly on the rise, which strikes me as crucial to the health of an art scene at a time when so many DIY spaces in the US are being targeted and closed. Casa Maauad is a non-profit residency and exhibition space in an old brothel, funded by artists. Galería La Esperanza utilizes the windows of a grocery store on a city corner. Bikini Wax is a collective in a three-bedroom house that hosts multiple exhibitions, performances, and talks each week. Similarly (or perhaps in contrast?) more established galleries and museums are equally flourishing. Museo Jumex and Museo Tamayo offer some of the best contemporary exhibitions I have seen lately (Tacita Dean, Fischli and Weiss, Walid Raad, General Idea). Kurimanzutto is the most beautiful commercial gallery I have ever seen, and the sensitive and powerful Wilfredo Prieto exhibition introduced me quite impressively to the Cuban artist.
The truth is, after visiting again recently for a sequel exhibition, A Sister History at Galería Mascota, this time with a bit of distance, I can't say I know much more about the Mexico City art scene than you could read in the New York Times or on Art:21. So I find myself thinking of lakes, imagining the city sinking, wanting to return and sink a bit with it.
Adam Milner has collected 10,000 torsos from anonymous men on Grindr he has chatted with, combined pieces of the Andy Warhol Archive with his own personal collection, and worn/removed 50 pairs of underwear in one sitting. He has exhibited and performed at the Andy Warhol Museum, UNTITLED Art Fair Miami Beach, a Chinatown bus for the Fung Wah Biennial, Museum of Contemporary Art Denver, among other spaces public and private.
On the Ground is a series featuring research by graduate and undergraduate School of Art students at Carnegie Mellon University that offers a glimpse into the particular contexts, processes, and methods of inquiry that drive their work beyond the confines of the studio.