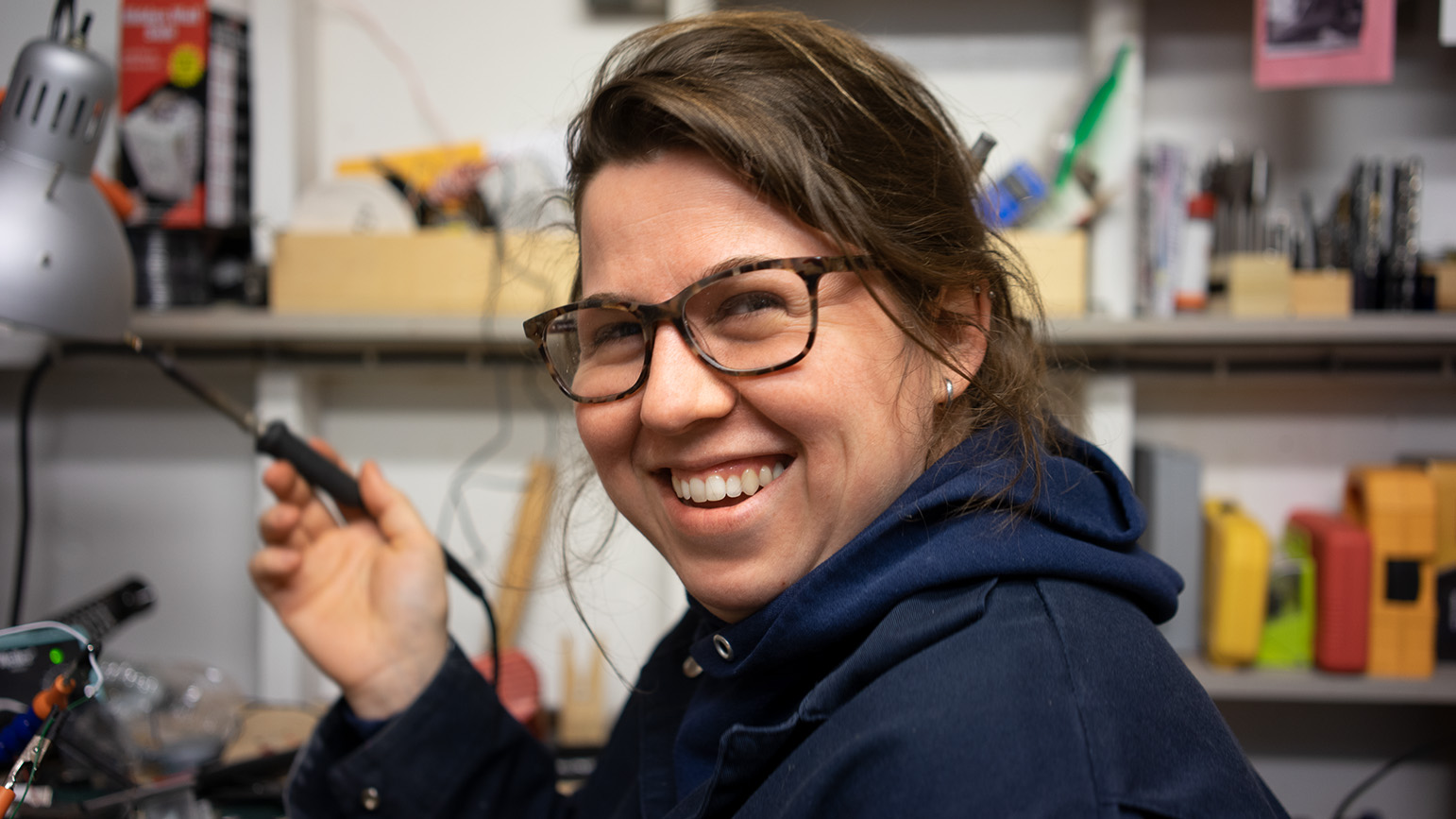 The School of Art is pleased to welcome our new Sculpture Technician, Lauren O'Connor-Korb! Lauren joins us from the University of Georgia where she taught courses on sculptural fabrication and design.
As an artist, Lauren's work explores an evolving tendency to integrate ourselves (willingly and unwillingly) with machines and how this process changes the way we communicate with one another. She integrates microprocessors and robotics with traditional fabrication techniques to create sculptural robots that masquerade as hat stands, exit signs, musical instruments, and other seemingly benign objects.
"My favorite sculptural process is one that helps me hide things, which means I am always sampling new ways of making," she said. "I love learning very specific craft processes (I started making brooms in quarantine) and co-opting them for weird sculptural interventions."
At CMU, Lauren will oversee the wood shop, metal shop (both welding and small metals), ceramics, the vacuum former, and mold making/ casting. "I am excited to work with the community of students and professors at CMU and help transform Doherty Hall into a bad ass sculpture factory," she said.
Lauren holds an MFA from the University of Georgia and a BFA from San Jose State University. She has shown nationally in San Francisco, Atlanta, and New York and was awarded the International Sculpture Center's Outstanding Student Achievement in Contemporary Sculpture Award in 2019.
Please join us in welcoming Lauren to CMU! And, if you have any tips about where to get the best olives in Pittsburgh, be sure to let her know! "I am weirdly excited about the abundance of places to buy olives in Pittsburgh," she said. "After 4 years of living in a small town, I am stoked about all the different markets I can go to."