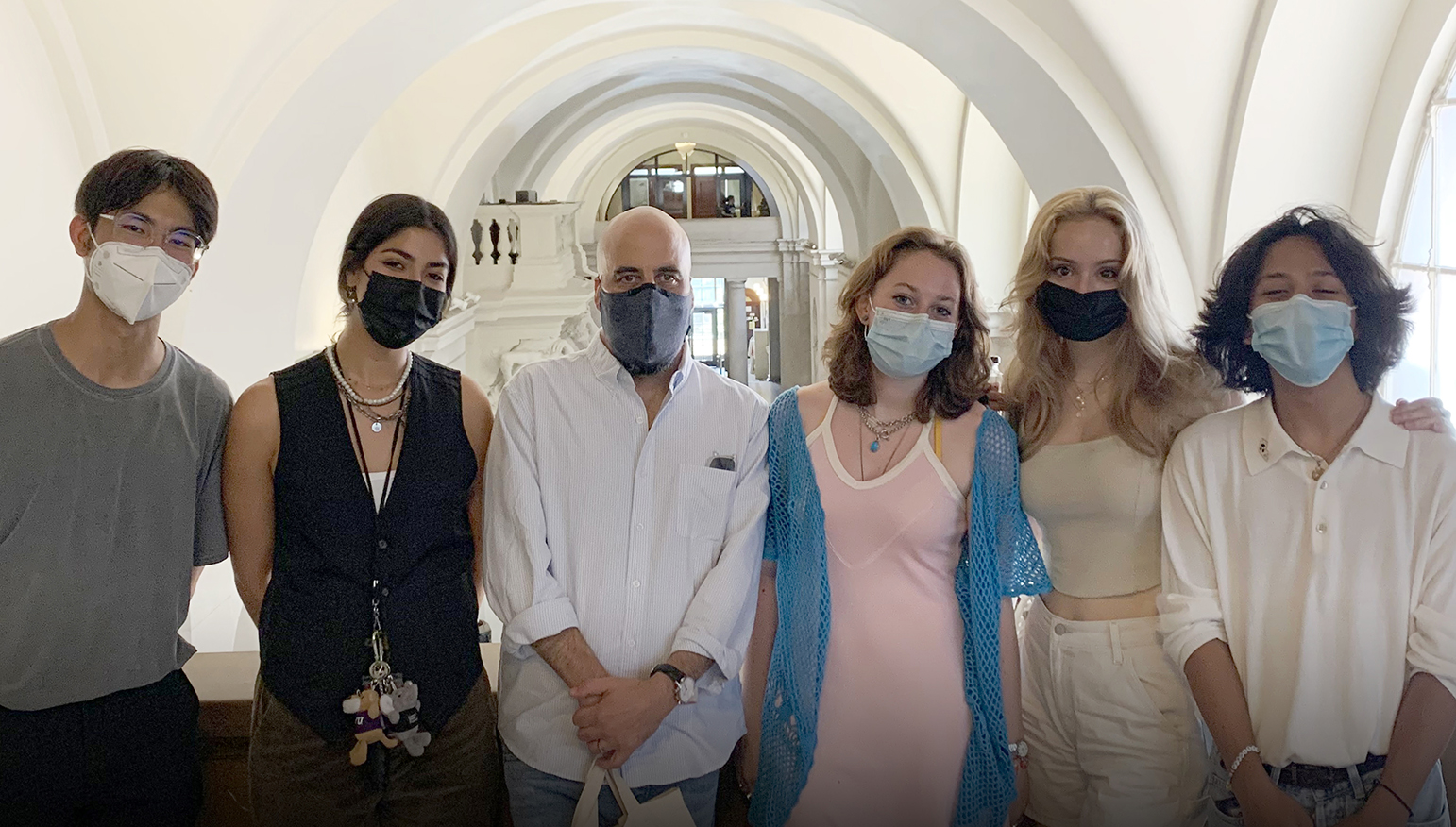 Dear School of Art Community,
Good morning to each and every one of you—the students, staff, faculty, and friends of the School of Art. I want to warmly welcome you all back to campus, and to being back in person! And to those who are joining us at Carnegie Mellon University for the first time, I want to extend a very special hello from all of us across the school; we are so excited to have you here and to be together this fall. Our success this year will require all of us to offer one another kindness, empathy, and patience as we each find our footing and acclimate to life together after so many months of being apart in varying degrees.
As the head of this incredible art school and amazing community, I am very excited to embark on the path ahead of us this year! As we move forward, I ask everyone to take it slow, to set the bar carefully, and to respect each other's comfort levels as we come together in our studios, classrooms, hallways, and offices throughout the school. It's going to take the efforts of each one of us to make this year work, along with a strict adherence to the university's guidelines and to our community's commitments to mutual respect, allyship, and compassion. I know we can do this, so let's get back to making work, thinking outside of the frame, and collectively growing and expanding our knowledge in light of where we stand today.
Beyond the obvious circumstances, there is so much that feels new, so let's begin with the fact that we have the largest first-year class in the school's history—sixty-nine students. Our second-year students, many of whom spent last year off campus, have also just landed; they, too, need to be welcomed and given space to acclimate to our culture on campus. This is basically half our school, so let me say that an incredible faculty and staff are here to support your questions, interests, and ambitions. From school needs like tech support, equipment checkout, student services, and wayfinding, to getting to know the city, we have answers and information, so please take a moment to look over the entire community online. We are here to support students and to make the School of Art a relevant and vital space for art, ideas, technology, and theory. We are lucky to have each other, and we look forward to what we can all make happen.
I also want to recognize and highlight what the city of Pittsburgh provides us. First, right here on campus is the Miller ICA where you can walk over to witness contemporary art and radical ideas, starting with the amazing Jacolby Satterwhite exhibition currently on view. Just up Forbes Avenue is the Carnegie Museum of Art, where art history, modernism, and contemporary thought merge to provide a cultural institution of the highest regard. We also urge each of you to visit the August Wilson Center, Mattress Factory, City of Asylum, Silver Eye, Pittsburgh Glass Center, Rivers of Steel, and much more! In addition to these and many other cultural outposts, we are in a fantastic region for free outdoor engagement, with incredible civic spaces, parks, and public programming. We hope that you will take as much advantage of being outdoors as possible—and be sure to take a long walk through Frick or Schenley Park to experience the verdant nature of our region.
To close, I want to clearly state that we in the School of Art stand as allies and advocates for each and every one of you; we are here to support you, to accept you for you, and to make space for who you are, what you aspire to, and how you want to make, think, and create. The school has been working on increased inclusivity, broader historical grounding, and decolonized thinking across its courses, and while we are not finished with this work, we are in the midst of transformation, from our academic structures to the voices that lead our vision, and from the guests we invite to the histories we cite. The School of Art is committed to recognizing our present conditions and providing an improved and expanded platform for all of our students, faculty, and staff, and for their most expansive ideas and diverse expressions.
I am super excited as we begin classes this week, and I will work every day to keep us on track while also pushing the boundaries of what our work can accomplish. Likewise, I ask for the support of each of you in staying safe as a community, so that we can each take risks as artists and thinkers.
Sending you all warmth and positive energy as we embark on this new year.
Charlie
Charlie White
Regina and Marlin Miller Head of School
School of Art
Professor of Art
Carnegie Mellon University
Image: Head of School Charlie White with first year students (left to right) Arin Pantja, Natalia Ramirez, Meghan Flathers, Middy Vella, and Bayu Adji.