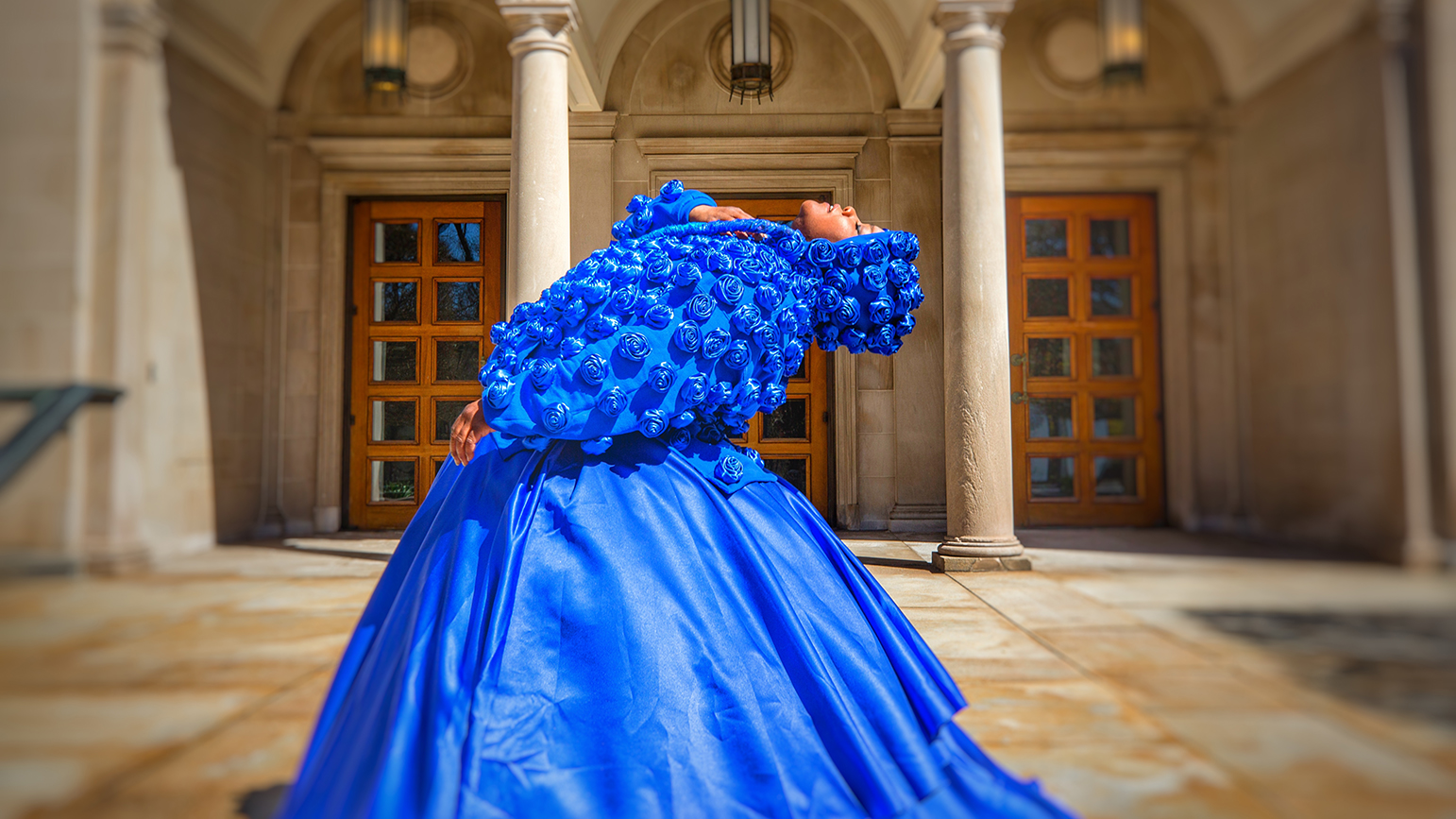 The School of Art is pleased to announce Vanessa German as honorary guest speaker for the 2021 diploma ceremony! An accomplished visual artist, performer, and poet, German is also the founder of ArtHouse, a community arts initiative in Pittsburgh's Homewood neighborhood. The 2021 School of Art diploma ceremony will be livestreamed on art.cmu.edu on Sunday, May 23 at 7:30 PM EST.
A self-described "citizen artist," German's work harnesses the power of art to create healing and hope for traumatized communities. Her intricate mixed-media sculptures and elaborate installations are built around found objects in her neighborhood, incorporating doll parts, antique tins, cowrie shells, household objects, African beads, and more. Her figurative forms, or "power figures," command the reverence of viewers, whether on the scale of a table-top sculpture or life-size installations. These sculptures—at times combined with performance, spoken word, or music—transform ordinary spaces into sites of peace, love, and reflection in the face of police violence, gun deaths, urban neglect, and other forms of racism, violence, and inequality.
German's current installation "Reckoning: Grief and Light" at The Frick Pittsburgh explores the capacity of museums to function as spaces of public reckoning. The work consists of three altarpieces for George Floyd, Breonna Taylor, Elijah McClain, and others killed by police, each ornamented with hand-crafted glass in cobalt blue, evoking a reimagined wailing wall or weeping river and providing a place of reflection.
German will also perform her new one-woman show "hypersensitive" on Tuesday, May 18th at 8:00 PM, on Pittsburgh Ballet Theatre's mobile stage at Flagstaff Hill in Schenley Park. She describes the work as "A love poem for strange Black Girls, fat Black Girls, Winged Black Girls, the Missing Black Girls, the Black Girls who rode skateboards to school, Black Girls whose eyebrows were never on Fleek, Black Girls who dig aloneness and Black Girls who do magic."
For the past decade, the community center ArtHouse, founded and run by German, has been an essential cultural and social pillar of Pittsburgh, especially for area kids. The house is an open and safe space for Homewood youth to have the freedom to experiment, play, create artwork, or even just get something to eat. ArtHouse also serves the neighborhood and city at large in other ways, including through its large, public garden, by organizing various community events, in producing plays and public readings, and by hosting an artist residency. In February of 2020, ArtHouse was extensively damaged by a fire, and German is currently working on restoring the house.
German is the winner of the Don Tyson Prize from the Crystal Bridges Museum of Art, the Jacob Lawrence Award from the American Academy of Arts and Letters, and a United States Artist Grant, among other honors. Her work is in private and public collections across the country, including at Everson Museum of Art, Figge Art Museum, Flint Institute of Arts, Spelman College Museum of Fine Art, Crystal Bridges Museum of American Art, David C. Driskell Center, Snite Museum of Art, Wadsworth Atheneum Museum of Art, and Wellin Museum of Art at Hamilton College. Her work has been covered by CBS Sunday Morning, NPR's All Things Considered, The Los Angeles Times, The New York Times, and many other media outlets.
We hope you will join us to hear her speak during the School of Art diploma ceremony on May 23!