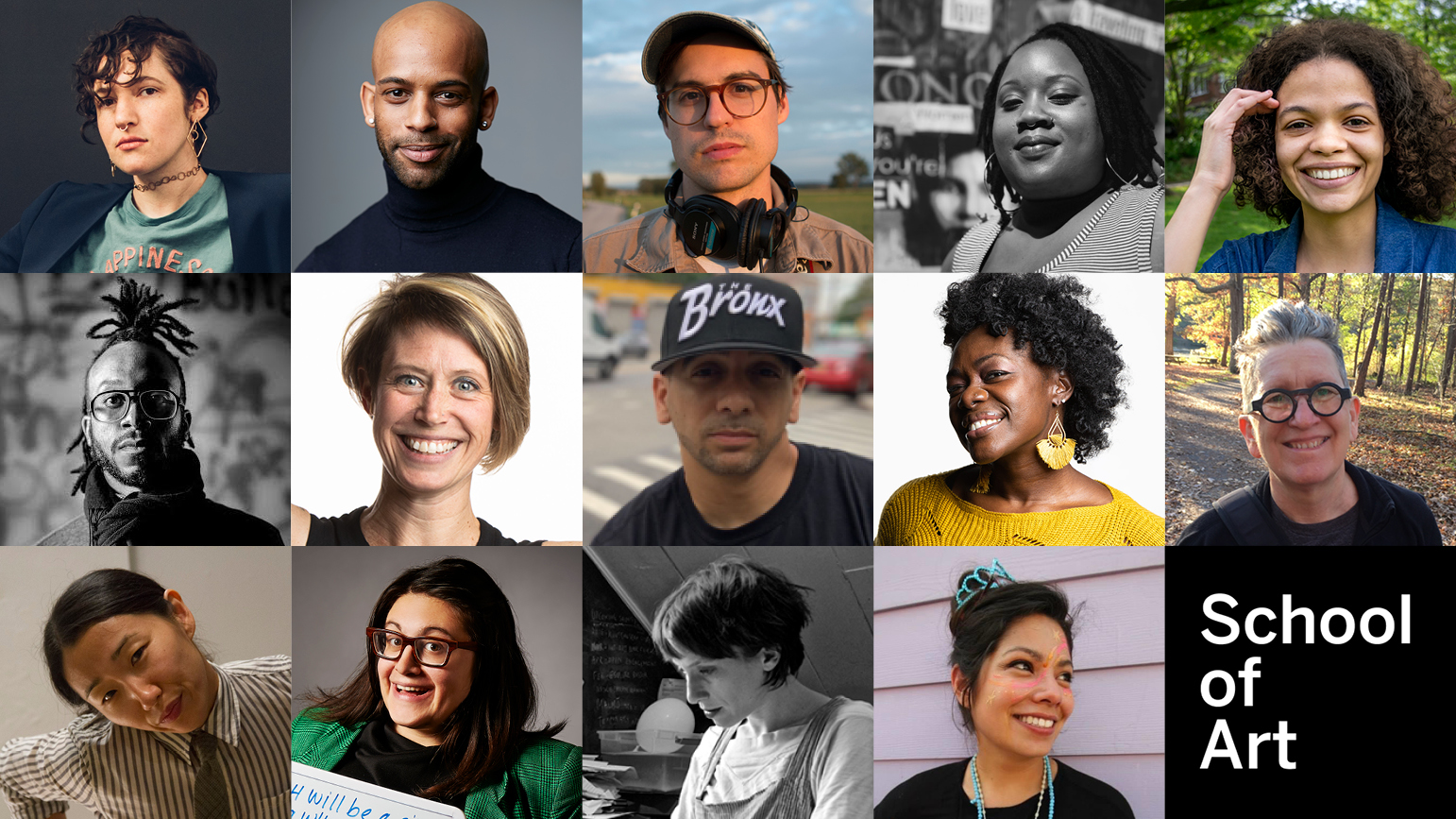 This summer, the School of Art organized a series of artist conversations—dubbed Summer School (of Art)—designed specifically for our students. Thanks to all our speakers who provided insights on such a wide variety of topics including how to get more involved in Pittsburgh arts scenes, how to deal with imposter syndrome, how to collaborate successfully, how to make artwork during a global pandemic, and much more.
Speakers this summer were:
Nina Barbuto, Bekezela Mguni, and Zena Ruiz
Nina Barbuto is the founder of Assemble, a community space for arts + technology in Pittsburgh.
Bekezela Mguni is a queer Trinidadian artist, librarian, and educator, and the founder of the Black Unicorn Library and Archives Project, a Black feminist community library & archive.
Zena Ruiz (CMU BFA '11) is an artist who works in many mediums and is the Arts in Context Manager at the Children's Museum of Pittsburgh and MuseumLab.
Lenka Clayton and Ben Kinsley
Lenka Clayton is an interdisciplinary artist and founder of An Artist Residency in Motherhood, a self-directed, open-source artist residency program that takes place inside the homes and lives of artists who are also parents.
Ben Kinsley (CMU MFA '08) is an interdisciplinary artist and co-founder of The Yard, a project space and site for public art in his front yard in Colorado Springs, CO.
Joseph Hall and Suzie Silver
Joseph Hall is the Executive Director of the Kelly Strayhorn Theater in Pittsburgh, PA, as well as a producer, curator, and performer working in NYC and Pittsburgh.
School of Art Professor Suzie Silver is an artist who works primarily in video, sound and performance. Her work explores gender, queer desire, visual pleasure, notions of the paradisiacal, and the allure of imaginary landscapes.
DS Kinsel and Julie Mallis
DS Kinsel is an award-winning creative entrepreneur and cultural agitator. He is the co-founder of BOOM Concepts, a creative hub dedicated to the advancement of black and brown artists representing marginalized communities.
Julie Mallis (CMU BHA '12) is the City Director of social justice based service organization, Repair The World Pittsburgh.as well as a multimedia artist, VJ, DJ and educator working with digital media, paint, installation, performance, sound and audience interaction.
Jason Méndez and Paloma Sierra
Jason Méndez, Ph.D. is a visiting assistant professor of Education at the Center for Urban Education at the University of Pittsburgh and a nonfiction writer and interdisciplinary theater artist.
Paloma Sierra (CMU BHA '19 / MFA '21) is a Puerto Rican writer, filmmaker and translator based in Pittsburgh and is the current Emerging Poet Laureate of Allegheny County.
Christal Brown, Maree ReMalia, and Lida Winfield
Christal Brown is the Founder of INSPIRIT and Project: BECOMING, the creator of the Liquid Strength training module for dance, an Associate Professor of Dance at Middlebury College and the CVO of Steps and Stages Coaching.
Maree ReMalia is a choreographer, performer, teaching artist, and certified Gaga instructor.
Lida Winfield is a dancer, choreographer, spoken word artist and educator, who has created original work merging storytelling, dance and visual art.