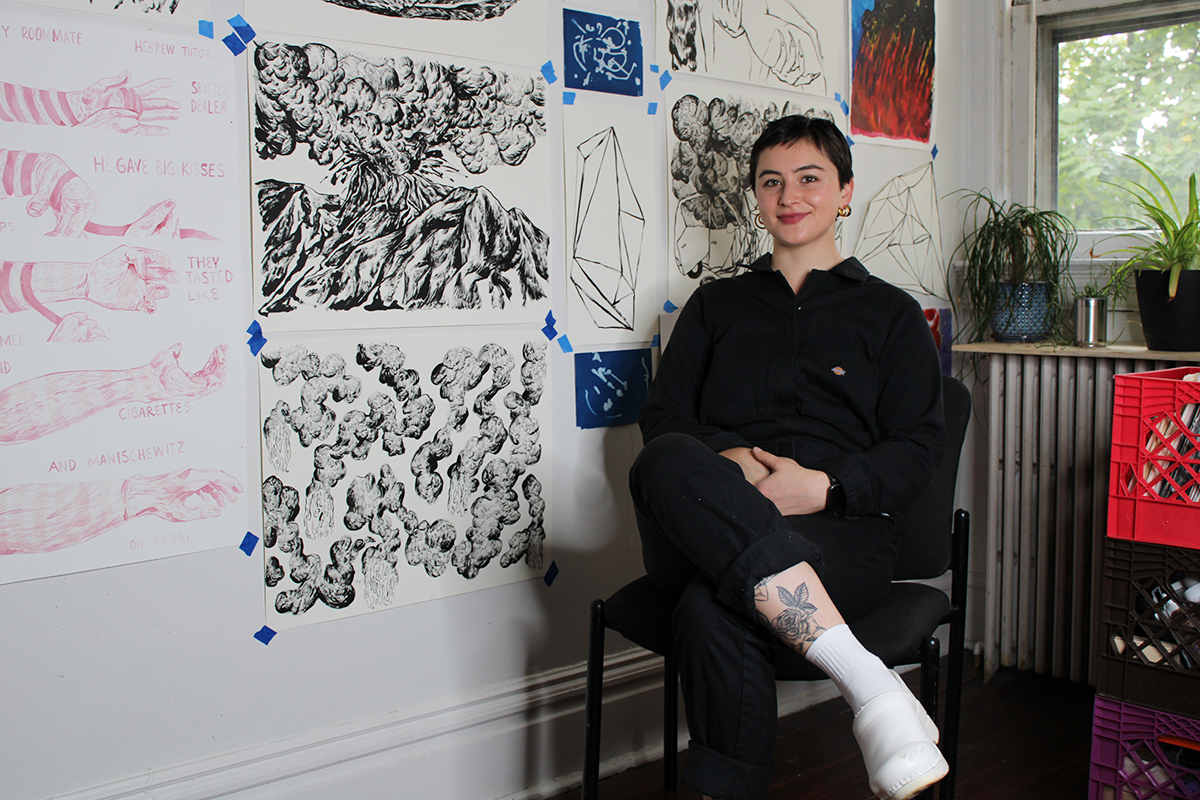 Rosabel Rosalind, who completed her MFA this past spring, is the recipient of the School of Art's 2023 Ken Meyer Professional Studio Development Award. Now in its second year, the award provides funds for a graduating MFA or BFA/BXA student to rent studio space. Generously funded by William Kofmehl III, a 2002 graduate of the School of Art—the award gives an emerging artist the opportunity to stay in Pittsburgh to pursue their practice with the aim of both supporting a new graduate and building Pittsburgh's art ecosystem.
Thanks to the funding, Rosalind was able to rent an apartment with studio space, giving her the space to continue her practice post-graduation. Working in painting, drawing, and print making, and book arts, Rosalind's work melds personal, cultural, and historical memories. Her work touches on painful histories, both personal and from Jewish history, as a way to metabolize the stories that are the hardest to accept. She is currently working on a new graphic novel that expands upon the phenomenon "apophenia," the human tendency to seek understanding and make connections between seemingly inexplicable and unrelated things.
Rosalind describes the transition from school to independent art practice as challenging and experienced a few months where she was not able to make work. Both the slower pace of the city and the community she developed in Pittsburgh have allowed her the space and support she needed to re-enter her art practice. "Right now, my work requires the pace of Pittsburgh — it is a forgiving place to begin a career in the arts and it's absolutely filled with artists, creatives and makers," she said. "I've lived in a lot of places, but I've never felt as welcomed as I do here by the Jewish community, queer community, and arts community."
Supporting yourself as an artist after graduation is always a major challenge, but Rosalind says this award gives her the resources to spend time on her own work, even as she juggles tattooing, gig work, and a part-time job. "This award allows me the financial freedom and physical space to dedicate to my studio practice," she said. "I am so grateful to be able to budget my time towards developing the next phase of my work."
The award is named in honor of Kenneth Meyer, a machine shop foreman in the Department of Chemical Engineering at CMU while William Kofmehl III was a student. Meyer, along with Quinn Peyton, a technical staff member in the Software Engineering Institute, were tragically killed when the private aircraft they were flying crashed in 2004.