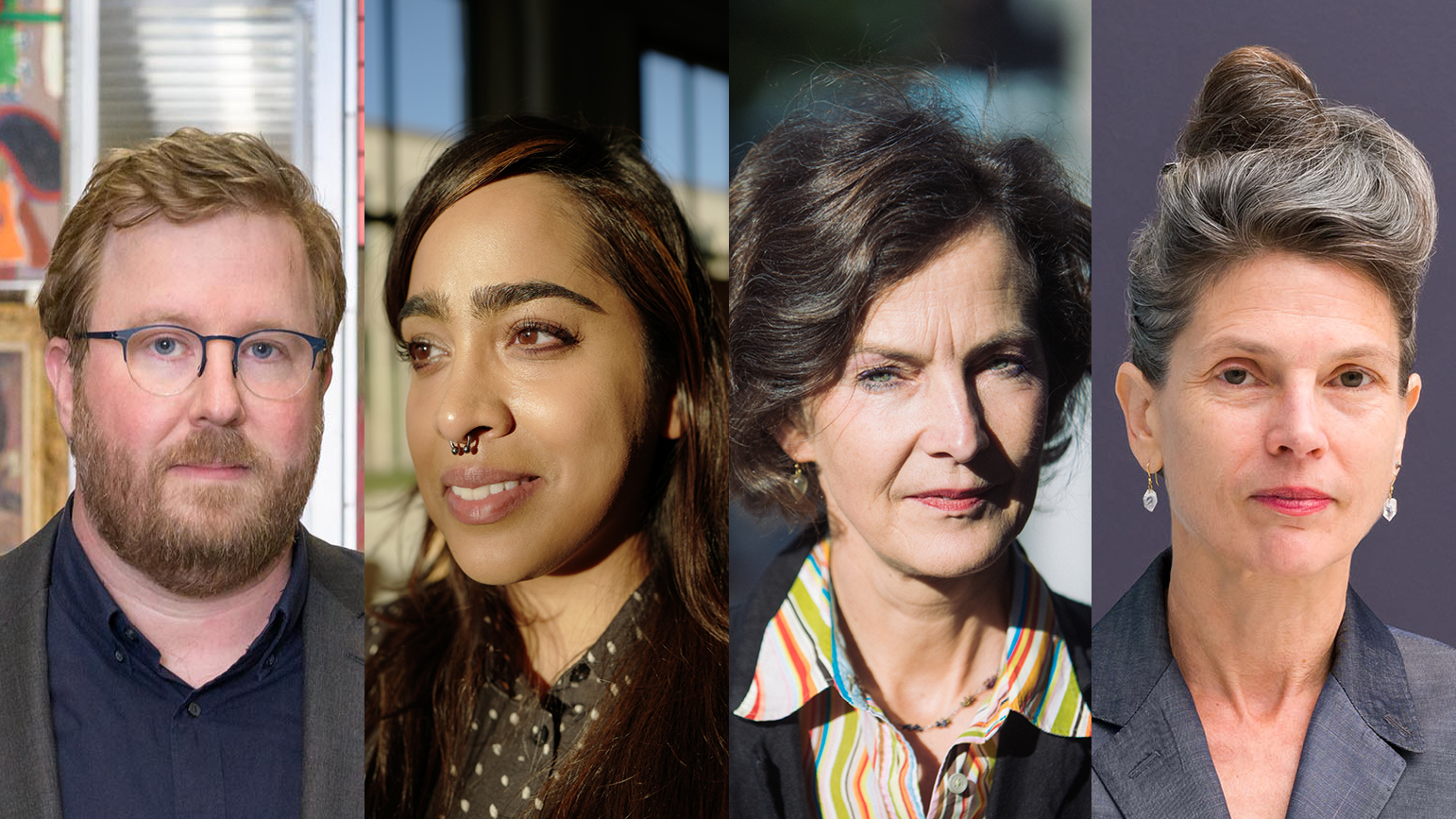 The School of Art is pleased to announce Eric Crosby, Nora Khan, Carin Kuoni, and Ingrid Schaffner as visiting critics for the MFA thesis exhibition. Over the course of two days, the visitors will conduct individual studio visits with graduating MFA students and take part in an all-day faculty walk-through and critique of Above, Below, After Until, the 2019 MFA thesis exhibition.
Building on the success of last year's inaugural cohort, this year's group is comprised of cultural leaders at the forefront of how art interacts with and confronts critical social and political issues. They research, write about, and curate around topics such as the effects of emerging technologies on society, how the presentation of modern and contemporary art has traditionally excluded marginalized voices and how the canon may be rewritten, and the role of art in civic engagement.
The visiting critic program provides a capstone to the MFA program's ongoing series of one-on-one studio visits from visiting artists, critics, arts professionals, academics, and other cultural leaders. The MFA thesis exhibition visiting critic program was made possible through the support of the College of Fine Arts.
About the critics:
Eric Crosby is the Richard Armstrong Senior Curator of Modern and Contemporary Art at the Carnegie Museum of Art and is also currently serving as the Henry J. Heinz II Co-Director. He recently organized Crossroads: Carnegie Museum of Art's Collection, 1945 to Now, a new interpretation of the museum's world-class holdings of postwar and contemporary painting, sculpture, and film. He also co-curated 20/20: The Studio Museum in Harlem and Carnegie Museum of Art, which Vogue called the "most important art show in America." Prior to joining the Carnegie in 2015, Crosby was Associate Curator of Visual Arts at the Walker Art Center in Minneapolis.
Nora Khan is a critic and writer on emerging issues within digital visual culture and philosophy of emerging technology. Through her research and writing, Khan demonstrates how digital and internet art prove singular in revealing the ways that technology concentrates power and abuse of the vulnerable or offers radical outlets for expression, hybridized thinking, and redistribution of resources. She is a longtime editor of Rhizome and her writing has appeared in many publications, including Art in America, Flash Art, Mousse, The California Sunday Magazine, and Glass Bead. Khan recently joined the Digital + Media faculty at the Rhode Island School of Design as Critic.
Carin Kuoni is the Director/Chief Curator of the Vera List Center for Art and Politics at The New School, where she also teaches. Under her directorship, the Center has developed into an internationally recognized public think tank and research lab on the role of the arts in fostering new modes of civic engagement. A founding member of the artists' collective REPOhistory, Kuoni has curated numerous transdisciplinary exhibitions and edited several publications on issues such as contemporary Native American identity and colonial, 19th-century portraiture; democratic, participatory processes; artistic and social networks; and new notions of transient and temporary spaces. Before joining The New School, she was Director of Exhibitions at Independent Curators International (ICI), and Director of the Swiss Institute, New York City.
Ingrid Schaffner is an American curator, art critic, writer, and educator whose work often coalesces around themes of archiving and collecting, photography, feminism, and alternate modernisms, especially Surrealism. Her many significant monographic and thematic exhibitions have brought attention to under-recognized artists and little-explored themes and practices in the art world. She is the Curator of the Carnegie International, 57th Ed., 2018 and previously directed the exhibition program at the Institute of Contemporary Art (ICI) at the University of Pennsylvania.
The MFA program at Carnegie Mellon University's School of Art is an interdisciplinary, experimental, research-based program that provides its students with a challenging and supportive context in which to expand and develop their work and thinking as artists. Ranked as the number six graduate fine art program and number one in the area of time-based and new media by U.S. News and World Report, we view art making as a vital social, critical, and intellectual pursuit. The MFA program will be housed in a new, significantly expanded facility beginning Fall 2019.