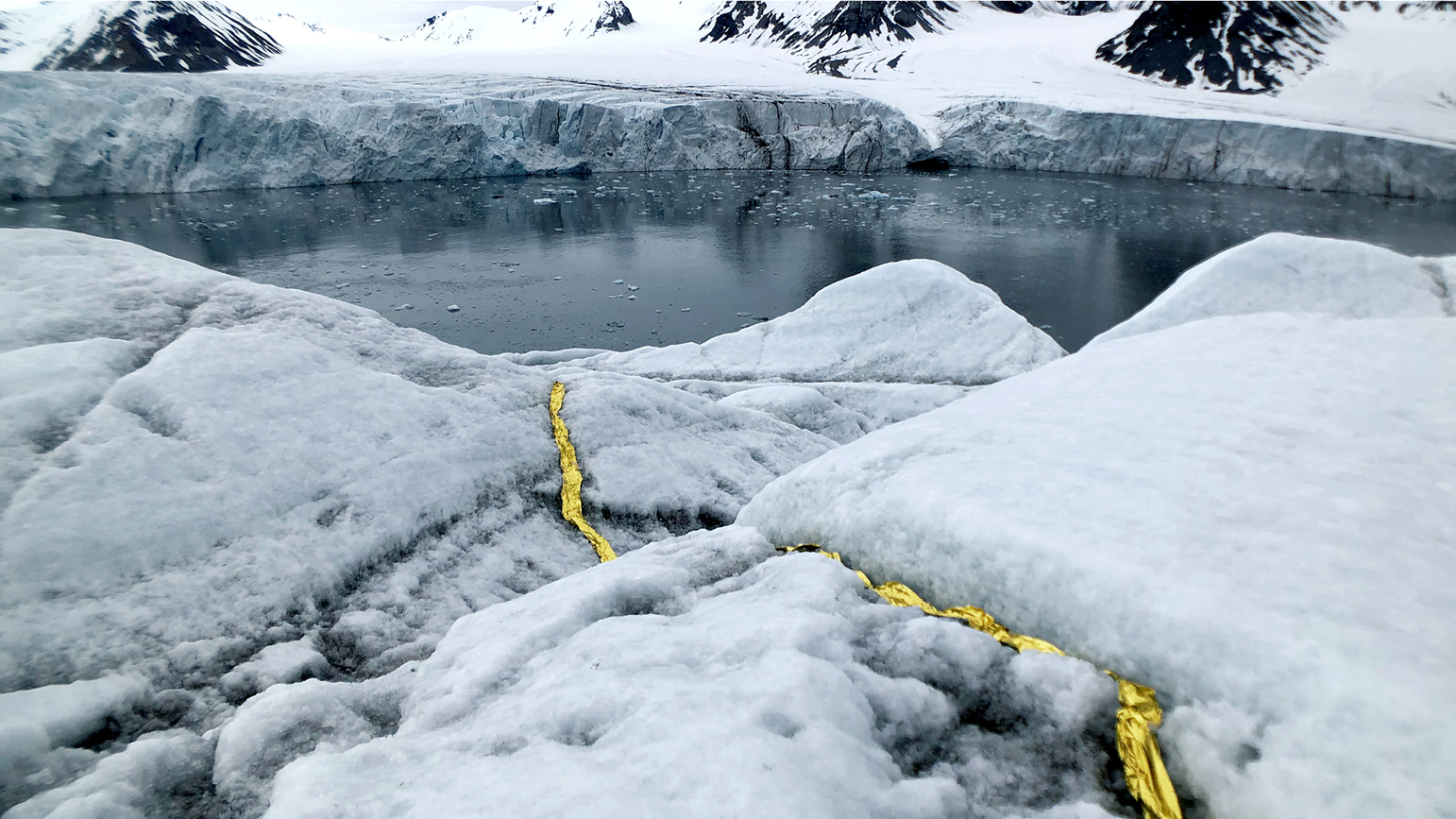 Graduating School of Art MFA student Shohei Katayama was named the winner of the inaugural MTV RE:DEFINE Art Award at a ceremony in Dallas on Friday, March 28. The award, given by The Goss-Michael Foundation, selected Katayama from among 80 graduate students from the top 25 MFA programs from across the world.
Katayama received the award for his temporary installation "Kintsukuroi | Golden Repair," which he made during a residency with artists, scientists, and educators on a sailing ship in the Arctic Circle. The ephemeral work nods to the Japanese ceramic tradition of kintsukuroi — repairing broken pottery with gold — through using emergency blankets to "mend" a fractured glacier. Rather than despair at the monumental environmental challenges facing society, Katayama's work seeks to inspire hope through the amalgamation of human potential, innovation, and creativity.
The award comes with a $15,000 cash prize and a solo exhibition at the foundation in Dallas. This year's jury included acclaimed artist Marc Quinn, international auctioneer and collector Simon De Pury, Director of the Nasher Sculpture Center Jeremy Strick, collector and Executive Director of the Karpidas Family Collection Elisabeth Karpidas, Co-Founder of the Goss-Michael Foundation Kenny Goss, and Executive Director of the Goss-Michael Foundation Joyce Goss, among other notable art world leaders.
"Our entire judging panel was extremely impressed by the entries from across the world," said Kenny Goss, who is also the co-host/co-founder of MTV RE:DEFINE. "We are very enthusiastic about the talent exhibited by our winner, Shohei Katayama, and all the finalists. The art world will recognize and welcome these talents in the future. Established in 2019, the MTV RE:DEFINE Award has been designed to provide a bridge of financial support and meaningful connections for an emerging artist from one of the world's premier scholastic art programs as they transition into their professional career."
MTV RE:DEFINE, a partnership between The MTV Staying Alive Foundation and The Goss-Michael Foundation, has raised over $12.5 million since 2011 to support HIV prevention and arts education projects. The annual event features a live art auction, which this year included works by leading contemporary artists Daniel Arsham, Damien Hirst, Minjung Kim, Bernar Venet, Zoe Buckman, and many others.
Image Credits:
1. Shohei Katayama, Kintsukuroi | Golden Repair, 2018. Fractured glacier mended with emergency blankets, 98 feet.
2. Shohei Katayama receiving the MTV RE:DEFINE Art Award with Kenny Goss and Joyce Goss behind him. Photograph courtesy of the Goss-Michael Foundation.