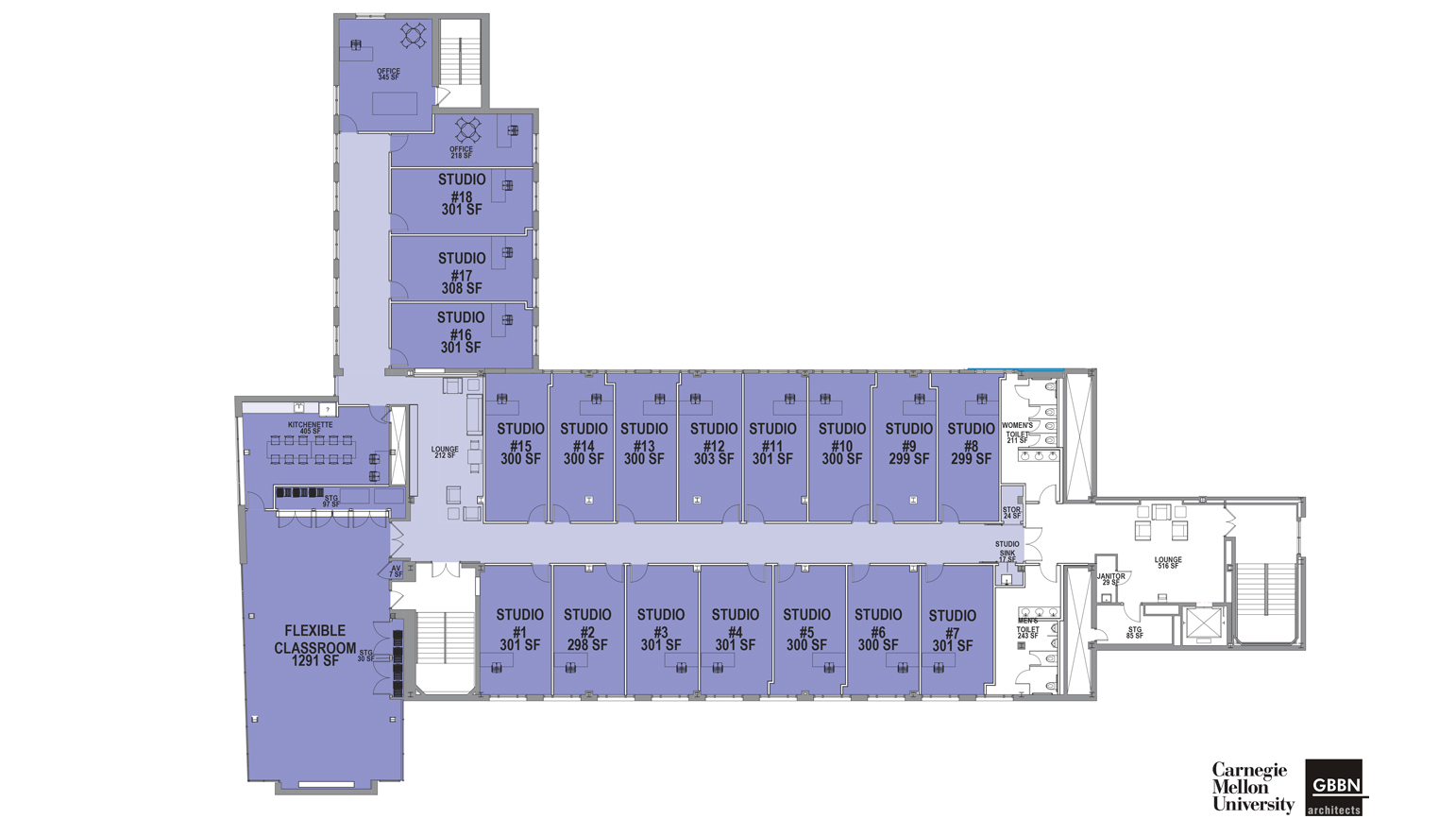 Beginning in the fall of 2019, the School of Art's Masters of Fine Art program will have a new home on campus. Encompassing the entire top floor of the current GSIA building, adjacent to the College of Fine Arts, the new School of Art graduate facility will provide 18 individual studios, a study space, administrative offices, and flexible-use space. This significant expansion and upgrade will transform the experience of graduate students in art, helping to attract the best talent from around the world, and allowing them to thrive as artists at CMU.
"Since its founding, the arts have been fundamental to education at Carnegie Mellon University. The University's commitment to expanding, improving, and enhancing the resources across the College of Fine Arts is paramount," said Carnegie Mellon University President Farnam Jahanian. "The School of Art's new graduate facility will provide its top-ranked MFA program with the resources required to continue shaping future generations of artists, thinkers, and engaged cultural figures."
"The School of Art's new MFA facility is part of a larger commitment by the university to improve the student experience and invest in facilities that support education and creativity. The current expansion particularly allows the University to address the needs and goals of the arts and humanities at CMU, and we are thrilled to provide new resources across campus," said Interim Provost Laurie Weingart.
Currently, School of Art graduate students, program administration, and faculty are spread across two buildings and lack a committed space devoted to graduate courses and program activity. In the new configuration, all 18 graduate studios will be housed on one floor, creating a cohesive space for the graduate community.
For broader interactions, the flexible-use space will support varied coursework, group critiques, roundtable seminars, public programing, and more. Seating up to 70 people, the space is easily configurable and is readily accessible for public events. This new facility inspires a deeply interdisciplinary approach to art making—a hallmark of the MFA program—by encouraging graduate students to collaborate with one another and work closely with the faculty.
"The new graduate facility will allow the recently appointed program director, the program coordinator, the newly established graduate core faculty, and the entire student cohort to form one community within a highly versatile and dynamic space," said Head of School Charlie White. "The graduate facility is the capstone to a major effort to enact transformative pedagogical and structural changes to our already highly respected MFA program."
With the School of Art Graduate Facility scheduled to open in the fall of 2019, the relocation of graduate students, spaces, and administration from their existing locations will also allow for a much-needed expansion in undergraduate resources in Doherty Hall and the College of Fine Arts. This increase of undergraduate space makes the new graduate facility a benefit to the entire school and allows greater transformation of the student experience, from curriculum to classrooms to culture.