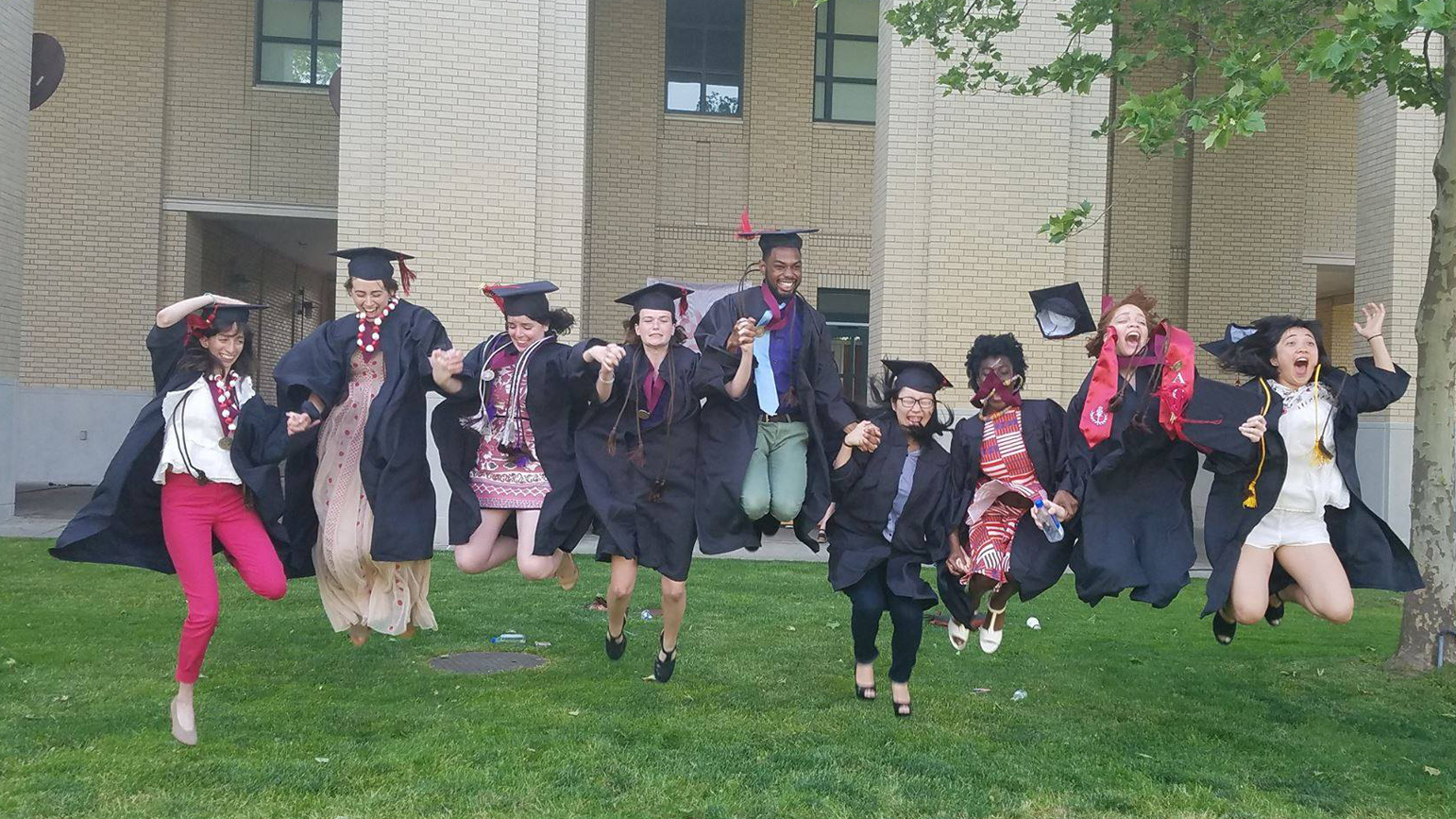 Dear School of Art community,
It was my honor to take part in this year's commencement ceremony, where I was able to speak to the accomplishments of our 2017 graduate and undergraduate classes as they leave us and enter a world of obstacles and opportunities. As we are all aware, this has been a year fraught with change, challenges, and at times chaos. However, it has also been a time when our school and students have come together to state their beliefs on issues of inclusion, acceptance, and free thought. In all, this has been an amazing year, and I want to share some of the highlights and challenges as a reminder of our accomplishments.
This year the school has made an effort to enhance all of its communications. With endeavors such as the Art This Week newsletter, our new website, and launching the On The Ground series, the school is spreading the word and sharing its news across academia and the art world alike. We have also aimed to engage directly with our community of students and alumni by hosting events such as the September All-School Welcome party and a special event held in honor of artist and alumna Dara Birnbaum at the New Museum this February. It is our continuing goal to create opportunities for students, alumni, faculty, staff and our broader network of friends to engage with one another both online and in person.
This year has seen many of our current talents shine. Some highlights include, Assistant Professor Devan Shimoyama winning the PULSE prize at Miami Basel and Associate Professor Jon Rubin's project, "…circle through New York", becoming the Guggenheim Museum's first social practice initiative. Susanne Slavick's "UNLOADED" exhibition toured across the United States, Associate Professor Melissa Ragonapresented at MoMA, and Professor John Carson's curatorial effort "So It Is" is currently on view at The Mattress Factory. As well, this year welcomed incredible new talents to the school. Artist Imin Yeh joined us as an Assistant Professor; artist and digi-feminist Angela Washko is joining our tenure track faculty; and artist and animator Erin Cosgrove will join our school in fall 2017 as the Kraus Distinguished Visiting Professor. Most recently, we announced the hire of internationally recognized artist and academic Allison Smith as Associate Professor in Sculpture. Finally, we bid bittersweet farewell to Professor Elaine King, whose 36 years with the school generated innumerable exhibitions of note, brought forward-thinking pedagogy, and a rich knowledge of the art world to campus. The School of Art is indeed growing and evolving across disciplines and discourses.
We had a fantastic year of student work and exhibitions with shows across campus and throughout Pittsburgh. We are especially proud of "Fam" which highlighted the enormous talents of our five graduating MFA students, and "Roll Call", mounted by the undergraduate seniors, which offered an exceptional overview of the diverse and varied ideas, forms, and approaches that span our graduating class. Witnessing and being a part of the 2017 Art Awards was a personal highlight, as it served to capstone our year with an afternoon of honors and recognitions. Especially exciting was the announcement of our first-ever recipient of the Birnbaum Award to graduating senior, Lauren Valley.
In closing I want to thank all of you, from the faculty to the staff, students, and alumni community. It has been a meaningful year and I remain committed to accomplishing many initiatives for the school moving forward. Art Schools have always been a fundamental aspect of social progress and we have a role to play in the future of a free and open society, and no matter what limits are placed on us or hurdles are set in our path, we will push back and push forward for what we know as artists is right.
Thank you,
Charlie White
Head of School
School of Art
Carnegie Mellon University
Photo by Susanne Slavick