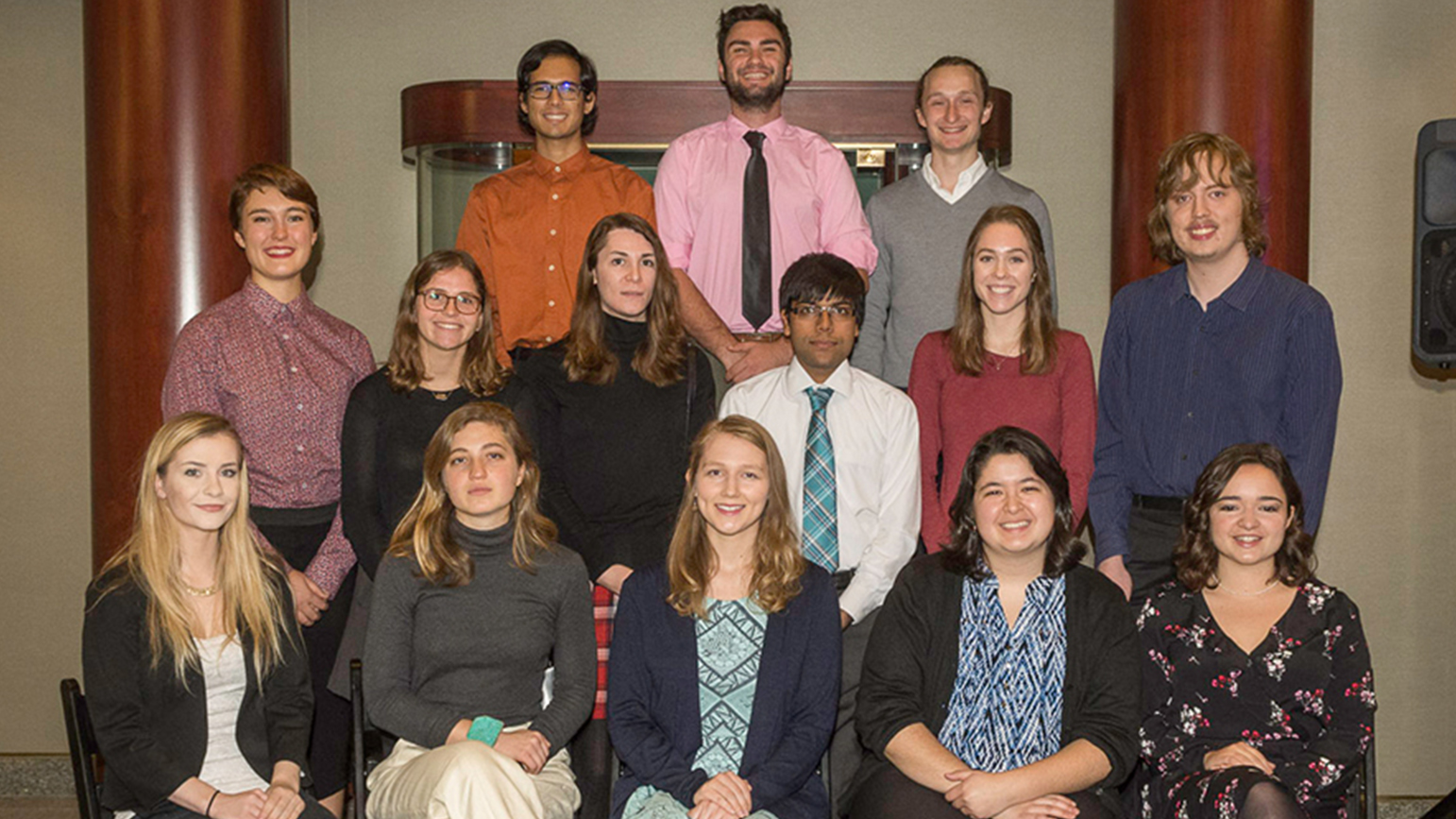 School of Art seniors Ella Hepner (BHA '18) and Chantal Striepe (BHA '18) are among the 13 Carnegie Mellon students who were inducted into Phi Beta Kappa this fall. The oldest honor society in the United States, Phi Beta Kappa exists only at the top ten percent of U.S. colleges and universities. Since its inception, the society has included 17 U.S. presidents, 40 U.S. Supreme Court justices, and more than 136 Nobel laureates.
The early initiation ceremony included a keynote from Sarah Smeltzer, vice president for programming at Greater Pittsburgh Phi Beta Kappa Association.
"The induction into Phi Beta Kappa, especially in the fall semester, is an incredible academic honor," Smeltzer said. "Only 10 percent of students are selected to join the nation's oldest honor society, and they are among most driven and hardworking students. It is an honor that will advance them in their future endeavors in both the academic and professional spheres."
Ella Hepner's artwork deals with tension, of knowing and anticipating a sensation yet not being able to access it. Cuba, a place she studied for the last three years and lived in for six months is the visual backdrop for her paintings, while the conceptual side is about forced estrangement, lust, and romantic longing.
Working across many mediums, Chantal Striepe's artwork takes inspiration from her diverse passions of language, communication, and cultures while confronting a range of conceptual ideas. In her most recent exhibition, she utilized line in order to explore the relationship between humans and universal forces.
In order to be considered for membership in Phi Beta Kappa, students must be pursuing a degree in the liberal arts and sciences, take a wide variety of upper-level courses, have knowledge of a second or non-native language, and take at least one course in college-level mathematics, logic, or statistics. The selection process also takes into account moral character.
The early 2017 students initiated into Phi Beta Kappa are:
Joshua Brakensiek, Mathematical Sciences
Christina Cabana, Chemistry
Andrew Dates, Chemistry
Sunny Gakhar, Computer Science
Ella Hepner, Global Studies & Art
Lydia Mankins, Computer Science
Isabel McCarthy, Creative Writing
Amal Nanavati, Computer Science
Maria Navarro-Gutierrez, Global Studies
Erin Sipple, Neuroscience
Chantal Striepe, East Asian Studies & Art
Mikaela Wolf-Sorokin, Global Studies
Fletcher Woodruff, Computer Science