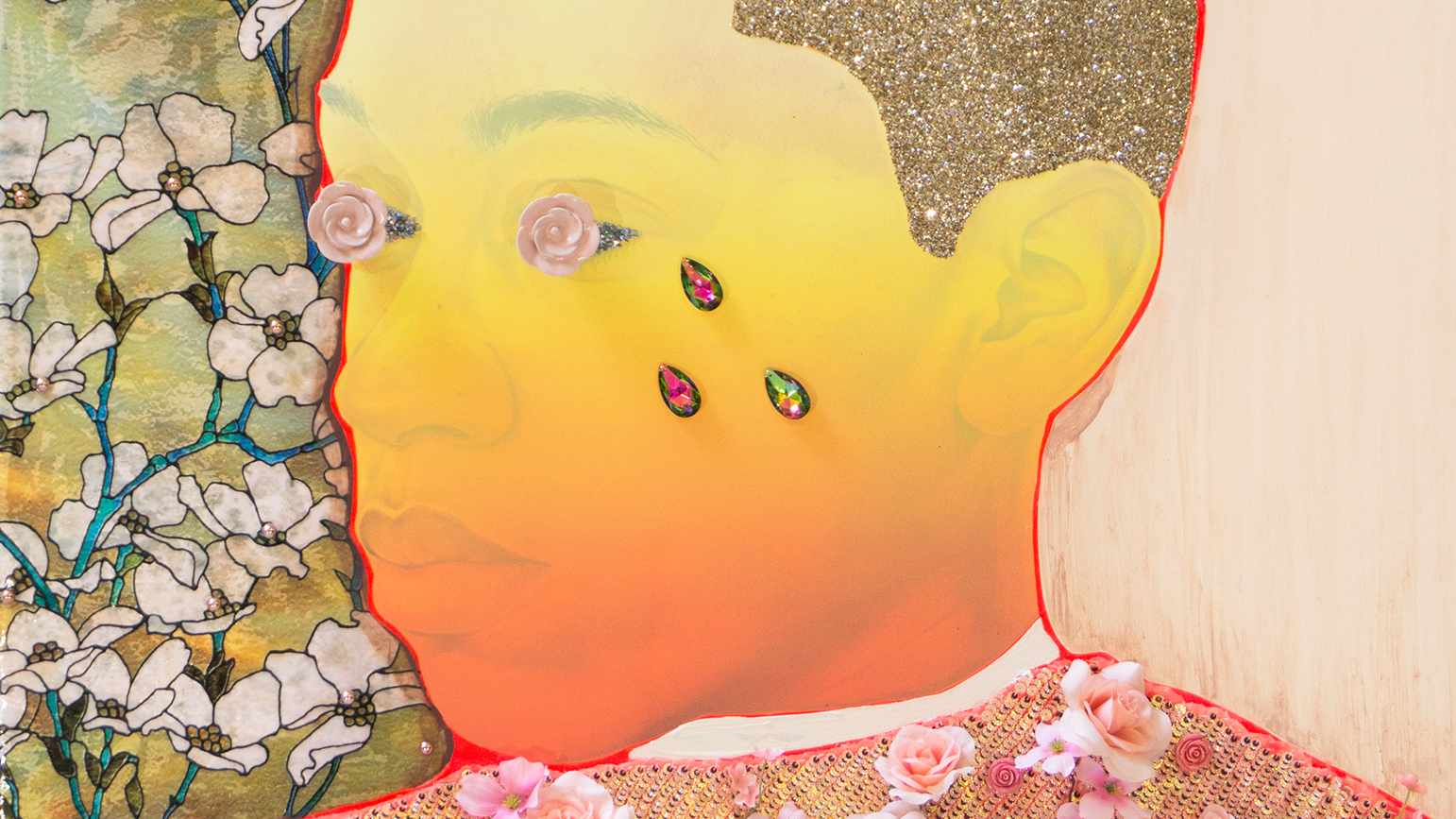 "Cry, Baby" will mark the first museum solo exhibition of Professor Devan Shimoyama. Spanning his burgeoning career, this exhibition includes painting, photography and sculpture, and a series of new works that will be on view for the first time. His work challenges cliché with daring and personal representations of the complexities of race and sexuality. In his recent barbershop paintings, Shimoyama transforms the hyper-masculine social space into queer fantasy where feminine glamour and fashion take over, and tender depictions of boys don floral capes and glitter-encrusted hair.
Shimoyama creates two distinct worlds—one an enchanted paradise, the other a queer imagining of the African American barbershop. Celebrated for fraternity and community, Shimoyama presents the barbershop as a space where young men and boys can feel shamed and vulnerable. In sculpture, he creates objects of mourning for Trayvon Martin and Tamir Rice, both examples of the aggressive targeting of African American youth as fearful or threatening. While canvases feel joyful and celebratory, they also present commentary on pain and sorrow. Teardrops lurk in the background of his landscapes or stream down the faces of his figures as a reminder of the racial injustices at work in contemporary society. Shimoyama presents a world where race, sexuality, and identity can operate from a point of freedom generated by inner strength.
This exhibition makes a unique connection to The Andy Warhol Museum's permanent collection and brings to light contemporary insight into one of Warhol's largest and yet most overlooked painting commissions, the "Ladies and Gentlemen" series of 1974-75. Visitors will find Shimoyama's work in dialog with Warhol's portraits of drag queens on the fourth floor of the museum's permanent collection. Shimoyama's confident and daring depictions of sexuality, race and queer performance help reclaim the agency and visibility that Warhol's models have been denied and bring these paintings out from the shadows.
"Cry, Baby" is curated by Jessica Beck, The Milton Fine Curator of Art at The Andy Warhol Museum and a Visting Scholar at the School of Art. The exhibition will be accompanied by an illustrated catalogue with essays by Jessica Beck, Alex Fialho, and Rickey Laurentiis and interview by Emily Colucci with the artist.