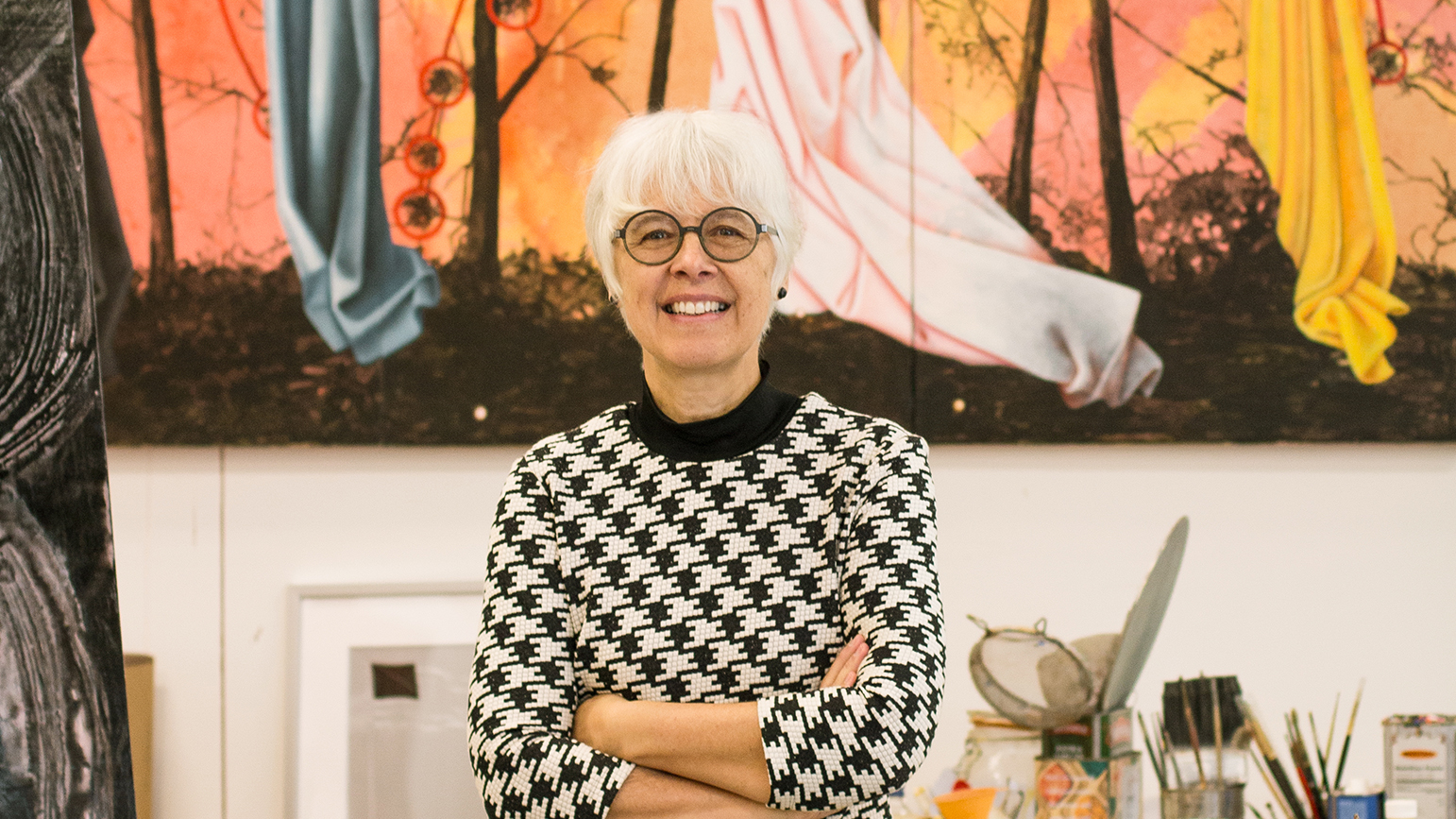 Professor Susanne Slavick is one of seven Carnegie Mellon University faculty members elevated to the rank of University Professor, the highest distinction a faculty member can achieve at CMU.
In addition to Slavick, the newly appointed University Professors are Jessica Hodgins, Allen Robinson, Kathryn Roeder, Tuomas Sandholm, Mahadev Satyanarayanan, and Joe William Trotter, Jr.
"University Professors are distinguished by international recognition and for their contributions to education, artistic creativity and/or research," said Provost Jim Garrett. "Each University Professor exemplifies a high level of professional achievement and an exceptional commitment to academic excellence at our university."
"Over the course of her more than three decades of teaching and service at the School of Art at Carnegie Mellon University, Professor Slavick has become one of the most respected educators in the visual arts across the nation," said Head of School Charlie White. "Susanne's generosity and deep commitment to our student community extends far beyond the classroom."
About Susanne Slavick
Susanne Slavick is an artist, curator and the Andrew W. Mellon Professor of Art. Her curatorial projects include "When the Bough Breaks" (2019), "Marx@200" (2018) commemorating the legacy of Marx's critique of capitalism; "Unloaded" (2015), a traveling group show exploring the impact of guns in our culture; and "Out of Rubble" (Charta, 2011), a book and traveling exhibit featuring international artists who respond to the aftermath of war.
Slavick's work pursues empathic unsettlement through images that remind us of what we stand to lose after what we have lost already. She has exhibited internationally; "Getting There," an exhibit with her partner and colleague Andrew Ellis Johnson, opens in 2021 at the Godwin-Ternbach Museum at Queens College.
Slavick graduated Phi Beta Kappa and summa cum laude from Yale University, studied at Jagiellonian University in Krakow, and earned an MFA at Tyler School of Art in Rome and Philadelphia.
Her work has been recognized by the National Endowment for the Arts and through four awards from the Pennsylvania Council on the Arts. In 2019, she was awarded the College Art Association Distinguished Teaching of Art Award and the College of Fine Arts Henry Hornbostel Teaching Award. Her essays and articles have appeared in: "Journal of Visual Culture" (SAGE 2018); "Technology and Culture" (Johns Hopkins University Press 2018); "Formations of Identity: Society, Politics, and Landscape," eds. Floyd Martin and Eileen Yanoviak (Cambridge Scholars Publishing, 2016); "American Rubble" (Haverford College, 2016); "Cairo: Images of Transition" (transcript Verlag, 2013); "Hyperallergic, Cultural Heritage and Arts Review;" "Cultural Politics" (Duke University Press); "Frontiers: A Journal of Women's Studies; Guernica: A Magazine of Art & Politics" and more.