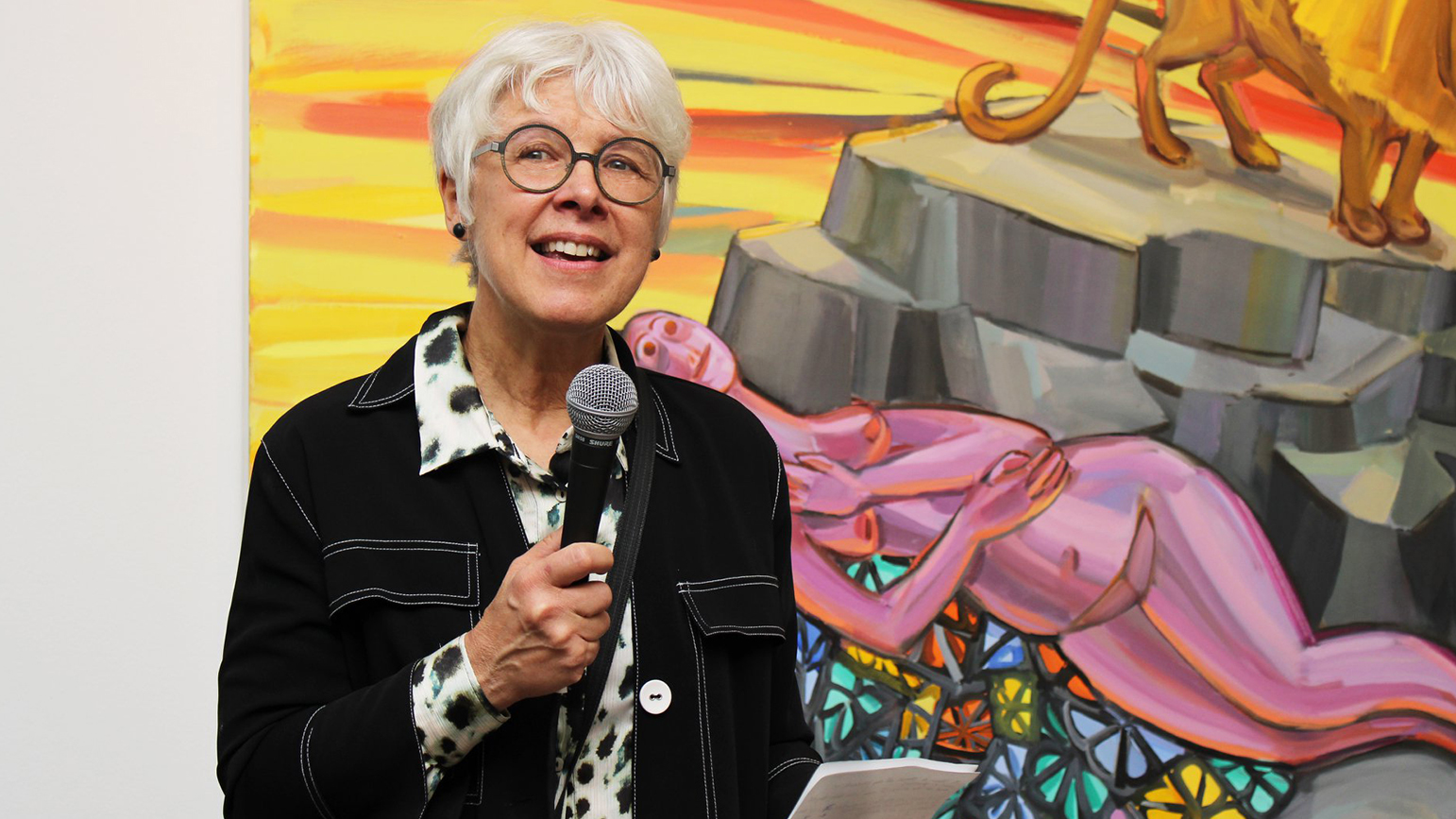 After 38 years of service to Carnegie Mellon University, Professor Susanne Slavick is retiring at the end of this semester. As a teacher, artist, curator, and prior Head of School, Susanne's steadfast conviction that art is an essential political force—moving us to act against injustice and to imagine new futures in ways that other disciplines cannot—has inspired generations of students.
Susanne began her tenure with CMU's School of Art in 1984 after a three-year stint at the University of Wisconsin-Madison. She served as Head of School from 2000 to 2006, the first woman to lead the School. Under her direction, and in collaboration with Associate Head of School Joe Mannino, the School underwent a major expansion with the construction of the Doherty Hall B wing, which included new studios for lithography, serigraphy, ceramics, and advanced sculpture, as well as space for new graduate and faculty studios and the Miller Meeting Room. In addition, major renovation of other spaces in Doherty Hall upgraded the intaglio studio and dedicated space for physical computing. School of Art spaces within the College of Fine Arts also saw upgrades under Susanne's headship, including the reconfiguration of the Ellis Gallery and the fourth-floor hallways and studios. Elsewhere on campus, Susanne helped shepherd the University's acquisition of two major public art projects from School of Art alumni: Mel Bochner's Kraus Campo, a collaborative project with landscape architect Michael Van Valkenburgh, and Jonathan Borofsky's Walking to the Sky.
Susanne's tenure as Head of School is also marked by a focus on bolstering the many accomplishments of the School of Art's alumni through publishing annual print and monthly email newsletters, organizing numerous alumni gatherings around the country, as well as hosting an alumni trip to Northern Italy. She was instrumental in curating exhibitions of alumni artwork for the College of Fine Arts' centennial in 2006 and for Maximum Minimum in Unum in 2016. Susanne has continued this dedication to lifting up the School's alumni well past her headship, and in the process, has made numerous connections among alumni of different generations.
While Head of School, Susanne hired key faculty who continue to distinguish the School. Several important financial gifts were also secured during her term, to expand facilities and provide lasting funding through endowments for the Regina Gouger Miller headship and student scholarship, the Marjory C. Glassburn Francis scholarship, and the Orville Winsand Lecture in Critical Studies. Among the influential artists Susanne brought to CMU as part of the Distinguished Lepper Lecture Series were Marina Abramovic, Mel Chin, Hans Haacke, Faith Hubley, Shirin Neshat and Krzysztof Wodiczko. She also promoted international education through School projects abroad in Italy, Germany, Greece, Spain, and the former Yugoslavia, as well as establishing exchange programs in Seoul and Tokyo.
Even after four decades of teaching, Susanne's passion for helping her students discover their own artistic voices remains palpable. Her teaching is wide ranging, from helping introductory painting students discover the possibilities of pigments on a plane to mentoring MFA students as they refine their practices. Her courses combine a careful attention to technical skill with emphasis on conceptual thinking and engaging with contemporary conditions. She has received many honors for her professional and pedagogical accomplishments including being the first from the School of Art to be named an Andrew W. Mellon Professor as well as the first from the School to be named a University Professor, the highest distinction a faculty member can achieve at CMU. In 2019, she was honored with the Henry Hornbostel Teaching Award from the College of Fine Arts and the Distinguished Teaching of Art Award from the College Art Association, the preeminent organization for professionals in the visual arts.
"Susanne has been a wonderful colleague and a role model, and I really believe she has been the heart of the school," said Professor Kim Beck. "I have learned so much from listening to her work through ideas, bringing to every conversation a respect for her colleagues and students, and a desire to pursue a path of justice and fairness. Indeed, I'd say she really loves our students. Just last week I was in a sophomore review with her and another colleague; after the review, she got up to talk at length with the student about her work. Susanne told this student with full conviction and force of belief that she was on a strong path and really had the focus to become an artist. Susanne believes in our students and in all of us, and above all, in the power of art to shape a better future even when the world seems to be a mess. This is what has made her such a powerful teacher, Head of School, curator, and artist. I'm so glad that she'll be able to spend all her time in her studio, but her voice will be deeply missed."
In both her artistic practice and her curatorial work, Susanne draws attention to critical social, political, and economic issues including environmental destruction, refugee crises, war, and gun violence. She has exhibited her own work nationally and internationally, most recently at the McDonough Museum in Youngstown, Centro Cultural FIESP in Sao Paulo, Ruffin Gallery at University of Virginia, and Godwin-Ternbach Museum in Queens. Her traveling curatorial projects include: When the Bough Breaks (2019-21); Marx@200 (2018) with Kathy M. Newman; Unloaded (2015-19), a multimedia exhibition exploring the impact of guns in our culture; and Out of Rubble (2011-15), a book and exhibition featuring international artists who respond to the aftermath of war. Through her work and her teaching, she has nurtured and celebrated the liberatory spirit of art.
"Susanne's dedication to School of Art students and alumni is without equal," said Head of School Charlie White. "Over her four decades in art education, she has shared her deep insights and passion for artmaking with her students, nurturing generations of accomplished artists and creative changemakers. She has even continued to care for her students after graduation by amplifying their successes and connecting them with opportunities. As an artist and curator, her work compassionately and insightfully responds to some of the most important issues facing our society. We will miss her generosity and profound dedication for the power of artmaking."