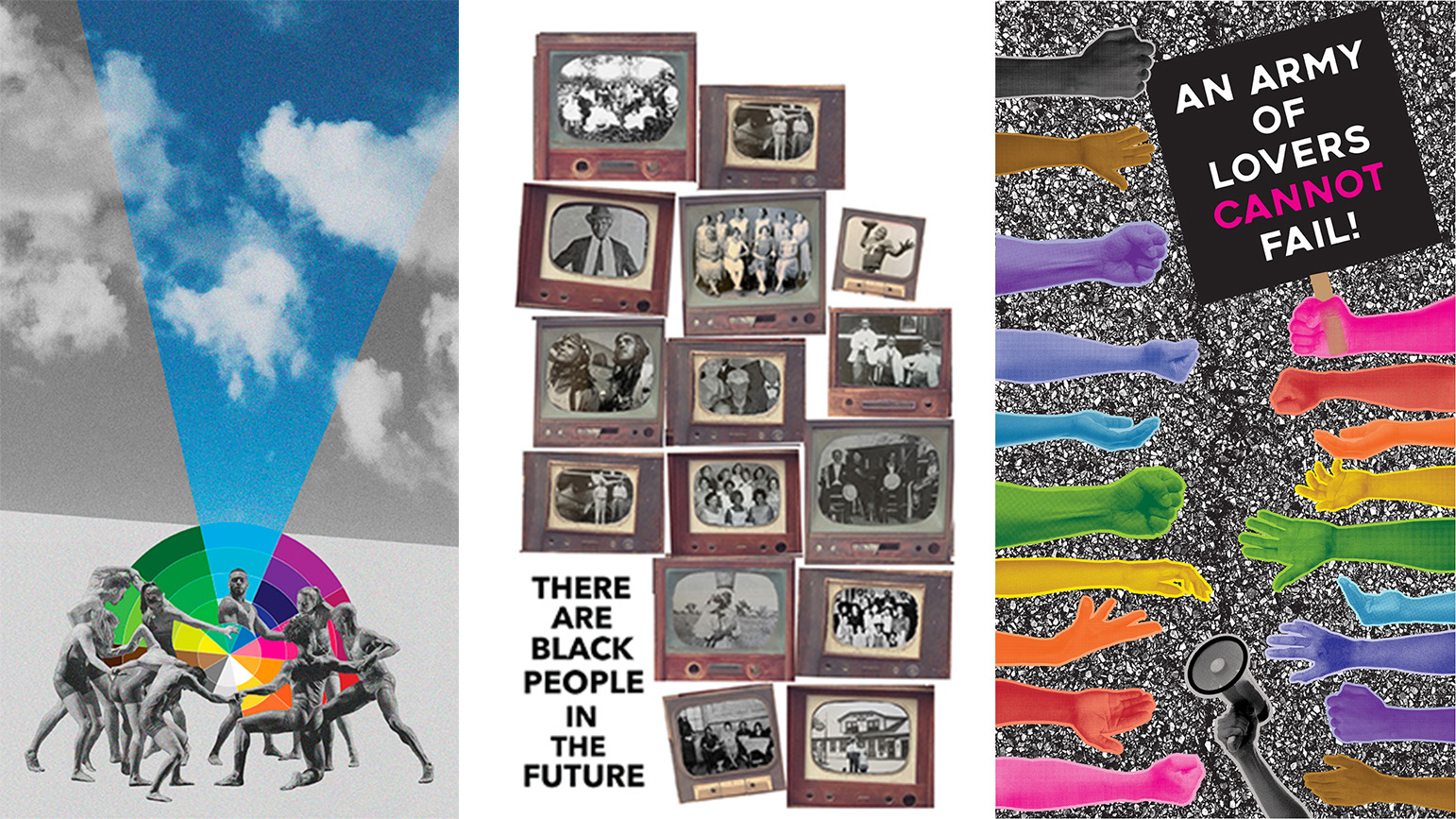 Professors Susanne Slavick, Ginger Brooks Takahashi, and Alisha Wormsley are among the 10 artists chosen for the Westmoreland Museum of Art's Diversity Billboard Project. Artwork will be displayed on billboards throughout Westmoreland County from October 5, 2020 through March 21, 2021. Organized in collaboration with the Westmoreland Diversity Coalition, works were inspired by the theme "Make Our Differences Our Strengths."
Susanne Slavick, Full Spectrum
Full Spectrum refers to social strengths—structural, physical and emotional.
Through linked arms, nine dancers become one. The dancers' upper bodies emphasize connection, pronouncing and delineating an enclosure. Their linkage suggests a combined and connecting energy with great potential. This energy does not confer a heavy or permanent power; it is a dynamic current for shifting needs and circumstances.
A color wheel occupies the space that their arms encircle. Its contours and center gaze out at us like an observant eye. Its rings and rays of colors suggest a multi-lensed eye, allowing for both multiple and singular perspectives. Is it seeing us or are we seeing it? The line between points of view is blurred. Its full spectrum is inclusive and non-hierarchical. There is no primacy, no black and white dichotomy.
Instead, there is the perception and the reality of diversity as strength.
Ginger Brooks Takahashi, An Army of Lovers Cannot Fail
My artwork for the Westmoreland County Billboard Campaign is a joyful, iconic piece celebrating LGBTQ lives and mutual aid. A rainbow of arms reaches out to one another, with one holding a sign emblazoned with the early gay liberation text, "An Army of Lovers Cannot Fail." This artwork visualizes our differences as well as our human interconnectedness. Embodying the spirit of Gay Liberation and Stonewall, as well as our current protest movement, these arms are expressive representations of humanity: asking for a helping hand, offering support, assertion of dignity and liberty, protest, receptivity, kindness, and generosity. This piece reminds passersby that LGBTQ rights and racial justice were and are achieved through interconnected struggle and allyship, through people speaking out and protesting in the streets, demanding respect and legal rights.
Alisha Wormsley, There Are Black People in the Future: Westmoreland
Before this text was a billboard it was an archival project. In Homewood, a neighborhood in Pittsburgh, this work began as a mantra, a ritual of collecting objects, printing them with the text, There Are Black People In The Future, and encased them in resin.
Writer Tameka Cage Conley writes about TABPITF in 2017, she says, "When we say the "future," it could mean anything: grown children, life on another planet, retirement, safe drinking water for everyone on earth. We might recall iconic films or books that dare us to dream a world so unlike ours, it can only be called "fiction," even as we pant for that world and place ourselves in it. In the future, our faces, limbs, and desires dance on water. Or, they are mounted in concrete."
Now inspired by Westmoreland county, I see a community protecting their legacy, holding on to their own image. I want to pay homage to the past. Giving thanks to the dreams of our ancestors that ensured the text long before it was written by me.