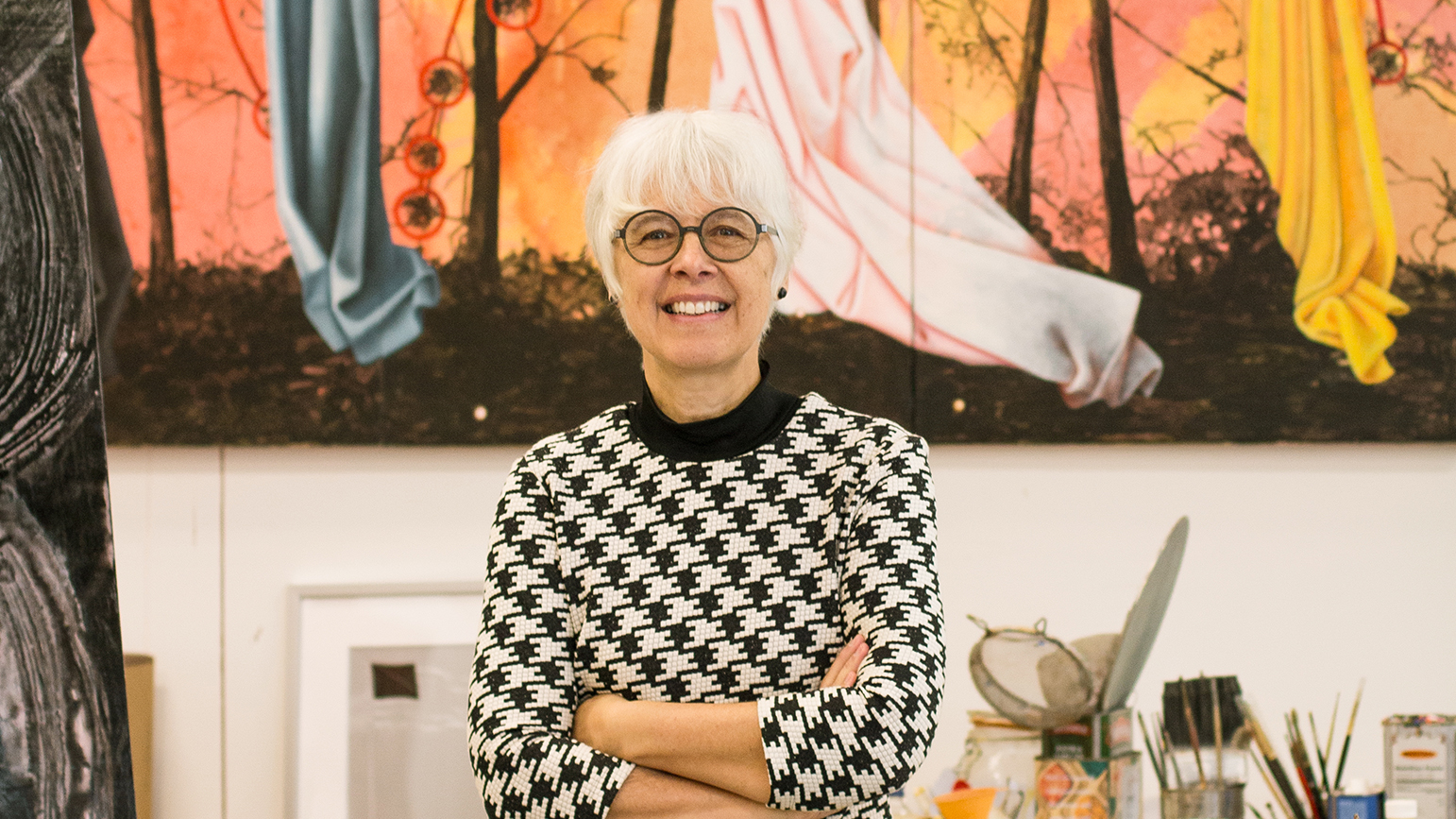 Professor Susanne Slavick will be presented the 2019 Distinguished Teaching of Art Award from the College Art Association (CAA)—the preeminent organization for professionals in the visual arts—at their annual conference in New York City in February. This prestigious award, given annually since 1972, honors an exemplary educator for which teaching and making art are inseparable.
An accomplished artist and curator, Slavick believes that "art is an intimate and generous way to share what matters to us. At its best, it moves us to respond—to act." She sees working with her students as a mutually empowering experience toward both personal and social transformation.
"Art is constantly testing the reality principle—and challenging the status quo," she says. "Artists can expose things we don't want to face or imagine alternative worlds. Art is an essential political force, even if it may not immediately change the world. There is nothing more rewarding than helping students recognize how they can shape the cultural consciousness—and their futures."
Slavick received an MFA from the Tyler School of Art at Temple University and a BA from Yale University. She began her tenure with CMU's School of Art in 1984 after a three-year stint at the University of Wisconsin-Madison. She served as Head of School from 2000-06 and has held the title of Andrew W. Mellon Professor of Art since 2001.
"There has been no single person or professor who has had a greater impact on my career than Susanne Slavick," says Lauren F. Adams, a 2007 graduate of the School of Art's MFA program and current painting professor at the Maryland Institute College of Art. "Her commitment to teaching and rigorous approach to the multiple pathways that students may travel has proved a durable influence upon me and many others. This has inspired me to model my own teaching techniques after her."
Even after more than three decades teaching, Slavick remains excited by each new group of students. Though she has taught in many courses across the program, introductory painting is her favorite class to teach. "At this level, there's a magic elixir of curiosity, spirit, energy, and work ethic," she says. "It is exhilarating to see the growth in students' work and their excitement about the possibilities of painting."
Slavick says that teaching at CMU's School of Art, which has long distinguished itself through its interdisciplinary approach, has been especially rewarding. "Teaching has led me to areas of knowledge and processes that I might not have ever considered. Teaching has broadened by own perspective."
"Susanne's generosity and deep commitment to our students is evident far past their classroom experience," says Head of School Charlie White. "Even after students graduate, Susanne tirelessly advocates for our community, consistently boosting alumni successes and using her broad reach to connect them to opportunity. She manages to do all this while maintaining a vibrant studio and curatorial practice. Her work as both artist and teacher is always attuned to the political moment, responding with compassion, grace, and insight."
Slavick has exhibited her own work nationally and internationally, with recent solo shows at the Chicago Cultural Center, McDonough Museum in Youngstown, and the Bernstein Gallery at Princeton University. Her recent curatorial projects include: Marx@200 (2018); Unloaded (2015), a traveling multimedia exhibition exploring the impact of guns in our culture; and Out of Rubble (2011), a book and traveling exhibition featuring international artists who respond to the aftermath of war.
The School of Art will honor Slavick at an alumni gathering on February 15 from 7:00 to 9:00 p.m. at PPOW Gallery in New York City. School of Art alumni and friends of Susanne can RSVP for the party here.
Photograph by Jacquelyn Johnson