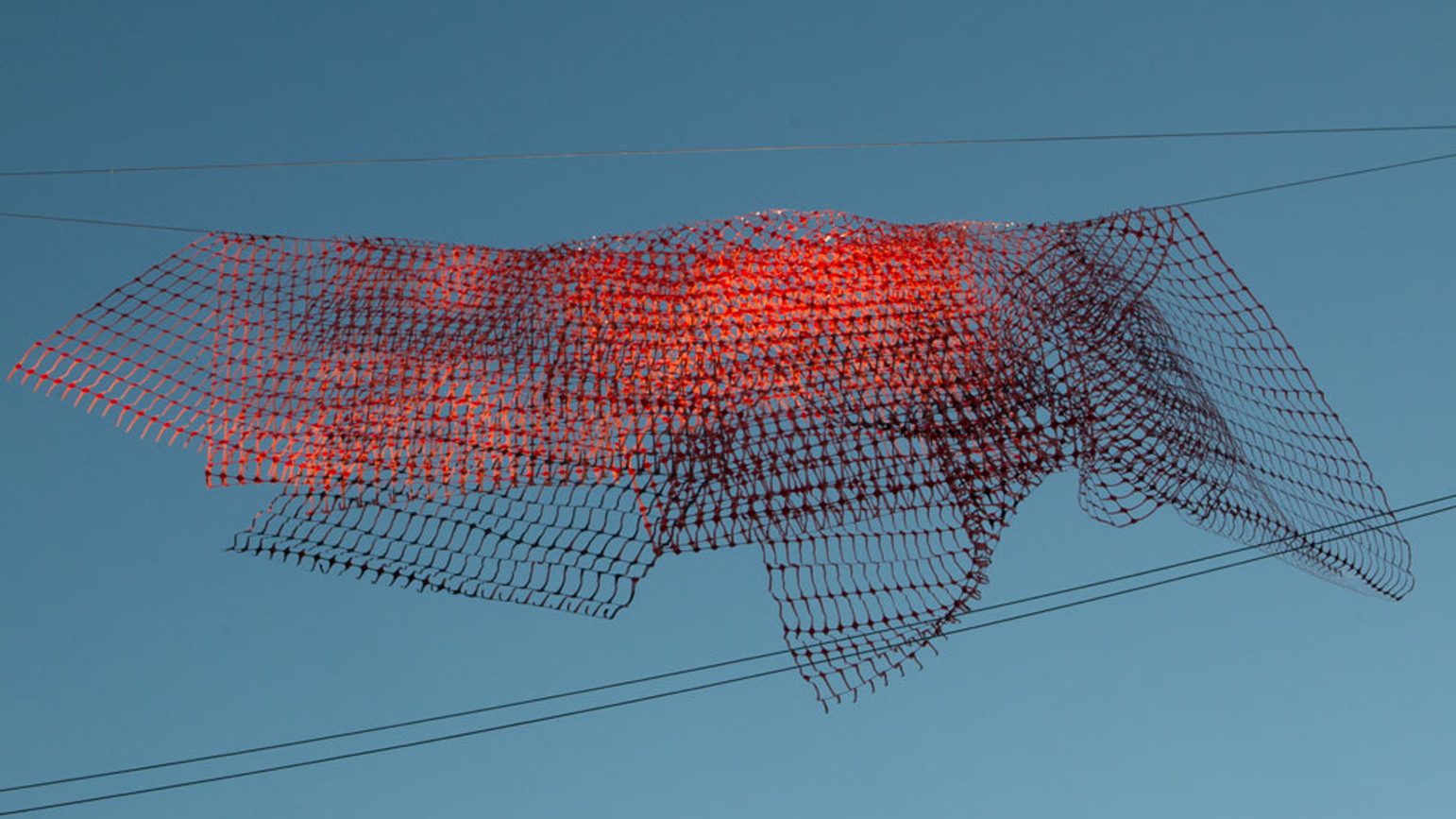 Associate Professor Kim Beck exhibits "Barrier" with the Stephen and George Laundry Line on view October 17 – November 16 in Queens, NYC, by appointment.
"In this installation, "Barrier", bright orange safety fencing is wrapped around the line, suggesting security and construction activities in the usual place of laundry. Here however the fencing is no longer functional. Instead this subtly transformed readymade material seems to have floated up off the street, allowing us to consider it as either a fence dividing space or as a layered abstraction," noted the creator and curator of The Stephen and George Laundry Line, Jessica Langley. Langley has previously been an Adjunct Assistant Professor in the School of Art teaching 2D media.
Beck's work spans a variety of media from drawing to installation, looking at ignored landscapes – the outskirts, the suburban, the peripheral – and the changes that take place there. Her often large-scale but sometimes intimate works give a sense of exploration through an everyday environment. She has used skywriting planes to convey messages of a broken economy, made meticulous drawings of half-finished construction sites, life-size silhouettes of billboards, a field guide to weeds, and many other projects which reflect the human influence on the land.
Beck's has exhibited widely, including at the Walker Art Center, Carnegie Museum of Art, Smack Mellon, Socrates Sculpture Park, Warhol Museum, Indianapolis Museum of Art, Omi Sculpture Park, Hallwalls and on the High Line in NYC, and is included in the collections of Agnes Gund, the Philbrook Museum of Art, the Minneapolis Museum of Art, the Carnegie Museum of Art, the Denver Art Museum among others. She has received awards from ARS Electronica, the Studio for Creative Inquiry, Pollock-Krasner, Heinz Foundation, Sprout Fund, Pittsburgh Foundation, Thomas J. Watson Foundation and Printed Matter. At CMU she teaches a variety of foundation and advanced courses in print and 2D media.