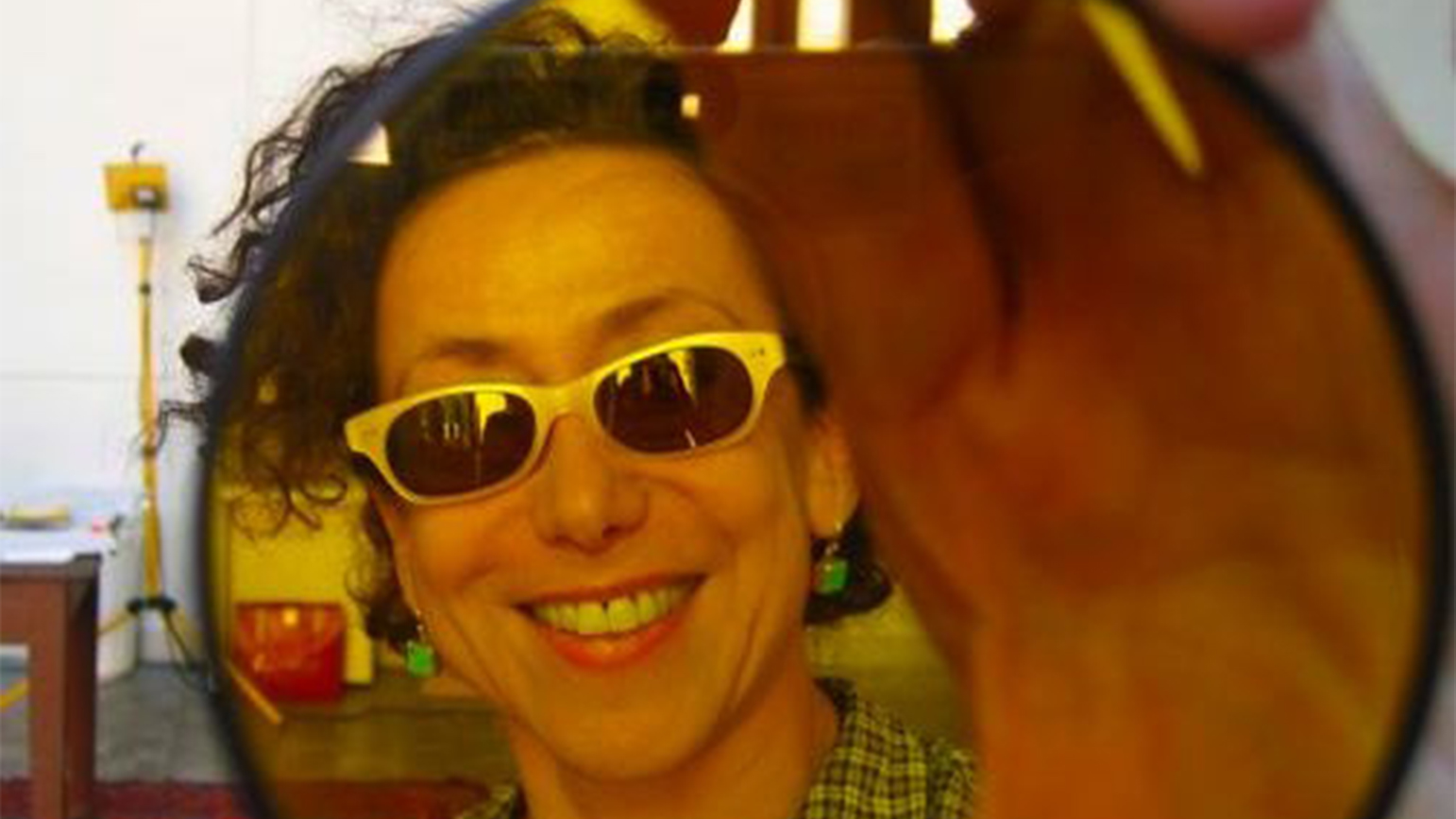 Professor Melissa Ragona will moderate a panel discussion titled "The Mutiny of Mirrored Worlds: Excavating the Films of Abigail Child" on April 30 at 6:00 PM online. The panel, featuring Abigail Child, Ken Jacobs, and Ruth Novaczek, is organized the the Film-makers Coop in New York City.
This panel will examine several films from the work of Abigail Child—including both recent films, i.e., Acts and Intermission (2017), an experimental documentary on the life of Emma Goldman, as well as earlier, classic works, such as Mutiny (1983), from her renowned series: Is This What You Were Born For? filmed on the Lower East Side in New York. Addressing ideas of montage, sound, language, and document, the panelists will engage Child in a dynamic conversation about the varied strategies for forging an alternative cinema that confronts the tensions between form and politics.
Abigail Child has been at the forefront of experimental media and writing since the 1980s, having completed more than fifty film/video works and installations, and written 6 books. An acknowledged pioneer in montage, Child addresses the interplay between sound and image, to make, in the words of LA Weekly: "brilliant exciting work…a vibrant political filmmaking that's attentive to form." Her major projects include Is This What You Were Born For?: a 9 year, 7-part work; B/Side: a film that negotiates the politics of internal colonialism; 8 Million: a collaboration with avant-percussionist Ikue Mori that re defines "music video"; The Suburban Trilogy: a modular digi-film that prismatically examines a politics of place and identity; and MirrorWorlds: a multi-screen installation that incorporates parts of Child's "foreign film" series to explore narrative excess. Her most recent work is a trilogy of feature films, including UNBOUND, an imaginary 'home movie' of the life of Mary Shelley, teenage author of Frankenstein; ACTS & INTERMISSIONS, on the life and loves of anarchist Emma Goldman in America; and the third, ORIGIN OF THE SPECIES which explores human-machine interactions and scientific ethics in the 21st century, premiering in November 2020 at DocNYC, launching this spring on iTunes. She is the recipient of a Rome Prize, Radcliffe and Guggenheim Fellowships, a NYCWomen's Media Grant and a Brakhage Award, among others.
Ken Jacobs is the lauded American experimental filmmaker, director of Tom, Tom, the Piper's Son, a meticulous experiment in re-photography, admitted to the National Film Registry in 2007, as well as Star Spangled to Death, a nearly seven-hour work that uses found footage and performance to critique and investigate the "state of the union". Irreverent, brilliant, an iconoclast, Jacobs is the critical voice looking hard and deep at the moving image art form. His sound experiments and work in 3D are ingenious dissections and thrilling reconstructions of the world via the moving image. His material encompasses pornography, narrative, science footage and fragmentary documentary footage (see his Perfect Film on Malcolm X's death). His voice has often been present at film screenings and his work is part of Anthology Film Archives' "Essential Cinema" repertory. Jacobs taught at the Cinema Department at Binghamton University from 1969 to 2002, inspiring many subsequent filmmakers.
Ruth Novaczek is an artist and curator, with an MFA from St Martins and PhD from the University of Westminster, London. Her doctoral dissertation on women filmmakers entitled "21st Century Avant-Garde: New Vernaculars and Feminine Ecriture" includes work by contemporaries including Child. Using found footage, aphorism and live action, her films and performance/installations are diasporic and feminist mash-ups, with eclectic musical elements. Novaczek has received an Arts Council award, is a Jarman award nominee and has had solo shows at the NY Kunsthalle, Arsenal, Berlin, BFI Southbank, London, and a forthcoming exhibition at the Gartenhaus Kunstverein Vienna. In reviewing her most recent work The New World, Chris Kraus and Denah Johnston called her 'the Patti Smith of film'. She is currently completing an expanded film project and writing an experimental novel.
Melissa Ragona is an Associate Professor of Critical Theory and Art History in the School of Art at Carnegie Mellon University, as well as an independent curator and critic. Her book manuscript: The Warhol Tapes: Beyond Readymade Sound is forthcoming. Her essays and reviews have appeared in October, Frieze, Art Papers and numerous edited collections. She has also published in monographs on Carolee Schneemann, Paul Sharits, Antoine Catala, Angela Dufresne, and Abigail Child. Ragona has curated exhibitions and served as a curatorial consultant at the Mattress Factory Contemporary Art Museum, the Miller ICA (Pittsburgh), PPOW Gallery (NYC), as well as MoMA (NYC). She has lectured at Yale University, Princeton University, Tate Modern (London), MoMA (New York), Pioneer Works, Electronic Arts Intermix, Freie Universität Berlin, as well as The Academy of Fine Arts in Finland.