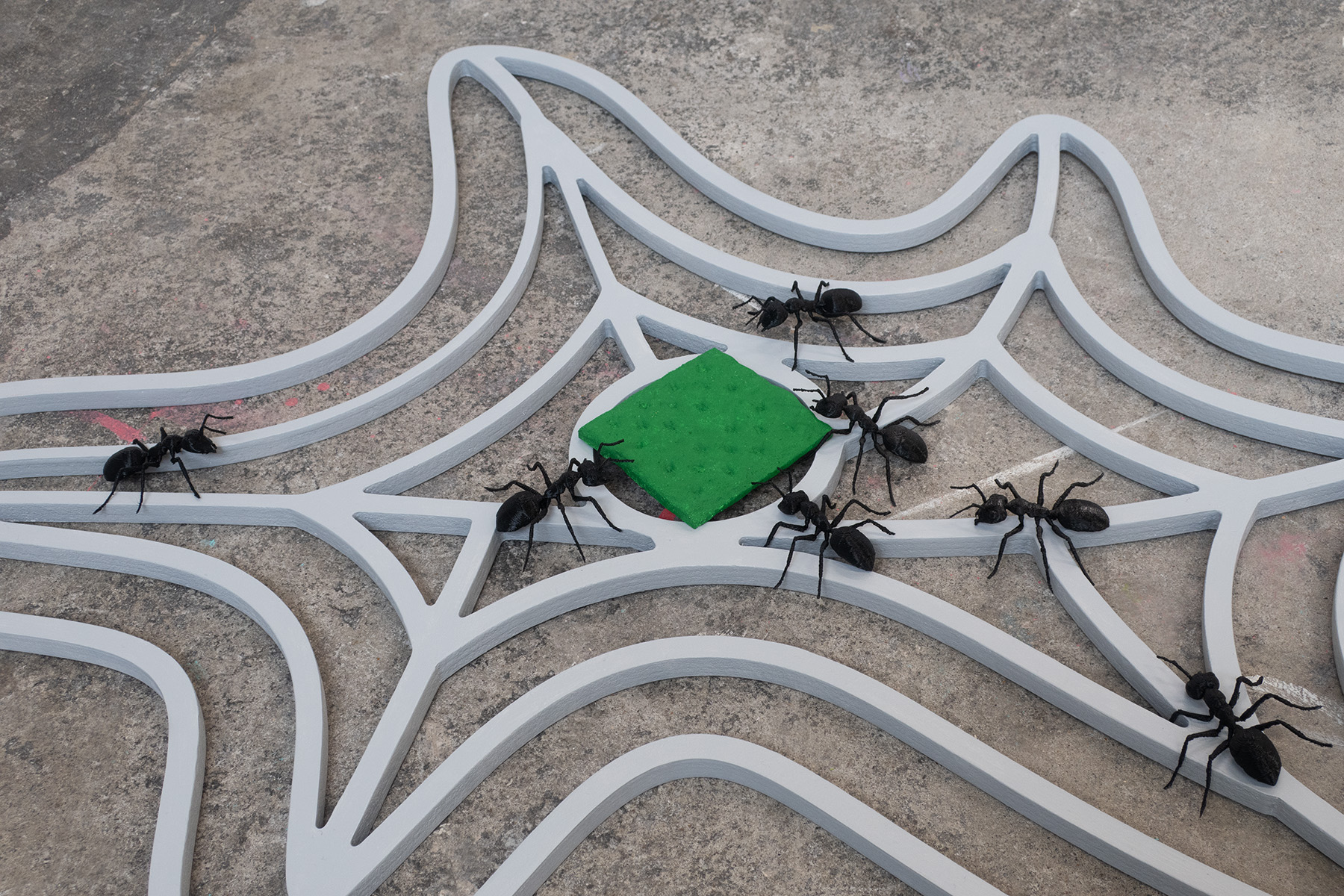 "Insight Outsight," a solo exhibition by Professor Ling-lin Ku with mentorship from Agnieszka Kurant, interrogates relationships between natural, built, and digital environments through the lens of insects. Ku's sculpture and installation works utilize digital fabrication to generate a world that leaps between macro and micro scales, questioning familiar dichotomies between animal and human, ecology and technology, and the metaphorical and the physical. The exhibition is on view November 9 through December 22 at the Cue Art Foundation in New York City.
"Insight Outsight" presents a playground of discovery, exploring the tensions and collaborations inherent in our turbulent digital age. The algorithmic landscapes of contemporary social worlds are in constant renegotiation, and can feel, at times, both gratifying and unsettling. Ku traces the patterns and assumptions of human digital infrastructure and behavior to notions of calculation, optimization, and rationality in insect life, creating glimpses of familiarity in a context that often feels vast, unknowable, and inaccessible.
The insects that live within the exhibition are diverse and multifaceted. They slip in and out of recognition, moving between physical and digital space. They reveal themselves primarily in vignettes and fleeting encounters, resisting easy categorization and identification. Creatures sit within a scale reminiscent of vertebrae; webbed hands and feet protrude from a polygonal form; legs are affixed to circuit infrastructure; the numbers "404" are engraved onto a glitched ovoid abdomen.
Ku positions the subjects of her works in ways that subtly subvert the notion of camouflage as a defense mechanism, and instead reorient it as an active, creative, and colorful process. In mapping parallels between the technological and social worlds of humans and insects, she seeks to embrace new ways of thinking about the sensations, perceptions, movements, stratagems, and patterns of organization that structure our individual and collective experiences and actions. "What do insects know that we do not? What can they tell us about the world?" asks catalogue essayist Constanza Salazar. "In this work, viewers are reminded that they belong to a larger macrocosm of diverse species life, and the anthropocentrism of humans is momentarily overturned to highlight this ecological reality."
"Insight Outsight" poses key questions about the duality of intrinsic and contextual identities, prompting us to thoughtfully interrogate the role of metamorphosis in our ever-changing environments. In what ways do we render ourselves visible and invisible in these new landscapes? What kinds of shifts authentically promote our personal and societal progress? What transformations can occur when we seek to better understand our multiplicities? Drawing from references in visual art, anthropology, entomology, literature, and media theory, the exhibition invites us to rethink the ways in which we organize ourselves and to reimagine what is human in a world that can sometimes feel insufficiently so.