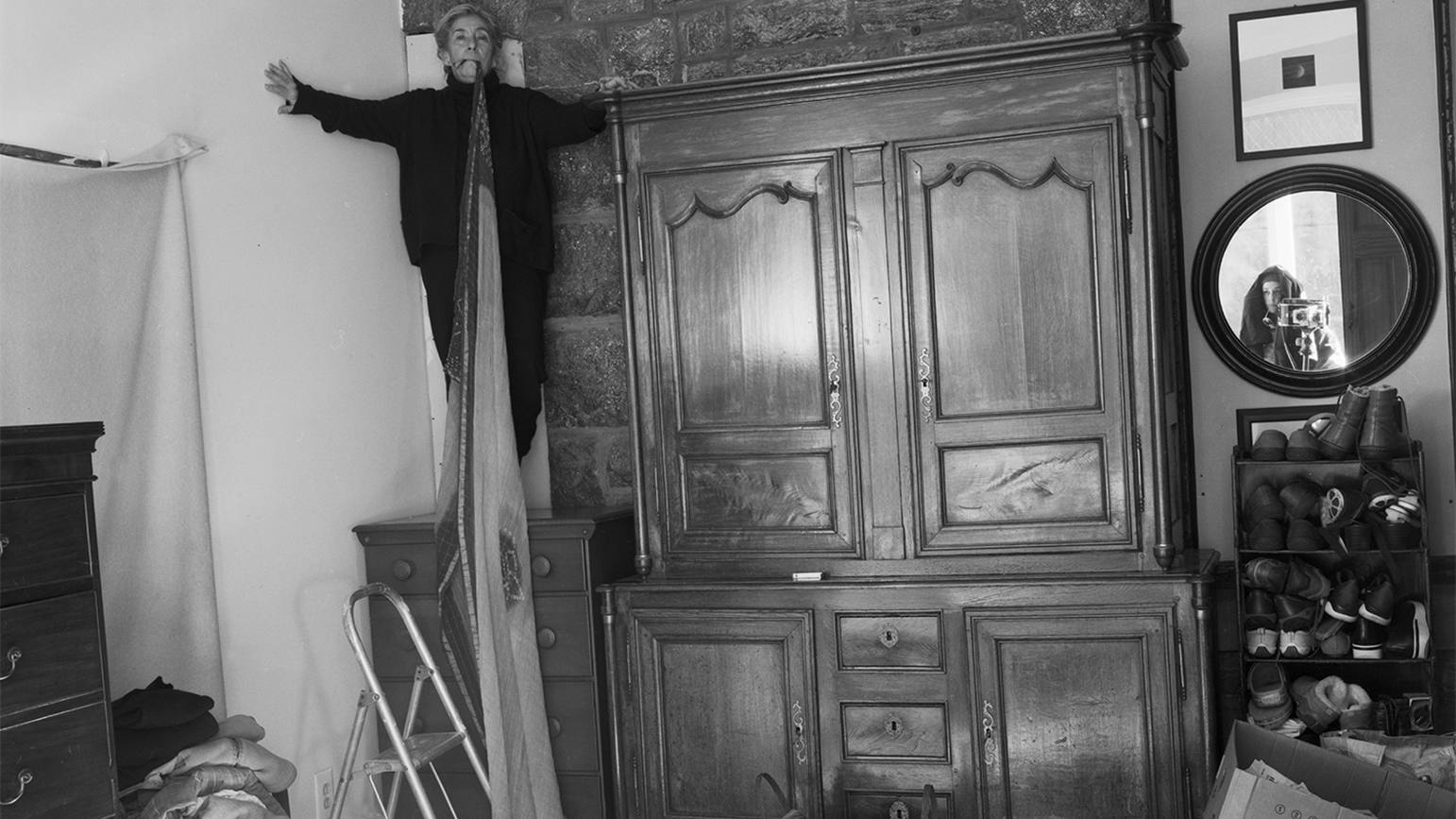 Professor Katherine Hubbard opens her third solo exhibition with Company Gallery, titled "The great room" on April 29. The show, on view through June 3, includes work from her ongoing project making photographs with her mom, Antonette Berger, within Berger's home in Philadelphia, PA.
Hubbard began this work in 2020, a time marked for many by turning inwards, caretaking, and restructuring our worlds during the Covid-19 pandemic. It was during this period that Hubbard's mother started to experience severe memory loss and was eventually diagnosed with LATE, a brain disease which mimics the symptoms of Alzheimer's.
Berger is the first person Hubbard has photographed consistently. Using two large format 4×5 film cameras, Hubbard and Berger circulate through Berger's home, moving various props, mirrors, and equipment along with them through the space. Their photographs become companion work to the rituals of daily life, such as bathing, organizing, and watching tv. Over time the world of the image makes smaller concentric circles around a false wall built to separate Berger's bedroom from the larger great room—a room which at present functions as haphazard storage.
This dividing wall from Berger's home is mirrored in the gallery installation and framed out to support multiple photographs within its structure. Built to the exact dimensions, the structure symbolically segments space to reflect the great room and its function in the home. The representational photographs are complemented by unique experimental body prints made by Hubbard and her mother in a traditional black and white darkroom. These experimental contact photographs are one- to-one scale with the body and allow the proximity between Hubbard and Berger to materialize intimacy through their physicality with the photographic paper.
Hubbard's photographs use the architecture of the home, the immediacy of touch, and the physicality of gesture to suggest a relationship that is at once stable, built on a foundation of love, yet complicated by the confusion and grief of a mother and daughter who find themselves in collision. The work is in and of itself a form of mourning which wrestles with the reception of a person through the image and the uncanny way that photographs can hold a person up and make them feel more themselves.