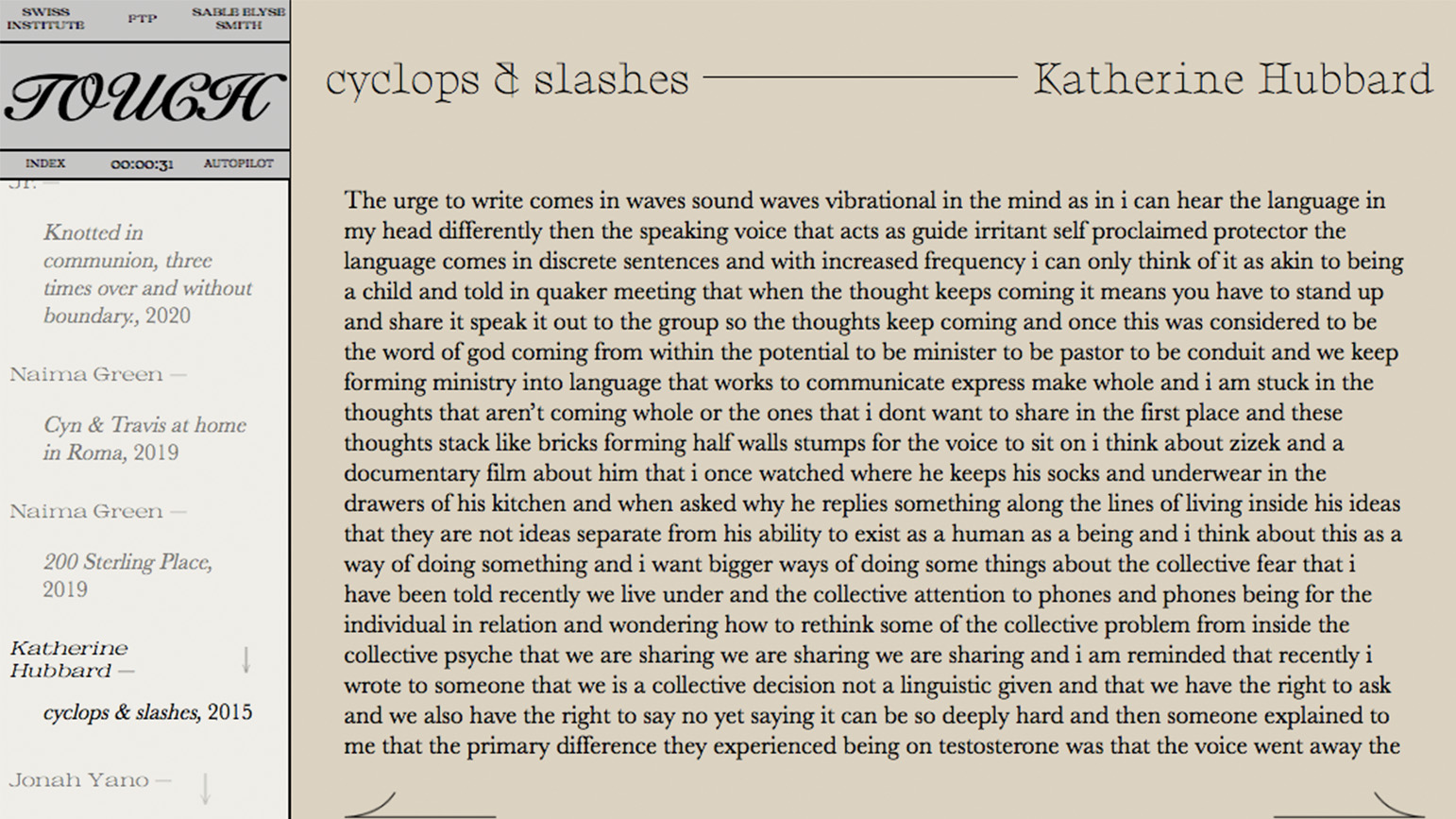 Professor Katherine Hubbard published her essay "cyclops & slashes, 2015" as part of artist Sable Elyse Smith's online project "FEAR TOUCH POLICE," organized by the Swiss Institute Contemporary Art New York.
Conceived by Smith in March 2020 as a digital magazine, "FEAR TOUCH POLICE" unfolds across three issues, the content of which will later serve as material to be reworked and integrated into an original musical composition arranged by Smith. Drawing from the artist's sustained interrogation of language and how its affective connotations are shaped by both popular culture and intimate lived experience, Smith's project is a constellation of the work of friends, collaborators and influences. Lifted from a webpage and embedded in a score, the contents of "FEAR TOUCH POLICE" constitute a mutable audiovisual collage that culminates in an opportunity to listen.
"TOUCH," of which Hubbard's essay is a part, presents a guided flow of photographs, songs, videos and pieces of writing that consider the titular subject as both physical action and abstract effect. What does it mean to be touched? Encompassing an embrace, a grip, a caress, a grappling hold and a graze, touch also connotes impact, influence or friction that arises from no contact at all. The multivalence of the term is highlighted by the twelve contributors to the issue. Writing by Hubbard, Richard Siken and Billy-Ray Belcourt outlines complex expressions of love. In pictures, Elliott Jerome Brown Jr., Lacey Lennon and Naima Green capture traces of tenderness, intimacy and solitude. Two videos are featured in "TOUCH": a reprise of Paul Pfeiffer's Caryatid work first included in the magazine's inaugural issue, as well as a new adaptation of Jimmy Robert's 2013 installation Vanishing Point. Songs by Jonah Yano, L'Rain and Freddie June are laden with questions brought on by loss and longing. At the center of the issue is "Quiet as it's kept," a major new fictional work by Sable Elyse Smith. In this varied and layered archipelago, Smith charts the unruly consequences of bodies coming together and coming apart.