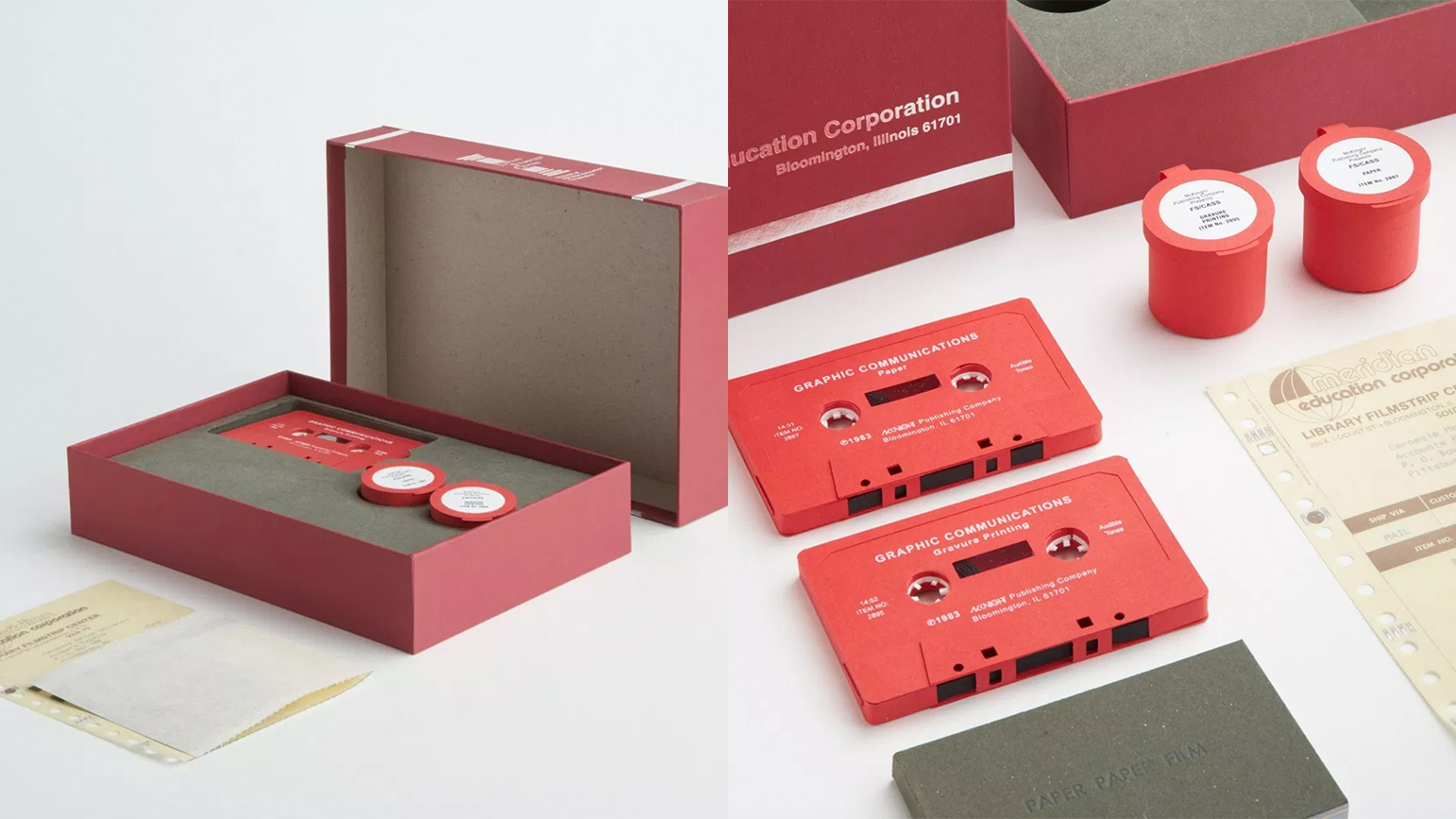 During her time at Women's Studio Workshop in Rosendale, NY, Professor Imin Yeh produced "Paper Paper Film," a paper replication of a box set of educational filmstrips that she found in a storage closet in the School of Art, in an edition of 52. Below is an essay by Gwen Allen, Professor of Art History and Director of the School of Art at San Francisco State University, about the project:
Imin Yeh uses paper not merely as a surface to print on, but as a sculptural medium through which to create three dimensional representations of objects. She is especially interested in things that have been forgotten, discarded, or overlooked: a defunct subway token, a mixed-CD found in the trash, a children's book from the free book pile at a public library. According to Yeh, "Underlying all of the work, I think, is the power of little things or forgotten things, but they still have stories." By rescuing these everyday items from the so-called dustbin of history, she reflects on how their value and meaning fluctuates over time as they pass into and out of our lives. Her painstakingly accurate yet distinctively handmade replicas bring attention to the individual memories, cultural associations, and technological changes that affect the significance and circulation of these objects through the world.
For her project at WSW, "Paper Paper Film," Yeh created an editioned book in the form of a paper sculpture, which replicates a box set of educational filmstrips that she found in a storage closet at Carnegie Mellon University's School of Art, where she teaches. When she discovered this antiquated and neglected box set, she immediately recognized it as a serendipitous treasure. The filmstrips, which instruct on paper and gravure printing techniques, harken back to a bygone era when this form of still image multimedia was commonplace in classrooms—a time period that coincides with the artists' own childhood (the films were in fact created the same year she was born, 1983). As Yeh observes, "At one point this was a cutting-edge technology that was replacing old-fashioned books. Now, everything is digital and viral and online–it's all available for free to anybody. You can find thousands of films on paper and printing on YouTube." Released from its previous use value, this outmoded object—consisting of two filmstrips in canisters and a cassette tape contained in a red box, along with the original receipt—functions, according to Yeh, as a kind of "time capsule" that might transmit a different kind of knowledge, and remind us of a history that might otherwise be lost.
"Paper Paper Film" was produced in an edition of 52 at WSW. Working with studio manager, Chris Petrone, Yeh integrated handmade paper into her sculptures for the first time. To make the foam packaging inside the box, for example, she and Petrone produced a custom paper that was dyed and flecked with glitter. Other components of the book/sculpture were created using die cuts, letterpress, screen printing, as well as a range of other printing techniques. The receipt was digitally printed onto handmade Japanese paper which was then perforated by hand. The box set cover was hand built out of paper wrapped with Vermillion Colorplan paper with a faux leather embossing that has been silver foil stamped. Each copy was then constructed by hand, by folding the different sections and adding finishing touches such as the tiny teeth in the tape cassette reels, which were individually glued on.
The result is an exquisitely crafted object that is simultaneously a democratic multiple. The book/sculpture functions as a kind of compendium of the possibilities of paper and print, and it physically embodies the knowledge that the filmstrips themselves once conveyed. According to Yeh, it is "a kind of ode to printing and paper in a sculpture form with none of the educational narrative." In order to watch the filmstrips and listen to the audio cassette, Yeh had to track down old equipment on Ebay. She documented this original narrative content in a small booklet, containing stills from the projected images and excerpts from the soundtrack, which is included in each copy of "Paper Paper Film."
By creating a work of art in the form of a printed book, Yeh draws on a rich history of artists' publications going back to the 1960s when the artist's book was redefined as an egalitarian form of alternative distribution intended to make art accessible and affordable. Such practices were central to the Fluxus movement, for example, and artists' magazines such as S.M.S.(1968) and AspenThe Magazine in a Box (1965-71)contained elaborate artists' multiples and objects in a publication format. Among other things, Yeh hopes to expand the potential audience for her work: "this democratic medium will put it into circulation in a different way, in libraries and other spaces outside the gallery." However, she is also pushing the boundaries of the medium of the book and the activity of publishing themselves, by extending the two-dimensional page into a tactile, three-dimensional experience.
Ultimately, she also hopes that the project will preserve the original filmstrip in an altered form, by "putting it back into circulation in a different way." This devalued object that was nearly forgotten about and lost can now be archived and accessed anew: "it's going to be loved and taken care of."
"Paper Paper Film" is available through WSW here.