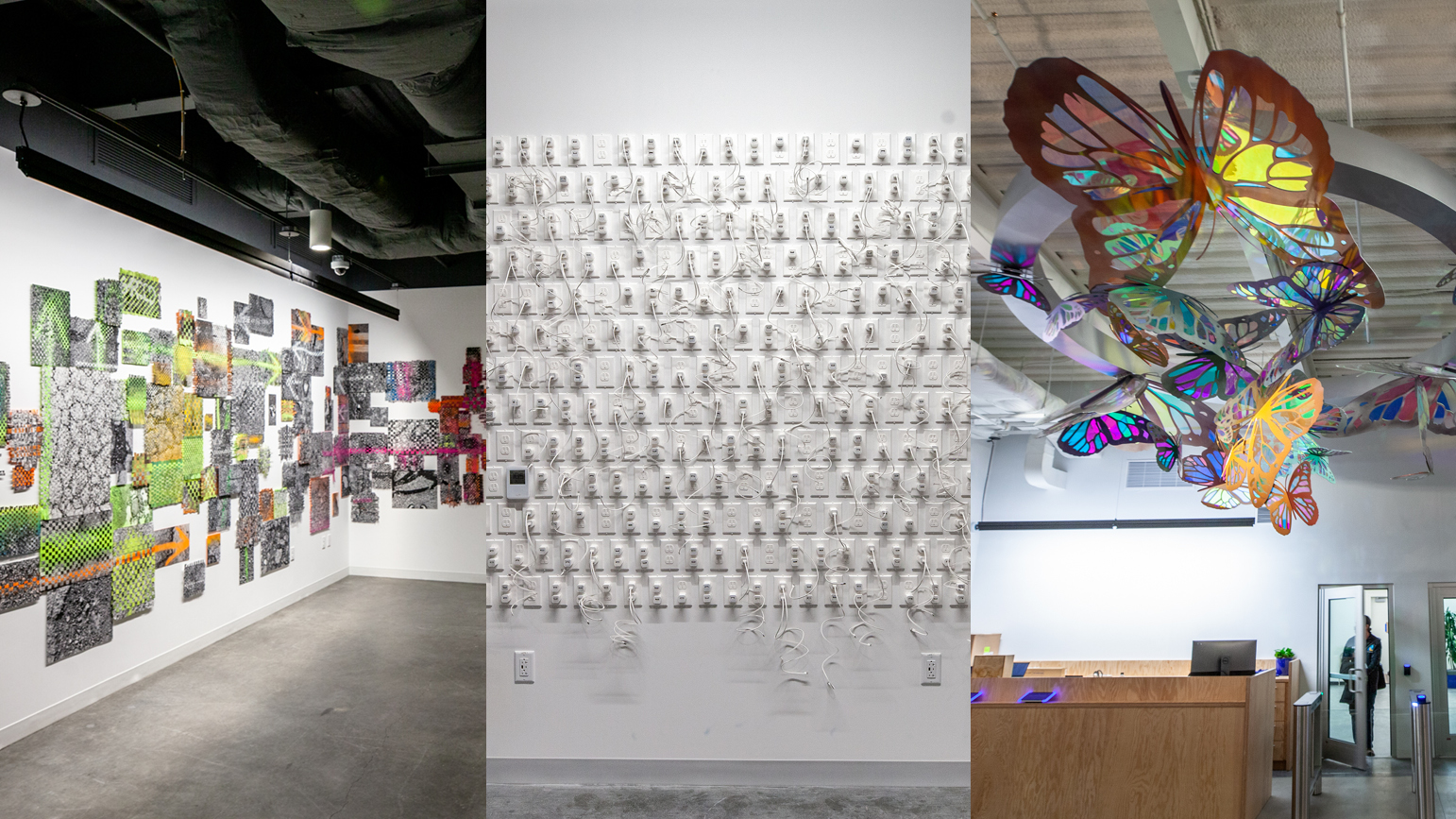 For their Pittsburgh office, Facebook commissioned new artwork from Professors Kim Beck and Imin Yeh, as well as a collaborative work by MFA candidate Michael Neumann and MFA alumnus Shohei Katayama. These commissions are part of Facebook's ongoing Artist in Residency program, which has commissioned more than 500 works by artists around the world for their global offices since the program's founding in 2012.
Professor Kim Beck: "Provisional"
For her installation, Beck photographed potholes and road repair during walks around her neighborhood in Pittsburgh. This meditation on the ground opens up questions about place, city infrastructure, the implications of soil, the role of the road in connecting or displacing communities, etc. Once printed, the photographs were spray painted and woven to create new paths.
Professor Imin Yeh: "IPhone Chargers"
Yeh's installation consists of approximately 400 paper replicas of iPhone chargers and outlets clustered together. With the current cultural obsession and dependence upon connectivity, each home has a tangle of these cords, assuring we remain powered up. Formally, the work abstracts the ubiquitous into line and shadow, further magnified by the work's lack of utility, despite being modeled on something we all need and depend upon.
Shohei Katayama MFA '19 and Michael Neumann MFA '20: "Butterflies"
Katayama and Neumann's installation is an expression of hope for a meaningful connection between all living creatures. Some of the butterflies flap their wings individually throughout the day, eventually finding harmony in their movements. They begin to synchronize with each other using color and light emanating from their wings, revealing how our shared culture is built from cooperation and kinship.
Photographs courtesy of Facebook Art Department