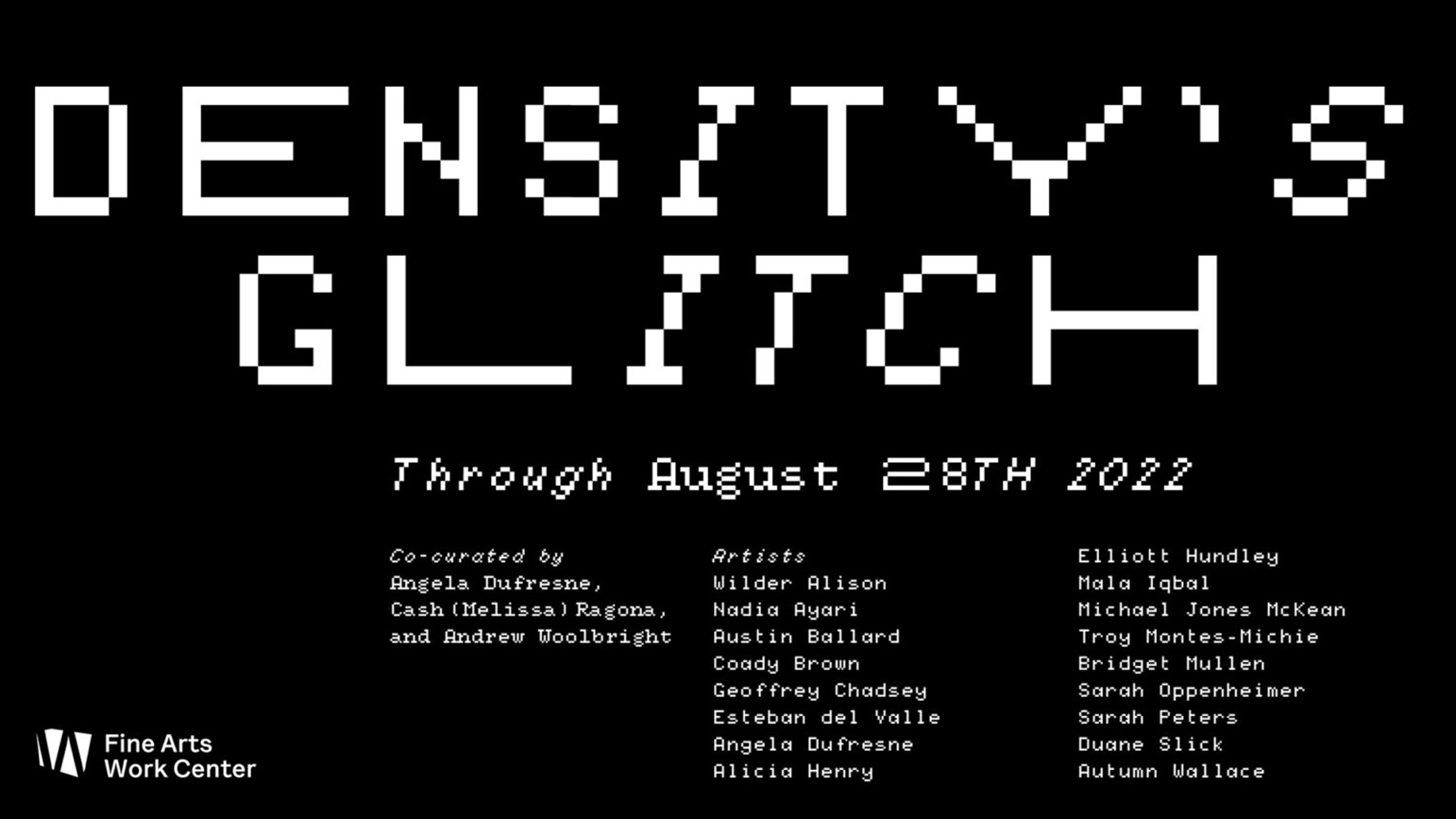 Professor Cash (Melissa) Ragona will speak on a panel discussion on May 27, titled "Circuit Glitch: How Density Betrays Us," moderated by Eva Respini, Chief Curator at ICA/Boston and featuring curators and artist in "Density's Glitch" Angela Dufresne, Mira Schor, Cash (Melissa) Ragona, and Andrew Woolbright.
About the Speakers:
Eva Respini is the Barbara Lee Chief Curator at the ICA/Boston, where she has been leading the vision of the program since 2015. Prior to the ICA, she was Curator at the Museum of Modern Art, where she organized numerous exhibitions of contemporary art and photography. Specializing in global contemporary art and image-making practices, Respini recently curated several critically acclaimed exhibitions featuring the work of John Akomfroh, Huma Bhabha, William Forsythe, Liz Deschenes, and Nalini Malani. She is the co-commissioner of the U.S. Pavilion's historic Simone Leigh presentation for the 59th Venice Biennale in 2022.
Angela Dufresne's solo exhibitions of paintings have been presented at the Hammer Museum, Los Angeles, CA; Kemper Museum of Contemporary Art in Kansas City, MO; the Samuel Dorsky Museum of Art at the State University of New York, New Paltz, Yossi Milo gallery in NYC and M and B gallery in LA. Her work has also been featured in exhibitions at MoMAPS1; National Academy of Arts and Letters, New York, NY; Leslie-Lohman Museum, New York, NY; Brooklyn Academy of Music, Brooklyn, NY; Cleveland Institute of Art, Cleveland, OH; Aldrich Contemporary Art Museum, Ridgefield, CT; and Rose Art Museum, Waltham, MA, among others. The artist is the recipient of numerous awards including the Civitella Ranieri Fellowship; Guggenheim Fellowship; Siena Art Institute Residency; Yaddo Residency; Purchase Award, National Academy of Arts and Letters; Headlands Center for the Arts Resident and Jerome Foundation Fellowship. Dufresne is an Associate Professor of Painting and Graduate Program Director at RISD. She lives and works in Brooklyn, New York.
Cash (Melissa) Ragona is an Associate Professor of Critical Theory and Art History in the School of Art at Carnegie Mellon University, as well as an independent curator and critic. Their forthcoming book project, Warhol's White Noise, examines Warhol's tape-recording projects from the mid-sixties until the late 70s in light of audio experiments in modern/contemporary art as well as the worlds of institutional racism that existed both within and outside The Factory in New York. Their essays and reviews have appeared in October, Frieze, Art Papers, Camera Obscura and numerous edited collections. They have also published in monographs on the work of artists, Heike Mutter, Ulrich Genth, Christian Jankowski, Carolee Schneemann, Jonas Mekas, Paul Sharits, Antoine Catala, and Angela Dufresne. Ragona has curated exhibitions and served as a curatorial consultant at various venues throughout the US, including the Mattress Factory Contemporary Art Museum (Pittsburgh), the Miller Gallery (Pittsburgh), PPOW Gallery (New York), The Hole Gallery (New York), as well as the Museum of Modern Art (New York). They are also a Board Member for the Carolee Schneemann Foundation in New York, serving as the Chair of its Media/Film Advisory Committee and a member of the Advisory Council for Union Docs Center for Documentary Art. They have lectured on experimental film, sound, performance and installation at Yale University, Princeton University, Tate Modern in London, the Museum of Modern Art (MoMA) in New York, Pioneer Works in Brooklyn, Electronic Arts Intermix in New York, Freie Universität Berlin, as well as The Academy of Fine Arts (KUVA) in Finland, and other venues both nationally and internationally.
Mira Schor is a New York-based artist and writer noted for her advocacy of painting in a post-medium visual culture and for her contributions to feminist art history. The central theme in her recent work is the experience of living in a moment of incipient fascism, climate collapse, and accelerated time, set against the powerful pull of older notions of craft, and visual pleasure. Schor received her MFA from CalArts in 1973 where she was a member of the CalArts Feminist Art Program and a participant in the historic feminist art installation Womanhouse. She is the recipient of awards in painting from the Guggenheim, Rockefeller, Marie Walsh Sharpe, and Pollock-Krasner Foundations and of the College Art Association's Frank Jewett Mather Award in Art Criticism. Schor's work has been included in exhibitions at the Hammer Museum, P.S.1, The Neuberger Museum, The Jewish Museum, and The Aldrich Museum. Schor is the author of Wet: On Painting, Feminism, and Art Culture and A Decade of Negative Thinking: Essays on Art, Politics, and Daily Life. She is editor of The Extreme of the Middle:Writings of Jack Tworkov, and co-editor of M/E/A/N/I/N/G: An Anthology of Artists' Writings, Theory, and Criticism and M/E/A/N/I/N/G Online. The Andy Warhol Foundation Arts Writers Grant in 2009 helped develop A Year of Positive Thinking, a blog which includes writings on contemporary art, culture, and politics. She is an Associate Teaching Professor at Parsons. In 2017 Mira Schor was elected to the National Academy. She is the recipient of the 2019 Women's Caucus for Art Lifetime Achievement Award for her work as a feminist painter, art historian and critic. She is represented by Lyles & King Gallery in New York City.
Andrew Woolbright lives in Brooklyn, NY and is an artist, critic, curator, and MFA graduate from the Rhode Island School of Design in painting. He is currently an artist in residence at the Sharpe-Walentas Studio program, and has exhibited with Zurcher Gallery (New York), The Hole (New York), Galerie Valeria Cetraro (Paris), and Ada Gallery (Richmond). His work has been reviewed in Artforum, TimeOut New York, ArtViewer, Two Coats of Paint, the Boston Globe, and the Chicago Reader, and is currently in the collection of the RISD Museum. In addition to exhibiting, he is a critic and contributing writer for The Brooklyn Rail and currently teaches at The School of Visual Arts in New York.