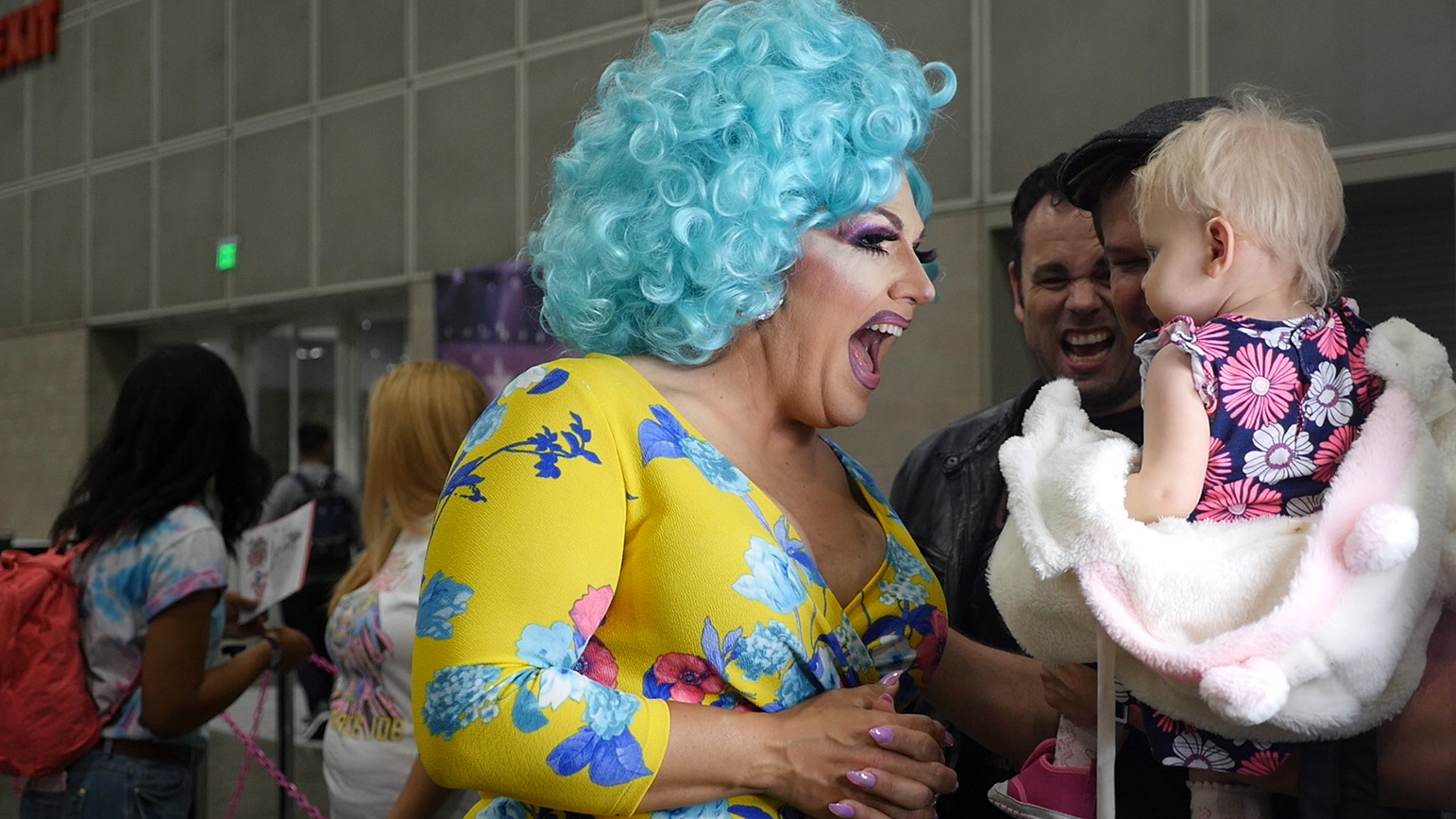 Professor Angela Washko's feature-length documentary, Workhorse Queen, will premiere at the Slamdance Film Festival, which will be held virtually this year. The film will be available to watch online February 12 -25.
Workhorse Queen explores the complexities of mainstream television's impact on queer performance culture. The film follows Ed Popil, aka drag queen Mrs. Kasha Davis. Not your average aspiring pop star drag queen, Mrs. Kasha Davis is a 1960's era housewife trying to liberate herself from domestic toil through performing at night in secret – an homage to Ed's own mother. After seven years of auditioning to compete on reality television show RuPaul's Drag Race, Ed Popil was finally cast onto the show and thrust into a full time entertainment career at the late age of 44.
In addition to following Ed's life and career before and after being cast onto RuPaul's Drag Race, the film focuses on the growing divide between members of a small town drag community – those who have been on television, and those who have not. Throughout the film Ed Popil navigates the exciting highs and devastating lows of pursuing the fame promised by a reality television platform. With one foot inching toward Hollywood's doorstep and the other cemented firmly within her beloved Rochester community, Mrs. Kasha Davis finds a surprising new audience at home as she works toward becoming the queer role model for children that Ed didn't have and desperately wanted growing up.
Among those who worked on Workhorse Queen are several CMU students, faculty and alumni. Anna Azizzy, Nana Cheon, Darrius Fletcher, and Sam Horgan all worked as production assistants; Kevin Ramser did additional camera work; and Scott Andrew produced visual effects, in addition to other support for the film.
The Slamdance Film Festival is a showcase for raw and innovative filmmaking. Slamdance has created a track record for showcasing breakthrough artists that is beyond dispute. Filmmakers who first presented their work at the festival are now amongst the biggest names in the entertainment industry. Alumni who have shown their early short films and debut features at Slamdance include Bong Joon Ho (Parasite), Rian Johnson (Star Wars: The Last Jedi), Ari Aster (Midsommar), Gina Prince-Bythewood (The Old Guard), The Russo Brothers (Avengers: Endgame), Lena Dunham (Girls), Jon M. Chu (Crazy Rich Asians), Lynn Shelton (Little Fires Everywhere) and Christopher Nolan (Dunkirk).