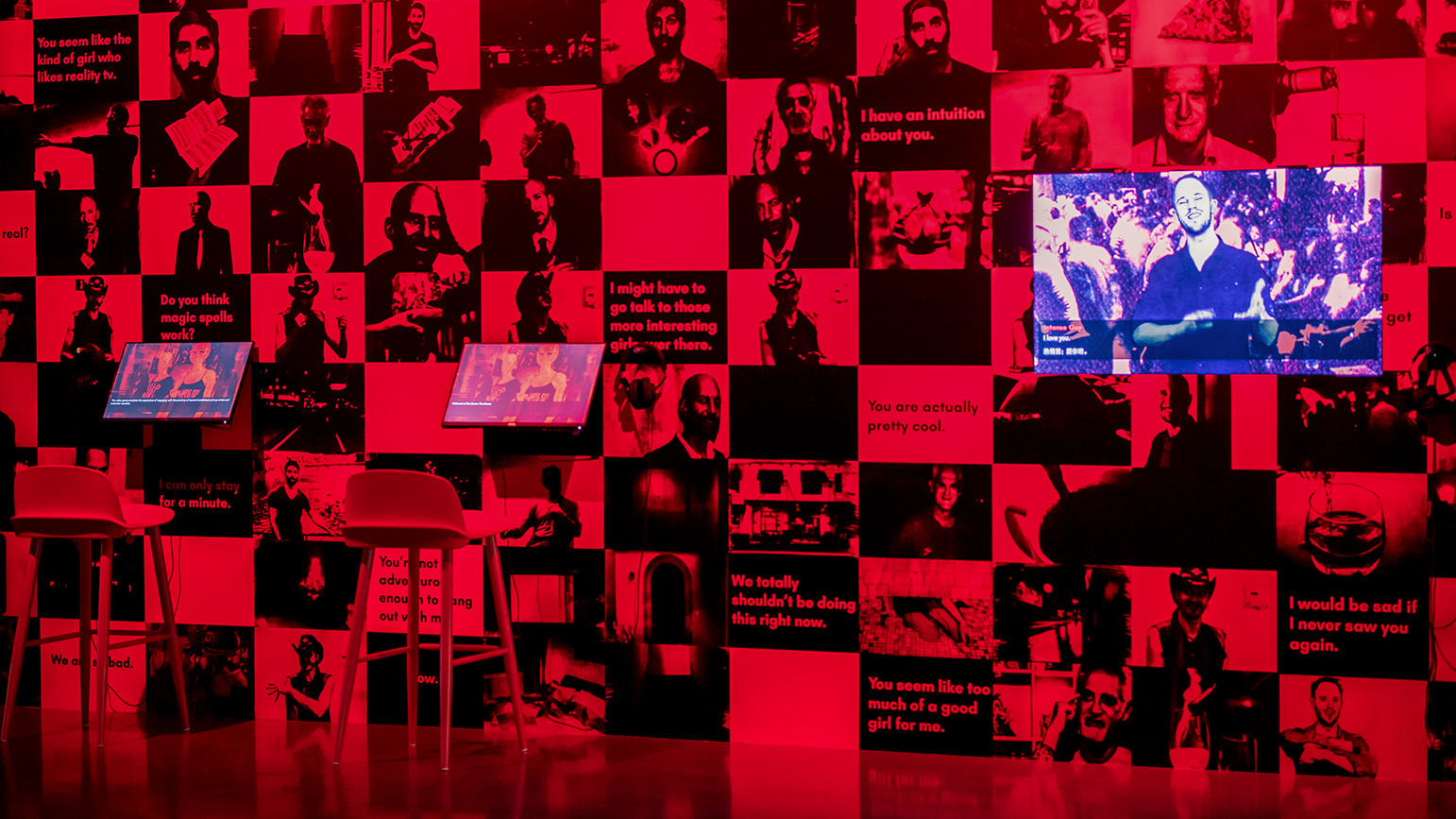 Professor Angela Washko's solo exhibition, "Point of View," will present four bodies of work: "The Council on Gender Sensitivity and Behavioral Awareness in World of Warcraft" (2012-2016), "Heroines with Baggage" (2011-2014), BANGED (2015-2017) and "The Game: The Game" (2016-2019). The exhibition is on view at STUK in Leuven, Belgium, February 18 through April 25.
Washko will give an online artist talk and live play-through of "The Game: The Game" on February 18 at 8:00 PM Central European Standard Time. Register here.
In 2012, Washko founded "The Council on Gender Sensitivity and Behavioral Awareness" in "World of Warcraft" with a goal to facilitate discussions with other players about the misogynistic, homophobic, racist and discriminatory language used within the game space. Instead of just continuing to "go on quests and kill stuff," she created a series of video-documented performances – two of which are included in the show – in which she initiated and facilitated conversations about gender and discrimination within World of Warcraft.
For her video series "Heroines with Baggage," Washko started to replay the 1990s role-playing video games which were formative to her as a child. Upon replaying these games, it became clear to the artist that the women represented were frequently portrayed as collapsing, running scared, afraid of being alone, and always in need of rescue by a male protagonist. By constructing videos featuring only scenes focused on female characters from these games, Washko makes the presence of these stereotypes and oversimplified gender binaries visible and woefully obvious.
"BANGED" is a series of works Washko created around the figure of Roosh V, "the Web's most infamous misogynist" and a professional pick-up artist. A leader of the manosphere (an online anti-feminist network mobilized around the notion that men are more oppressed than women), Roosh V has written numerous books on how to have sex with women across cultural barriers as quickly as possible. His tales of sexual conquests were widespread, however never giving voice to the women involved. During the process of soliciting stories from these women to create a parallel compilation to his stories and texts, Washko ended up doing a video interview with the manosphere figurehead himself. The interview video along with performances and books about her experience with the manosphere community afterward make up the "BANGED" project.
Resulting from continued research into the pick-up artist (PUA) community is the last body of work presented in the exhibition: "The Game: The Game." Composed entirely of scenarios, techniques, and language from texts and instructional videos created by pick-up artists, "The Game: The Game" is a feminist dating simulator video game designed to give players the experience of interacting with a series of infamous pick-up artists and seduction coaches. It is accompanied by a haunting musical score composed by Xiu Xiu.