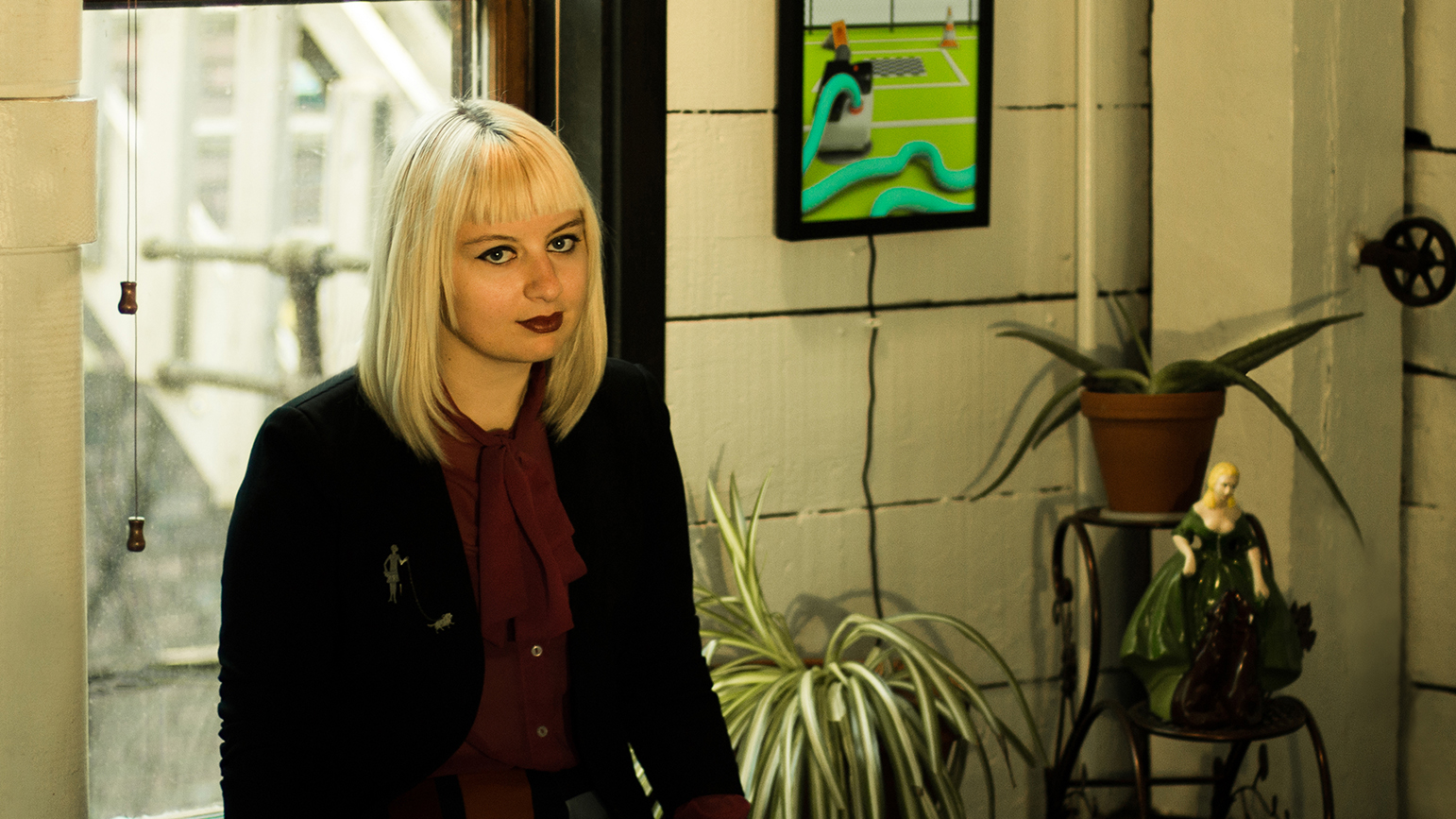 The School of Art is pleased to announce the promotion of Angela Washko to the position of assistant professor starting in fall 2017. Washko has held the position of visiting assistant professor within the School of Art since fall 2015.
"Carnegie Mellon University is excited to have Angela Washko join the ranks of its tenure-track faculty, and we are enthusiastic about her role in furthering the School of Art's vision and direction," said Charlie White, professor and head, School of Art.
One of the most noted young artists working at the intersection of online culture, feminism and technology today, Washko brings a wealth of critical, conceptual, and research-based knowledge to the School of Art. Her time-based works, performances and research projects have exhibited at the Whitney Museum of American Art, New York; the Museum of Contemporary Art, Los Angeles; Bauhaus University, Weimar, Germany; the Andy Warhol Museum, Pittsburgh; the Kiasma Museum of Contemporary Art, Helsinki, Finland; and the CCA Contemporary Art Center in Tbilisi, Georgia, among many others.
Washko is a recipient of a Franklin Furnace Performance Fund Grant, a Creative Time Report commission, a Rhizome Internet Art Microgrant, the Terminal Award, and the Danish Arts Council Curatorial Research Grant. Her practice has been highlighted in Art in America, Frieze Magazine, Time Magazine, The Guardian, ArtForum, VICE and The New York Times.
"Angela's research and work occupy a critical space within the currently embattled dialogue surrounding gender and technology, offering us a lens into one of today's most pressing discussions within art, academia, and modern culture," White said. "Her practice represents a new and crucial aspect of contemporary art and gender politics today, and we are lucky to have her join our tenure-track faculty. The wealth of knowledge she brings will benefit our community and students in the years to come."
Rated the No. 6 art school in the United States, and No. 1 in the area of time-based and new media by U.S. News and World Report, CMU's School of Art stands among the world's leading art programs. With distinguished alumni that include Andy Warhol, Mel Bochner, Joyce Kozloff, Philip Pearlstein and John Currin, and current faculty that include internationally recognized figures such as Jon Rubin, Paolo Pedercini, Kim Beck, Golan Levin and Melissa Ragona, Washko joins a cohort of artists, thinkers and interventionists committed to an expansive platform for creative experimentation and social engagement through art and innovation.
"The School of Art at Carnegie Mellon University occupies a space of research, creative practices, developing technologies, and new ideas unlike any other art school in the world, and is honored to have an artist and activist such as Angela Washko join its tenure-track faculty," said Dan Martin, dean of The College of Fine Arts.