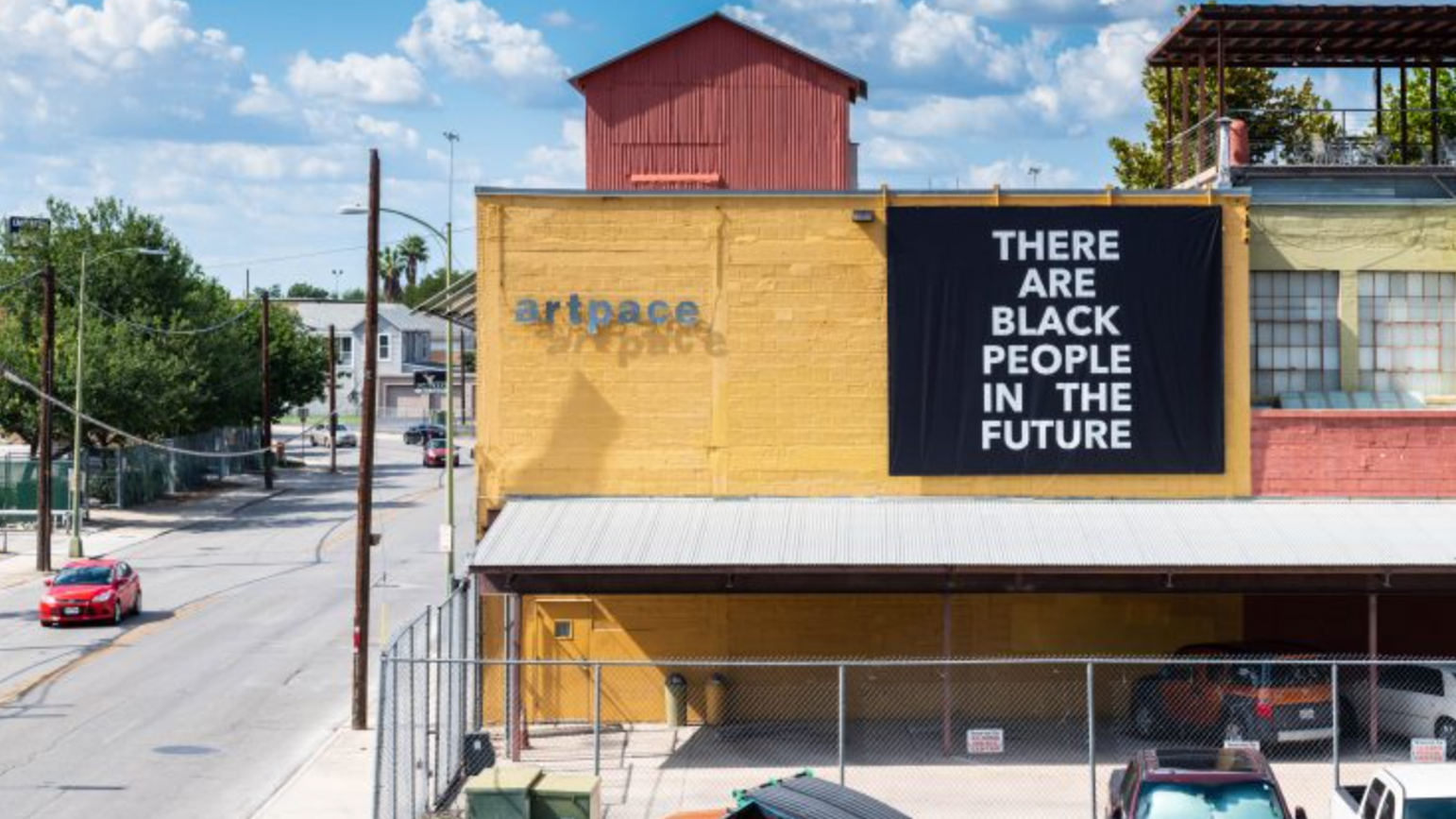 As part of the Texas Biennial, Professor Alisha Wormsley's work "There Are Black People in the Future" is on view on the exterior of Artpace in San Antonio, TX. The billboard is on view August 5 through December 26.
"There are Black People in the Future" is inspired by afro-futurist artists and writers who highlight the need for Black people to claim their place. Through the inscription and utterance of the words, 'There are Black People in the Future,' the project addresses systemic oppression of Black communities through space and time by reassuring the presence of Black bodies.
In 2017, Wormsley placed these words on a billboard in East Liberty, a neighborhood in Pittsburgh's east end that has suffered from gentrification. When the billboard was removed by the landlord due to "objections to content," community members protested. In response to this community support, Wormsley launched an artwork-in-residence initiative in collaboration with the Office of Public Art (OPA) in Southwestern Pennsylvania. Through the residency, Wormsley created a precedent for listening to members of the community and exploring how artists and residents can promote positive change in social and civic spaces.
Since then, the billboard has been replicated in Detroit, Charlotte, New York City, Kansas City, Houston, and London with variations of social activism. The text, which Wormsley encourages others to use freely, has since been used in protest, critical art theory, essays, song, testimony, and collective dreaming. This work will be accompanied with social activism in the San Antonio Black community led by The Art of Four.
The 2021 Texas Biennial: A New Landscape, A Possible Horizon, is a geographically-led, independent survey of contemporary art in Texas. For the seventh iteration of the Texas Biennial, the project is distributed across five Texas museums, featuring exhibitions, programs, and works of public art in San Antonio and Houston from September 1, 2021, through January 31, 2022.